---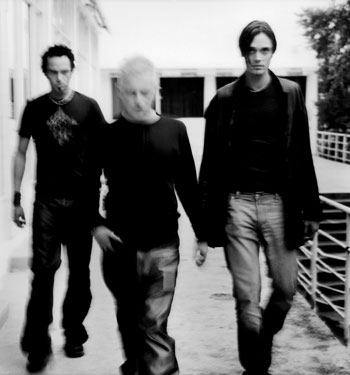 APOPTYGMA BERZERK past, present & future
By: Johan Carlsson
Photos by: Olaf Heine and others
Since their start in 1989, Norway's Apoptygma Berzerk have become one of the most successful bands within the electro genre. Their new album "Harmonizer" strengthens their position further, thanks to its blend of techno beats and sense of melody.
I got hold of main man Stephan Groth and his band partner Geir Bratland backstage at the Swedish Alternative Music Awards in Gothenburg.
Back in the days…
Apoptygma Berzerk formed when the young Stephan Groth began to make music together with a friend, Jon Erik Martinsen. They chose the somewhat odd name Apoptygma Berzerk and were influenced by bands like The Cure, Depeche Mode and Nitzer Ebb.
- We did a demo tape and got a contract immediately, Stephan says. But Jon wanted to make synthpop, and I wanted to go towards harder music. So we parted, and now he has a band called Sweep. The funny thing is, now we have become more pop, when Sweep has gone harder.
Apoptygma Berzerk currently consists of four members, where Stephan does most of the actual music making, and takes care of the concepts and philosophy. The other members have joined the band along the journey.
- Stephan and I have been playing together since 1993 or 1994, Geir explains. We had an ambient techno project named H20, which released a couple of singles.
- We have been at it a for long time, ponders Stephan.
- We're getting old, Geir laughs.
They have changed guitarists a couple of times. But now they have the best live line-up ever, according to Stephan, with Angel on guitars, Fredrik Brarud on drums and Geir doing the keyboards.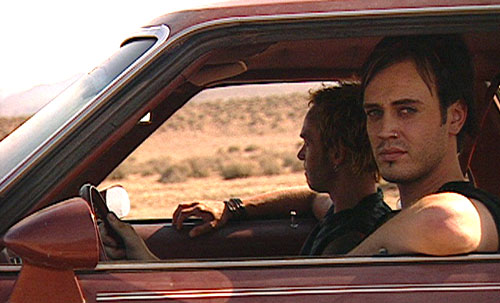 The trials of being on the road
During the latest tour they have visited a lot of different countries, and have drawn very respectable crowds all around. At the beginning, audiences were of course a little sceptical towards the new, then unreleased tracks.
- Now there's more response from the crowd when we play the new stuff, so it turned out fine, a relieved Stephan tells me.
Being on tour does seem like a lot of fun, but Geir is now longing for a nice bed and a shower after being on the road for seven weeks. He would also like some "real food".
- The food is not bad, but it is different. After trying weird East German food, you want things you are used to. Then again, when you have been home for a while, you always want to go back out again, Geir says with a smile.
The SAMA gig is the last on the European leg of the tour, but the US awaits.
The band is very happy with the new album "Harmonizer", and according to the charts recently, people are, too. This is the first time Apoptygma Berzerk have worked with outside producers. Stephan explains further:
- Well, they are not really producers in the normal sense of the word. Usually you hire a producer to get a certain sound, for example if you want to sound like Britney Spears… That's not the case here, we wanted a guy who was very technically qualified, and who was used to working with big artists. Our guy was Alon Cohen from New York. I didn't want to change our sound, rather enhance the sound that was already there. I was going for that special New York drum sound.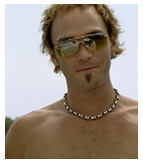 Is all PR good PR?
Let's talk about love
The lyrical content of Apoptygma Berzerk's songs is increasingly about love. When asked why, Stephan first says his lyrics have always been about love - to some extent. I then ask him if anything special has happened lately, he laughs:
- Yes, there has been a lot of action.
He elaborates:
- Of course, you go through things that affect you, both mentally and emotionally, which show in the lyrics. Hmm, maybe it has been more recently. You're right!
Speaking about love, not many people here in Scandinavia have missed that Geir has been on television in the reality show "Temptation Island". Four couples go to a beautiful island with "irresistible" single men and women, to test their relationships. Geir and his girlfriend passed the test and married in Las Vegas.
One may wonder if responses from the fans have been positive or negative.
- Mostly positive, actually. It's incredible how much this has spread - to Spain and everywhere! Everybody knows about it.
I want to know if they think that this publicity has been positive for the band as well, and Stephan claims that all PR is good PR. Fortunately, the boys have been on tour and have missed most of the commotion. Geir has hardly even watched himself on television, having seen only one episode. Stephan makes a comparison to Tommy Lee's and Pamela Anderson's famous sex video.
- Tommy Lee was forgotten before that, but got a giant boost in his career, and also all of his projects. There was a whole Mötley Crüe revival. Maybe it wasn't the best that could happen, but it worked.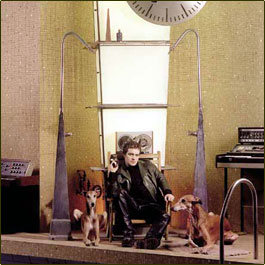 The others in the band usually agree with Stephan...
People are used to electronic music
Apoptygma Berzerk have grown a lot in the last few years. Now they are backed by the major Warner, but also SSC/Playground in Scandinavia and Metropolis in USA. They also have their own company, Hard:drive. Stephan is very happy with the way things are going, and with Warner.
- It's completely different machinery, especially on the promotion side of things. Many doors are open now, and we have a lot of possibilities and things we can do.
Is the general public more open towards electronic music nowadays?
- I think the whole world is more positive. Electronic music has - at least in Norway - been very eighties-influenced. But now there are suddenly many bands coming, with people of our age that have grown up during the eighties, and have that mentality. Thanks to all the commercial success with trance and techno, people have gotten used to this kind of music. And what happens when there is so much instrumental music? People get tired, and want the melodies back. They still want the techno beat though, because it is the grooviest beat that has ever existed. But as people want melodies, Apoptygma comes in handy
.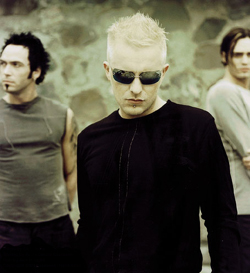 The current hype in electronic music, futurepop, is something that Stephan first does not want to talk about, perhaps feeling it has been discussed to death. But then he continues.
- Well, it's a good idea, and it's good that something is happening. In every genre it's good if something happens, or else it will die. There must be new trends all the time, to bring new listeners, and to keep it interesting. For example, in a pure synthpop scene, there is a minimal amount of new recruits. It's the same people and the same bands all the time. In Germany we now have an electro synthpop revival, with bands like Felix Da Housecat, who makes synthpop based on house. Suddenly we have new recruits for the synthpop genre, because people are "lured" in by what's in the charts.
Stephan believes, in a way a new genre has been born.
- I think it is OK to call it "futurepop", because there has been a progression. It's actually a genre now, with bands like Covenant and VNV Nation. There has been a progression towards something that you can't put a name on. It's not EBM, and it's not synthpop. It's good to have a name for it. But I don't think that Apoptygma belongs to futurepop, I don't want to belong to just one genre.
Many fans are claiming that Apoptygma have become more and more commercial with each album, but if you listen to the first album "Soli Deo Gloria", it too has a lot of catchy and singable tunes.
- If you listen to that album today, it will sound underground, but back in the days, in 93, it was pop compared to, for example, The Klinik and Skinny Puppy. Now everything else has become more pop, and so have we, Stephan thinks.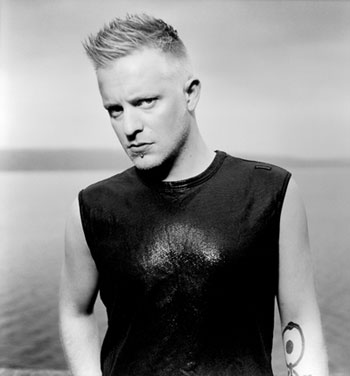 "Suffer in Silence".
Workaholics
After the concert at SAMA this evening, the band will go back to Norway and commence work on the next single, "Unicorn". No release date had been set then, but Stephan wants to be finished before the tour continues to USA. "Suffer in Silence" will be the third single from the album. Some remixes for other bands are also in the works, but they are still kept secret, as nothing has been confirmed yet. I ask if it is mostly Stephan who makes remixes.
- Well, that varies. Lately Geir and I have been working together. Amongst other things, we have done a cover of a Marilyn Manson track for a tribute album, so we have been doing some different stuff.

Benedicte Sveinsson, Computorgirl.

The lads do not seem to be big fans of vacations, as Stephan and Geir will soon produce an album with a newcomer called Computorgirl, and also do work for their label Hard:drive. Stephan goes on, revealing that the label where he is involved has just signed a contract with a band called Spektralized, who will work with Sebastian Komor from Icon of Coil. Stephan does not want to call himself the boss of Hard:drive, but adds diplomatically,
- My ideas have worked again and again, so I have some control there. Also, when things work out you get more confident and think "OK, I'm good", and then you should use that to the max.
After some further chatting, I finally let these tired guys go for a quick rest before the concert. When they appear on stage late that night they look a lot more energetic and put on a good show, complete with video projections and fireworks.
It should be exciting to see where this band is a year from now.
---