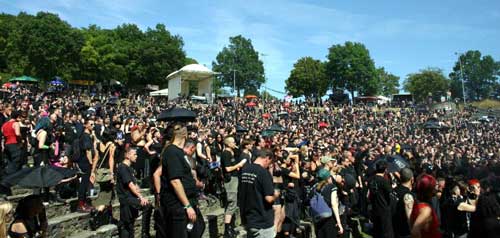 Zillo Festival, Loreley, Germany - July 16-18, 2004
Text and photos by: Karin Martinsson
Loreley in Germany's Rhein valley. The place has inspired one of Mark Twain's poems and is an issue for an old legend about a woman living in the mountain. But I came here under the slogan "Deadly good music". The pick of location for the 10th Zillo Festival was just as great as parts of the line-up: Skinny Puppy, Das Ich, DAF, Alien Sex Fiend and The Crüxshadows – all crowding on the same stage, the Loreley Open-air – an amphitheatre-like scene with quite good acoustics and a good view for everyone. The festival attracted over 5 000 visitors, some gothic shops, food-stands and a disco tent, everything nicely framed by the Rhein-valley, green hillocks and a (partly) blue sky.
While the concerts for once were held on the same stage, one finally had the opportunity to visit a festival without having to chose between the bands. I would have went to Skinny Puppy in any case.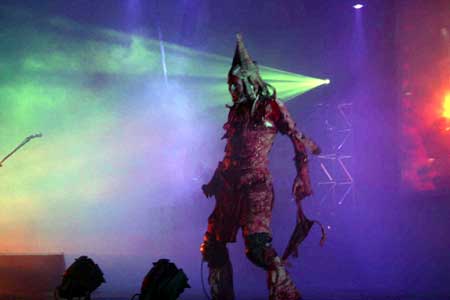 Their performance was far from a disappointment; a very good mix of songs combined with a cool stage show (much thanks to the live camera on stage who now and then appeared on a large screen) – made the concert something to remember. Nivek Ogre do know how to paralyse an audience. Together with the large background-screen he is the show. Cevin Key stands in the background behind his mountain of synthesizers, as do tour guitarist William Morrison and tour drummer Justin Bennett.
The set list was quite impressive, but how can a band with such a great back catalogue fail? They started out with the epic, new "Downsizer" and shifted over to classic hits like "Gods Gift (Maggot)", "VX Gas Attack" and "Tin Omen" and ended with a rather long and intense version of "Reclamation". The only encore song was "The Choke" which was a really good choice.
After the Zillo Festival I went straight to London to see Skinny Puppy's last concert on their current European tour. And I have to say that that gig was even better. Conclusion: This is a band that should be seen on an indoor-stage. It creates an intimacy and enlarges all impressions. Otherwise, the show was more or less the same except that the audience got to hear "Smothered Hope" as encore as well.
The support in London, Portion Control, did an interesting gig as well. You can tell that the band has not been on stage for a long time, and I really hope that the choice of songs will be changed for the performance at the Tinitus Festival in Stockholm in November. The new album is not bad, but the songs are many times too soft to be played live one after another. Even if lyrics from old songs were used in two cases, I think that the audience expected to hear some old goodies as well.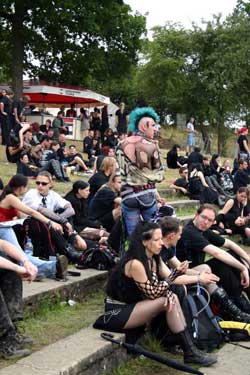 So, back to Zillo: The Friday was the night for the newcomer contest. The Zillo magazine had put an invitation on their web site for bands to apply for a gig. And I have to say that they've found some goodies. First out on stage was German Metallspürhunde, a band who brought my thoughts to speeded up Das Ich. Another "newcomer" was German Moonrise, a band who was founded in 1994 and been playing here and there ever since, but never released a CD. The music is calm, and sometimes develops into rock. My thoughts goes to Fields of the Nephilim.
One of the first bands on Saturday was Faun, who I guess is more or less compulsory for a German festival with self respect. Speedy neo-folks, can be a little too much sometimes but good to have as accompaniment to the beer.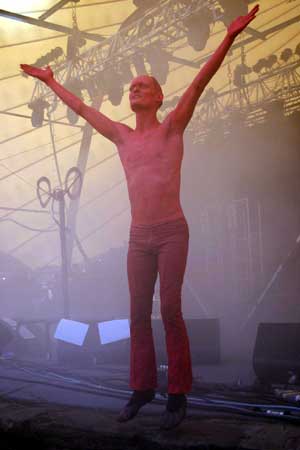 Lightweight music? No.
A little bit later Das Ich entered the stage. I am already a fan, but I have to say that the singer Stefan Ackermann's body language adds a lot to the performance. I think that Das Ich did a very good gig, although it was a little bit strange to see them in daylight.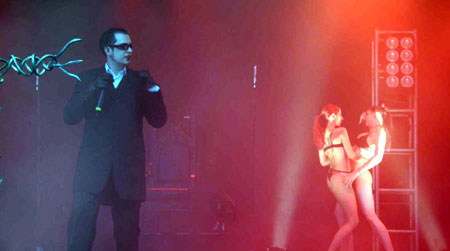 Later on the same evening, Blutengel entered the stage accompanied by a thunderstorm and heavy rain. But the audience did stand their ground, and the gig was just as goth as always with ingredients like fire and half-naked girls licking blood on each other's bodies.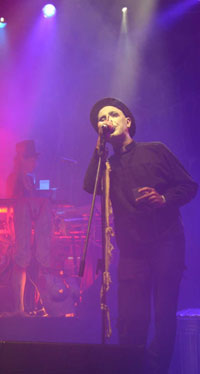 Next band up: Alien Sex Fiend, who did their first performance for over five years. Well, what can I say other than that the stage was filled with strange stuff (how did they manage to re-fit it so fast?) and created an atmosphere just as crazy as the music. But you shall not forget that ASF's aim is to not be predictable, and I have to say that Mr and Mrs Fiend has succeeded on that point. And they did play songs from more or less all albums, not only the new one, which gave them an extra star in the margin.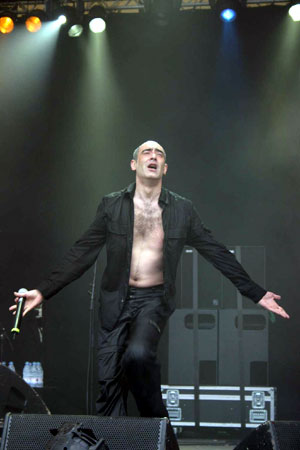 The last day of the festival got a perfect ending with DAF and The Crüxshadows. DAF did a weak performance. All the hits were there but something was missing. And they did not play "Der Sheriff".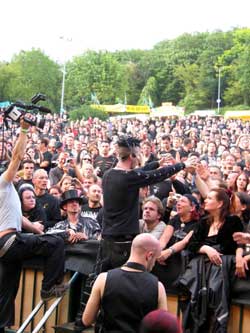 The Crüxshadows on the other hand did a very good performance, but I still get the feeling of over-production when I see them live. There was no stage to climb around this time, so the singer Rogue took a walk in the audience and balanced on the riot fences instead. An entertainer has to do something, right?
My little concert trip was filled with good music and a dose of Rhein-valley culture. I can't say that it was "deadly good" though.