Wave Gotik Treffen is really the ultimate festival. On the biggest goth/EBM/neofolk festival in the world you will find about 20 000 like minded people. Apart from 140 concerts, there is also a medieval themed village and a Schwartzemark (Black Market) where you can satisfy all your shopping needs. And since most goths on the giant camping area had brought a full body mirror, they could dress up for inspection at once...
This year's Wave Gotik Treffen in Leipzig was business as usual. Thursday afternoon at 3 pm the gates to the festival area opened. The lines to the festival bracelets were long as always, and the popular collectors' items festival books arrived a day late. The camping was flawless and the general atmosphere was full of expectation. A main improvement from last year was the temperature. Sleeping in a tent close to the freezing point is not a pleasant experience. Germans take camping seriously though and are well equipped.
The festival started rather slowly on Friday, but this didn't correlate to the number of visitors. Letting In Strict Confidence and Absolute Body Control play at Werk II with no real competition from the other stages made the queues horrendous. Probably half of the people that wanted to get in didn't. Once inside though, Werk II is the perfect small stage for a festival like this; almost like a club scene.
The Absolute Body Control concert was as streamlined as ever and Dirk Ivens always make a great show. Smoke, high volume and hard EBM made me happy.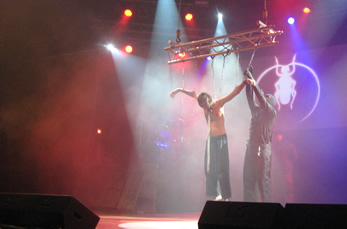 The Friday ended with Retrosic at the main stage making their first live concert ever. They were aggressive enough, but their show needs polishing to get up there with the pros. Hanging people from hooks belongs on a side show rather than a concert in my opinion.
On Saturday, the EBM focus moved to the main stage and bands like Angels & Agony, Absurd Minds, Orange Sector, Rotersand and Front 242 played there. I've been a Front 242 fan boy since the mid 80:s and the last six or so shows I have witnessed have been in various levels of bad. This time however, I was amazed as Front 242 went old school. They started out with "Funkhadafi", which gave me goose bumps, moving on to classics like "Take One", "U-men", "Commando Mix" and "Lovely Day", playing them more or less very close to the original versions. The obligatory hits "Welcome to Paradise" and "Headhunter" were also very well-performed and Richard 23 was kept in place (no excesses). Jean Luc de Meyer managed to squeeze in a few lines from Kraftwerk's "Radioactivity". The encore numbers were "Kampfbereit", which I don't think I ever seen performed live and "Punish Your Machine", the former performed with all spots on Jean Luc (almost felt like a ballad), during the latter Richard 23 remained as sole singer probably to let him make up for holding back earlier. All together the best Front 242 concert in years.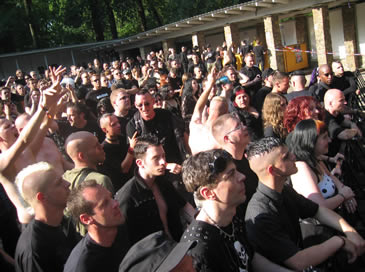 Sunday was Parkbünhe day. Most concerts were played at an outdoor amphitheatre during the afternoon and evening. This might not be the ideal setting for the harder acts, but a good climate change for the audience, getting away from the industrial halls for some sun and a bit of rain. With bands like Tyske Ludder, Punto Omega, Rabia Sorda and Suicide Commando this seemed like a perfect day for me. Every band was aggressive enough, especially the singer from Tyske Ludder who was shaking with rage - but something is amiss. The focus is mainly on rage; almost all voices are heavily distorted, the bass is heavy and steady and the wall of sound is compact. This sounds like a perfect match but it's not. It's hard to separate the tracks – even the bands - from each other. The music is enjoyable but nothing stands out; the so called hard EBM bands need to review their live shows; as it is now I enjoy them more on record.
Wave Gotik Treffen is a city festival with a main area with its main stage (Agra Halle). The other stages - Parkbühne, Kohlrabizirkus, Werk II, Schauspielhaus and more - are spread out across the city. Sunday was a day of conflicting concerts so in order to see as much as possible a cab or driver is really needed. When I went to see Elegant Machinery I missed Suicide Commando and I got our driver to drive us to the venue Kohlrabizirkus (thanks a lot Peter). Elegant Machinery managed to play hit after hit, and with their charming, talented singer Robert Enforsen they won the audience hearts. They talked of a new album (again) and a new, fresh-sounding song was performed.
A quick taxi trip later, I was at Werk II and managed to see Grendel, with a pretty tight and good show. Perhaps the guards could have been more active (or the crowd a bit calmer) and less people would have gotten hurt. Beer got spilled and some people were pretty upset but the fight eventually calmed down after tactical intervention by cooler members of the audience.
I rushed from Werk II to the main scene Agra Halle to see the The Crüxshadows. They are usually very good and crowd pleasing, perhaps a bit too perfect – they leave little room for improvisation and almost every move seems rehearsed. If you have seen one Crüxshadows concert you've seen them all.
Monday was the final day and most people packed their camping equipment (including the mirrors) and left the camping. The stage of the day was Kohlrabizirkus and the line up was strong. Dirk Ivens (again) performed with his second band during this festival - Dive. Heimataerde appeared on stage in full knight's armour which were pretty impressive. Fixmer & McCarthy's show was rather bland and didn't live up to the shows they performed prior to the Nitzer Ebb reunion, only one Nitzer Ebb song was played and it didn't really leave a lasting impression.
Closing act was Cassandra Complex. Starting out with "Nightfall (over EC)" was a perfect choice; Rodney Orpheus seemed really happy to be on stage again and thanked the audience over and over. "Moscow-Idaho" was also very well performed and all in all it was a good concert but a bit short from perfect.