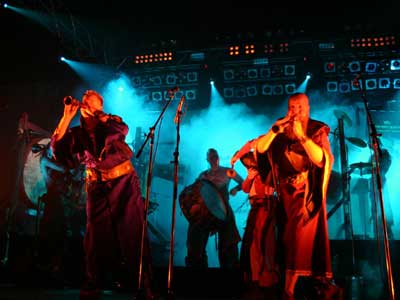 Corvus Corax.
Photo by: Karin Martinsson
Wave Gotik Treffen '04, Leipzig, Germany - May 28-31, 2004
By: Karin Martinsson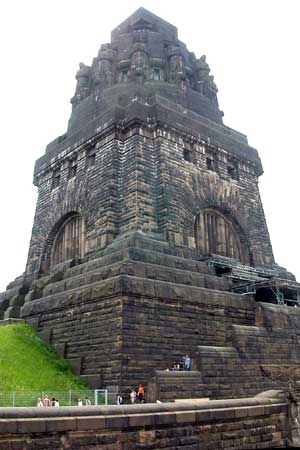 Unique stage. The gigantic Völkerschlachtdenkmal, where performances are held in the Krypta.
Photo by: Mikael Kahrle
I have not been looking forward to write this review. Because it means that the music happening of the year is over.
But there are many nice memories to bring home from the 13th Wave Gotik Treffen (WGT) in Leipzig. I say many, because this was a festival with 154 performances on 12 stages spread over the big former East German city, 19 000 visitors from all over the world and only one (!) cancelled concert. You could get trapped in a huge hall with gothic shopping. And the beer was cheaper than water. Have I mentioned all new and old friends?
For an outsider, WGT is quite narrow in its musical shape, but I think that there is some joy for every ear. The concerts stretched from classical renaissance-music and medieval sounds to goth-metal, EBM and industrial beats.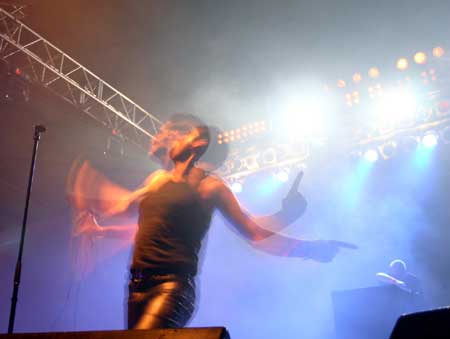 Knallhart. Klinik shook the enormous Agra Halle with their hard energy. Dirk Ivens with Marc Verhaeghen in the background.
Photo by: Karin Martinsson
Some of the highlights that will be remembered were Fixmer/McCarthy, playing old Nitzer Ebb songs like "Let Your Body Learn", which made even the German audience go wild. Another good concert was the original Klinik, who once again made a best-of concert. Dirk Ivens was more present than ever on stage and really filled it up with his somewhat maniac charisma.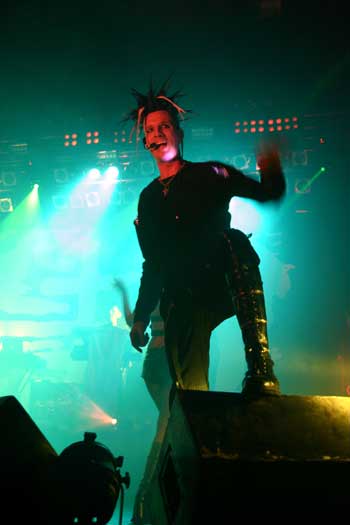 Photo by: Karin Martinsson

The Crüxshadows – even if somewhat too directed – made a good concert. I have to admit that I – in good company with a crowded audience – was hypnotised by lead singer Rouge's show that included a climb in the lightening ramp.
Not to forget: the general guitar-on-stage trend on the EBM-genre is still on. Both Funker Vogt and In Strict Confidence appeared with a guitars on stage and they didn't improve the sound
Other concerts I saw, worth mentioning, are Deathstars, a Swedish industrial-metal band who has found their own sound in between Rammstein, Ministry and Fields of the Nephilim. Atrium Carceri, who spellbounds with dark-ambient loops. Then we have hardbeat Kiew, who unfortunately had brought some unnecessary guitars on for the live-gig but still sent some "must-buy-record-now!"-vibes. And finally Estampie, a neo-folk favourite.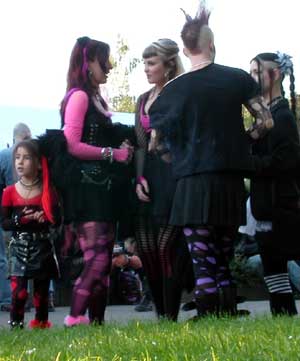 Eine kleine Goth.
Photo by: Mikael Kahrle
My Release colleagues were impressed by a sunset outdoor gig at Parkbühne with Karl Bartos, who lined up numerous Kraftwerk classics with great sound and live stage video. During sunset the day before, Holland's Clan of Xymox created darkwave magic. Liv Kristine (ex-Theatre of Tragedy) had a kick start at the live premiere for her new Bel Canto-goes-metal band Leaves' Eyes.
But WGT is so much more than just the live music. In the schedule, you can also find film-shows (both the new VNV Nation and Apoptygma Berzerk DVD:s were shown), theatres, literature gatherings and vampire role-playing. Add to that a whole bunch of more or less famous people turning records the whole night long, and you'll get quite a mix!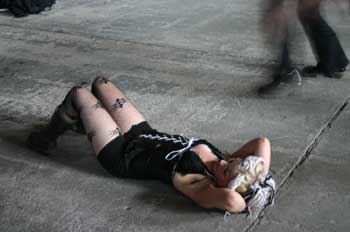 Time for a break.
Photo by: Karin Martinsson
Many people obviously go to WGT to give and experience a sexy fashion show, but if you ask me, one of the best "extras" is also the medieval village close to the main festival area. Here you can escape the present and just let your thoughts travel to past days, maybe with the help from a bottle of home-made wine or some Teufel-beer - everything framed by an open fire, candles and medieval rhythms.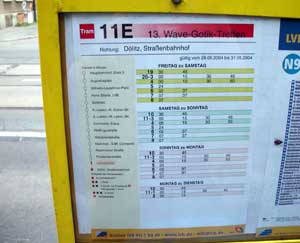 WGT Strassenbahn.
Photo by: Mikael Kahrle
I have to say that even if the camping areas in Germany are very well organised and quiet (as long as you keep distance from other Swedes and the "high-roads" filled with jingeling-tingeling goths), five nights in a tent – together with just as many days filled with beer - is a little bit too much. Or as a friend said: "My body feels as if it had been in a war".
Probably these objections will be forgotten until it is time to pack the bags for the next Wave Gothik Treffen, the 14th in order, which will take place between the May 14-16, 2005.