| | |
| --- | --- |
| | |
---
Wave Gotik Treffen '00, Leipzig, Germany, Whitsun - June 9-12
The Wave Gotik Treffen this year started similarly to the previous one, with "cancellations" from bands who had never said that they would play. My Dying Bride is a good example (but hey, they draw crowds so why not put them on the list?).
Anyhow, the first two days went off successfully with concerts by Lacrimosa, Diary of Dreams, Sunshine Blind and other fine acts. Passion Play are the band I appreciated the most. This fine UK gothic rock band with catchy tunes and a superb vocalist was even better live than on CD!
The third day didn't go as planned, at all. Some kind of financial problems had occurred. Rumours said that the main organiser's girlfriend had run away with another man and two million D-mark. The main problem was that the bands wouldn't get the money they had been promised, so some of them cancelled. Still, there were bands, which wanted to play even though they wouldn't get their money. These bands partly saved the arrangement and should have credit for this.
Especially Das Ich made an impressive performance. No surprise though, since they are known to be a great live band. London After Midnight were forced to cancel their gig since they didn't receive the plane tickets they should've had three weeks before the festival.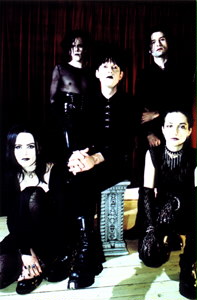 One of the other main acts, Clan of Xymox (above), went to play although they wouldn't receive any money. They waited for the security to show up but it never did, so they were forced to cancel their gig. Other bands, like Funhouse and Malaise, wanted to play but some stages had been taken down. Several artists that wanted to play couldn't. It was rather confusing and hard to overlook since the festival was held at several different places.
As you probably understand, many were unhappy with this so-called arrangement. The German police want those who were behind. To me, the whole thing seems like a big scamp by selfish and greedy charlatans. Anyhow, the festival in itself is no loss since it this year was extremely commercialised. This year also had a lot of metal bands. I don't want any "Wave Metal Treffen", therefore I hope and think that some idealists come up with a new festival substituting this.
JOHAN ASTEMARK