For such a small country, Finland offers a surprising variety of electronic music, and Uuden musiikin festivaali (Finnish for New Music Festival) in Turku is the place to hear it. While its big brother Koneisto woos the crowds with international stars, such as Annie and Roisin Murphy this year, UMF stays true to its principle of an all-Finnish roster in its second year of existence. This enables you to get a decent grasp of what is happening in the Finnish scene in two days, a rare treat when most festivals battle for the presence of the same music industry behemoths everywhere around the world.
UMF is a city festival without a proper festival area and with events taking place around town. The aim of this report is not only to review the festival but also to give some pointers to the Finnish scene for the interested.
Our first stop was an outdoor restaurant venue, where Trio Tetris was using most of the clichés inherent their band name, aiming for the predictable 80:s computer game soundtrack feel with a tinge of Russian sentimentality. Their music bears a faint resemblance in style to that of Aavikko and other fenno-synthesizer-instrumentalists.
Performing next was Regina, a female-fronted outfit pursuing delicate synthpop in Finnish. Their sound is genuinely lovable, and I would call them promising if it wasn't for the weakish vocals, sounding OK in recorded form but grating the ear in a live setting.
Moving on to catch one of the highlights of the festival, we had to skip one of Jimi Tenor's rare electronic solo gigs (the man usually shows up with a ten man space jazz orchestra nowadays), but Jori Hulkkonen's one off "space garden" project demanded our fast attention. Hulkkonen more or less left club music on his "Dualizm" album, inviting singers like one time Ultravox vocalist John Foxx and Swede Jose Gonzales and focusing on warm ambience and lush melodies. At UMF he did the exact opposite, dragging all his analogue gear from his flat across the street to the small club venue in an attempt to recreate the original Detroit clubbing vibe. The going was infectious, with Hulkkonen obviously in a good mood, pounding out beats and improvising around some set sequences.
Over the river at a bigger club, a number of very eclectic musicians and artists from the city of Pori were entertaining. Pori has a wealth of bands in the weird, mystical, hippie musical brackets, of which some also happen to be very good. Magyar Posse, a sort of Mogwai with a passion for Slavic elegy, is definitely is one of those. Their droning, passionate mood pieces, weaving together a rock setting with violin and keyboards produced a very Finnish blend of instrumental frenzy intensifying all through their set.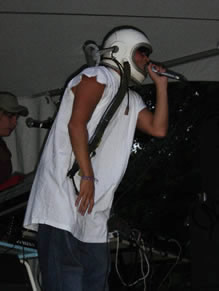 Imatran Voima.
Next day two of Finland 's minor robot techno celebrities, Imatran Voima and Mr. Velcro Fastener, appeared in quick succession and tried to out-vocoder each other in harsh tributes to Kraftwerk that somehow didn't work too well in the nice, outdoor setting. Despite the gas mask props of the former and the latter's use of a guest rapper in a song, both gigs melded together in my head, having less impact on me than their respective studio material. On the records, Imatran Voima stick to a theme of porn and sleaze in song titles and imagery, but on stage they proved to be the same two regular geezers in b-boy clothing you see in all the other bands limited to sequencers and laptops.
Later, the power of trucker electro band Itäväylä (led by a member of Imatran Voima) was also proven to diminish on stage compared to their plastic presence. I guess this fate often befalls music based on a cool idea, which gets a lot less exciting when you have done it once and have to keep doing it long after you've chucked the idea over board. Itäväylä look cool on stage, but their gritty blues belongs in the car stereo (Itäväylä is the name of a Finnish highway).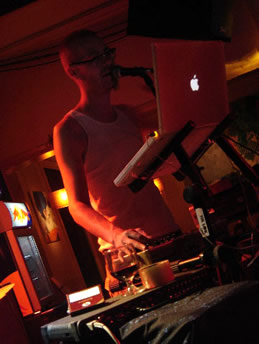 German Elektroniks had managed to just about cover Turku with posters advertising its new CD, and was the band with the strongest links to classic electronic body music during the festival, and quite a good one at that. Both vocals and beatscapes brought early Front Line Assembly to mind. It is interesting that, while 15 years ago music like this would have been performed by a group of at least three bouncer-like guys in camouflage outfits and eight synthesizers, the technological development has now replaced them with one scrawny guy in a white T-shirt and glasses, and the compulsory white i-book.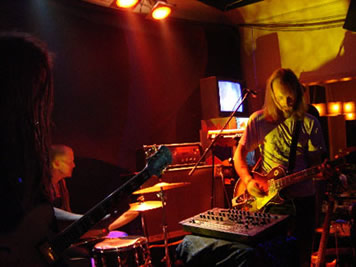 My festival experience peaked and ended in the thrall of Hidria Spacefolk. Their take on trance-inducing, progressive space rock is quite special, and playing live they kicked the shit out of the competition. I cannot think of any band that does this – kraut style, new age, beat driven grooves – better right now. Hidria Spacefolk are exactly the sort of weirdoes, like Pan Sonic or the Pori bands, that make Finnish music so interesting.
On the whole the festival worked well. The queue stretched around the block for the Jori Hulkkonen gig, but we actually got in, and the schedule screw-ups on the second day didn't really matter since all the venues were located close to each other. I kind of hope that UMF stays this size, offering a showcase for what's cooking out in the garages and bedroom studios around Finland.