This year's Tinitus Festival line-up was possibly the best so far. The two legendary synth bands Front 242 and Nitzer Ebb played at the lovely Münchenbryggeriet in Stockholm, and expectations were very high.
Unfortunately a piece of Front 242's drum kit went MIA on the way to Sweden (SAS sent it to Copenhagen instead of Stockholm), so Tinitus main man Daniel Jonasson entered the stage to ask if anyone in the audience could help out. And actually, someone did!
But now I'm getting ahead of myself, let's take a slightly more chronological look at the evening.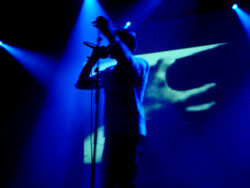 Dirk Ivens in Absolute Body Control.
The Release posse arrived just in time for Absolute Body Control, an old band with Dirk Ivens and Eric van Wonterghem, both once in Klinik together with Marc Verhaeghen. After they both left Klinik – Eric first after only two years – they now work together in the noisier project Sonar. ABC's style is more melodic and accessible than the other projects, albeit still minimalistic, and I must say I was really impressed - enough to buy the album. As far as I know, this was the first time in 20 years that they have played live.
New this year was a nice lounge area with sofas, where you could relax your weary feet a bit. There was only one stage this time, so there were some pauses between the bands, while the stage was reset. I kind of like that, because it gives you time to chat with friends and socialise.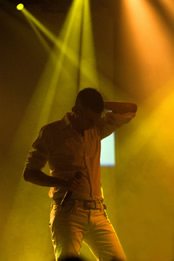 Riccardo of Dupont.
After one of those breaks, Daniel Jonasson's own band Dupont took the stage. I like their new album "Intermezzo", which is way poppier than their debut "Ukraina". They only played new songs, probably because the old growling style doesn't fit the new singer Riccardo. The stage show was so-so, but the music sounded good, and Swedish new wave veteran Johan Kinde joined them in "Planless Exhibition".
It was after this Front 242's lost drum delayed the schedule. It didn't bother me that much; I still had fun, but I heard some grumbling. The promoters tried to persuade Nitzer Ebb to play prior to Front 242, to make up for lost time, but they refused. The Hacker played instead, while the crew got the drum kit together. I hadn't heard that much of his material before, but I was pleasantly surprised. Danceable electro with fast sequenced bass lines is sometimes all you want. The area in front of the stage turned into a big dance floor.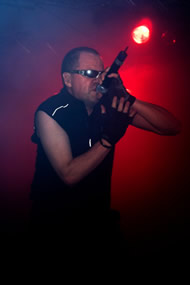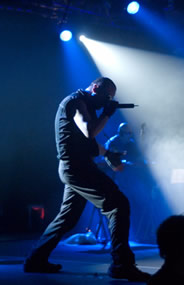 Front 242. From left to right: Jean-Luc de Meyer and Richard 23.
After more socializing and some food, Front 242 came on with a bang! They were slated to play an old school gig, and fortunately the raved-up versions we have endured lately were gone (even though they didn't play the original versions in all cases). The stage show was festival-slim but Jean-Luc and Richard 23 jumped around like kangaroos on stage as usual. While the material was a bit uneven at times (especially the stuff from "Pulse"), tracks like "Take One" and "Im Rhythmus bleiben" took my breath away. Old classics - "Body to Body", "U-Men", "Don't Crash", "No Shuffle", "Lovely Day" and "Commando" were mixed with newer ones. Too bad a drunk girl harassed me for the entire length of "Punish Your Machine" though. I don't have time for that when my heroes are playing!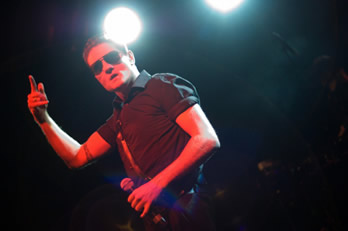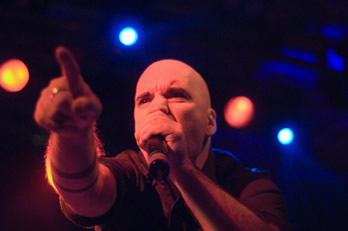 Nitzer Ebb's anger was fuelled by the power black-outs. From top to bottom: Douglas McCarthy and Bon Harris.
It was very late when Nitzer Ebb came on, and actually the crowd had thinned out a bit. Those of us left had a fabulous time together with Mr Body himself, Douglas McCarthy. What a voice! Hit after hit, and the crisp sound really drove the tracks home. Unfortunately the electricity on stage went out during the two strong live numbers "Godhead" and "Join in the Chant", to both the band's and the audience's chagrin. Kudos to the band for sticking with it though, and the show was otherwise fantastic.
All in all, a great evening, although the mentioned issues took the mood down a couple of notches for some. Still, we got to see both Front 242 and Nitzer Ebb on the same stage, after each other.
++ Read more Reports