Two words can sum up this year's edition of Tinitus: guitars and nostalgia. This time there were two writers from Release present - Aimée and Johan, and our different tastes matched the varied styles of bands in the line-up. From hard EBM to sweet synthpop, Tinitus 2005 catered to all tastes.
We met up in the subway and arrived in time to catch the last minutes of Swedish newcomer Thermostatic's set, which was a cover of Pet Shop Boys' "Paninaro". The energy emanating from the singer was enough to make us wish we had gotten there earlier, especially since we both liked their album.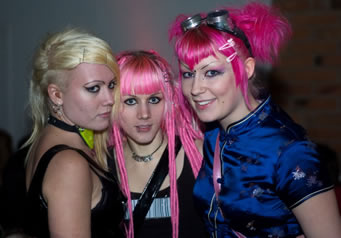 Visitors.
From happy synthpop to the hard and evil Agonoize. With emphasis on "evil", as the singer tried to revive the shocking performances of the eighties heavy metal bands with fake blood and a syringe amongst other things. Points for trying though, considering the difficulties many electronic bands face when trying to make an interesting live show. Johan, who isn't a big fan of this kind of modern EBM, thought all the songs sounded pretty much the same. EBM fan Aimée can't pinpoint a single song either, which should prove his point.
Due to this year's breakneck speed between the acts, we went straight to Rotersand, with their enigmatic frontman Rasc looking like the evil villain telling his plans of world domination to his captive hero. In this crowd, that's a good thing. They were the only ones to play a ballad, not the best choice when playing at a festival. If only all of their songs were in the same vein as "Merging Oceans", "The Last Ship" and "Exterminate, Annihilate, Destroy", they would be up there with the biggest acts.
Next up was Combichrist, one of this year's most popular newcomers, and we can certainly see why! Singer Andy LaPlegua enters stage in jeans and T-shirt, devoid of any industrial attributes. The next moment he is the epicentre of a musical explosion that many thought was the best part of the evening.
Our own opinions differed, though. As expected, Johan didn't care much for the concert musicwise, but Aimée spent most of the concert up front, revelling in the intense energy coming from the scene and reflected in the audience, meanwhile getting better acquainted with said audience's elbows and boots - and sharing copious amounts of sweat. Worth every single point it caused on the pain-o-meter.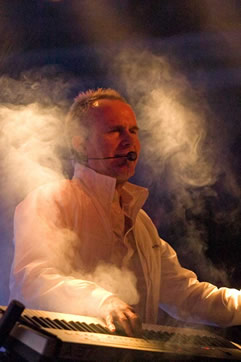 After the Combichrist onslaught, Johan's big moment was nigh, as synthpop legend Howard Jones entered the main stage. He put on a great show, although basically the same as at SAMA earlier this year. Surprisingly, Howard didn't play more new tracks from his latest album, but perhaps he figured people wanted his greatest hits. As last time, he was swinging his live keyboard around, and playing cool solos on his mountain of synthesizers.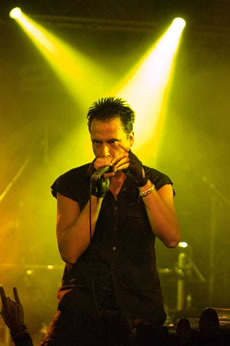 By now, it was getting late and time to eat, so we treated ourselves to a mainly tasteless single mushroom "mushroom wok". Fortunately, Die Krupps came on stage a bit late, so we managed to finish our meal. With renewed energy we got to enjoy classics like "Germaniac" and "Volle Kraft voraus". Die Krupps celebrate their 25th anniversary this year, and even though a well preserved Jürgen Engler was the most energetic person on stage, they all seem to enjoy being back together. Most songs prompted spontaneous singing from the wildly enthusiastic audience, and they all seemed to be at least someone's favourite.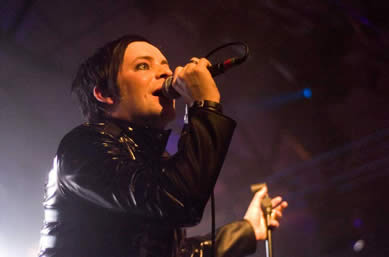 After scaring away half of their fan base with their latest radio rock-oriented album, Apoptygma Berzerk entered the main stage as headliners. We were curious to say the least, as to how the band would handle performing in front of an audience that appreciated them because of their electronic sound. As it turned out, it was an OK gig, with a full band on stage and material from debut album "Soli Deo Gloria" to the new "You and Me Against the World". They had the crowd with them, but our guess is that if they had sounded like this from the beginning, they wouldn't be headlining Tinitus.
Overall, people enjoyed themselves, and there were less violent shoving and more smiles in front of the stage than normally. The staff was great; patient and friendly. With a bit more time between bands, the experience would have been even more complete.
One observation we both made is that the new thing among keyboard players is moving the keyboard around, either by mounting it on a movable stand, or just lifting it: Das Ich, Howard Jones, Apoptygma and Rammstein (remember the keyboard accident last summer in Gothenburg). Agonoize took this to new extremes when they actually tore down one of their keyboards. We think we'll see more of this, even though most won't crash on the floor as Agonoize's.
Many of those present came to see their old heroes; both Die Krupps and Howard Jones started out when the majority of Tinitus visitors weren't even born. This lead to a reappearance of many old time hibernating synth fans. We talked to some of them, and the general consensus was that they won't let the dust settle back on their Doc Marten's anytime soon, as they had so much fun.
Let's finish off by welcoming the "hibernators" back and we hope we'll see them at future events.