We are so spoiled here in Stockholm with good electronic music festivals. The latest edition of Tinitus was once again a well-organized event with a mixed line-up of both pop, EBM and powernoise.
For me it started off with Portion Control, who did a great show, with good-looking video backdrops and their special brand of groovy electro. It was early in the evening so the audience wasn't exactly wild, but I really enjoyed the gig. A friend of mine went as far as saying, "you might as well go home after this".
After a visit to one of the over-crowded bars to get some refreshments, I was standing and talking to my friends when Xotox started playing. Their monotone noise was not my cup of tea at all, but they had their share of fans in front of the stage.
Next up Fixmer/McCarthy kicked off in grand style with "Join in the Chant" – much like the Arvika gig earlier this year. No naked couple or nazi greetings this time though. Douglas seems to be in devilishly good shape and by golly does he have a powerful voice. A kick ass concert, with a mix of both old Nitzer tracks and new Fixmer/McCarthy ones. Go Douglas go!
Belgian EBM veterans A Split Second is a band that has never really caught my attention, and the concert here didn't do much to help that. Too many nondescript songs, and a wee bit too many hair metal guitar solos for me. My ex girlfriend said that they were her favourites of the night though, and who am I to argue?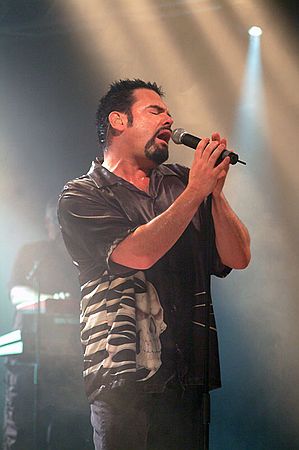 Marian Gold from Alphaville with his golden voice.
A hot dog and a cactus/lime cider later I went up to the balcony to watch Alphaville take on the main stage. A hush went through the huge crowd when a chubby and bearded Marian Gold came on, wearing a weird shirt. I guess most people expected him to look like in the "Forever Young" video. It's fun to hear the opinions of this gig, because everyone thought differently. Reactions ranging from "worse than Scorpions" to "great concert", but I'm somewhere in between. The reggae version of "Sounds Like a Melody" was too much and some almost goth metal excursions left me a bit skeptic, but the renditions of "Victory of Love" and "Summer in Berlin" were great, and Marian still has an immense voice. Of course they ended with "Forever Young", and suddenly the air was filled with cigarette lighters.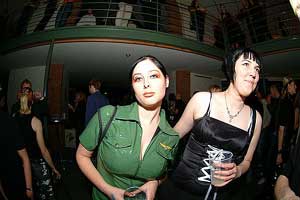 Party people at Münchenbryggeriet.

Legowelt played a deep mud of static beats and voice samples that left me totally indifferent. It would be nice to hear some new interesting music at an event such as this, but alas, that was not to be. I heard Legowelt are a lot better on record though, so I'm going to check them out anyway.
The grand finale of the evening was VNV Nation, entering the stage exactly when they were supposed to – (as did all bands, by the way). They always put on fun and energetic shows, and yesterday was no exception. The wildly exuberant crowd loves them, and Ronan and Mark loves them back which showed. We were treated two new tracks from the upcoming album "Matter and Form", and they both sounded very promising, even though Ronan had forgotten the lyric sheet in Hamburg and had to resort to a hastily clotted down notebook that he read while singing, since he had never performed the songs live before. Props to Ronan for being brave enough to do that. As always he got some laughs during his chit chat on stage, and the feel-good vibes just wouldn't stop flowing.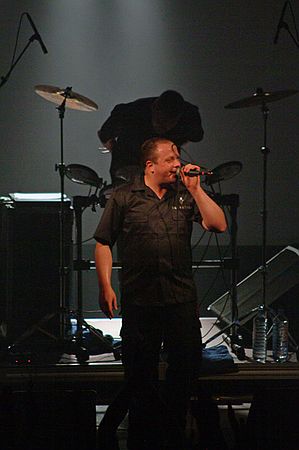 Ronan Harris and Mark Jackson from VNV Nation in the midst of a conversation with the audience.

Another Tinitus had thus come to an end, and I sure had a lot of fun. This year the organizers had listened to the complaints from last year, and put the schedule up on the wall via projector. Good move. Everything went smoothly and if you didn't like the bands you could always dance away the night on one of the dance floors available.