---
Tinitus Festival, Münchenbryggeriet, Stockholm - November 15, 2003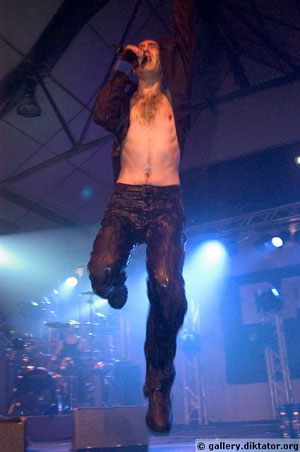 Gabi Delgado from DAF, jumping about on stage.
Photo by: Fredrik Arenhag (Diktator)
By: Karin Martinsson
With an interesting line-up including foreign bands that have not been performing in Sweden before, Tinitus 2003 was quite an experience. To see Hocico (Mexico), DAF (Germany), Sonar (Belgium), Feindflug (Germany) and Solitary Experiments (Germany) - together with the Swedish bands Bobby, Spetsnaz and Lustans Lakejer - well what can I say other than that the promotor really succeeded to pick some good bands. At the same time, the line-up stretched all the way from fluffy synthpop to hard body and powernoise; something for every taste.
After some queuing, I started the evening with a cold beer and Solitary Experiments. A little bit of futurepop, body and synthpop. Not bad but they did not leave any standing impressions. The next concert on the schedule was the Swedish band Bobby, who may be a little bit too pop-oriented to fit the majority of the audience. They still did a good performance though, trying to make the crowd move. The next band on stage, Spetsnaz, was more to my taste however. With a music that has strong similarities to early Nitzer Ebb, it could not be anything else than an enjoyable flashback to the early EBM-days.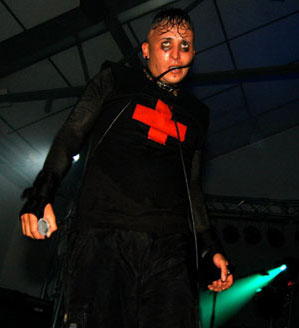 Erk Aicrag: angry singer from Hocico
Photo by: Fredrik Arenhag (Diktator)
One of the reasons that I attended Tinitus was Hocico. I had been looking forward to see the two angry Mexicans on stage since I saw them perform with their other project Dulce Liquido in Germany in June. And well, I had not been longing for nothing. The concert was a real kick for the adrenaline flow. The angry vocalist Erk Aicrag lacked contact with the audience.
In that respect, Sonar did far better, since they had 100% presence. The two veterans within the electronic scene Dirk Ivens and Eric van Wonterghem showed playfulness and gave a relaxed but still very focused concert, providing hard, noisy and danceable beats.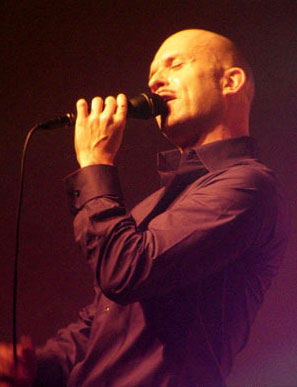 Johan Kinde from Lustans Lakejer posing with the microphone
Photo by: Magnus Eklund (Diktator)
One of the other old guys performing this night was Johan Kinde with his Lustans Lakejer. The pioneers of Swedish pop is still going strong, although it is not music that makes me go crazy, their new single candidate song included. Totally different Feindflug is more my cup of tea. Happy EBM with hard beats that makes your legs go crazy on their own is always appreciated.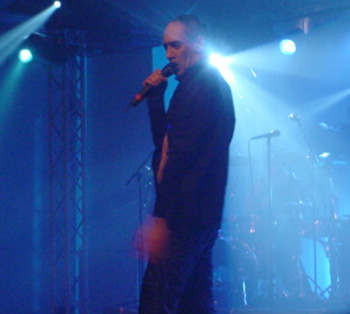 Gabi from DAF.
Photo by: Sören Jensen
The evening, or night, ended with one of the best performances I have seen with DAF or Gabi Delgado's "almost-DAF-projects". The energy was radiating from the stage, and the audience got to hear a lot of old classics as well as some songs from the comeback album "Fünfzehn neue DAF Lieder".
Although the smaller stage still was too small and the food crappy, Tinitus 2003 was something I will remember as one of the best music events I have attended, dance floors and DJ's included.