Far from Sweden
Attracting more than 83 000 visitors from all over the world, Sónar is definitely one of the major electronica and art festivals around. The 14th Sónar consisted of some 90 live and 60 DJ performances including both music and art.
As a first time - but definitely not last time - visitor to Sónar, I have been struck by quite a few impressions. First of all, I expected an electronica-festival to be at least 95 per cent guitar-free, which was not the case. Furthermore, being an North-European, in Sweden festivals are associated with bad or worse camping areas, dust or mud, loads of alcohol and a lot of "hang-around" with friends. To survive a concert you will at least have to put on a pair of Doc Martens - preferably with steel-caps, and if you want to stand in the very front of a concert, you also have to be prepared for some elbow-fighting.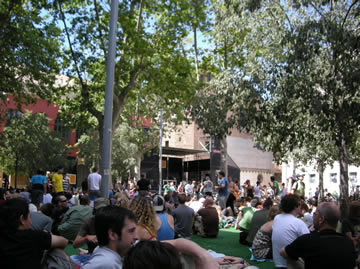 Sónar is definitely something different. The keyword here is "relaxed". First of all, a camping-area does not even exist, so there is no shame in checking in to a comfy hotel. However it seemed to be OK to bring picnic basket into the day-time festival area, preferably to be consumed on the fake grass under the palm trees covering the area in front of the main stage. To fit in, you should wear beachwear - flip-flops included. Haircut? Don't waste money on crazy-colours and cyber-punk creations, but do get a cut where half the head is really short, but save the long hair in the neck - preferably neatly tied up in a few dread-locks ("hockeyfrilla" as we say in Sweden). And for God's sake - don't forget to sleep a few hours during the afternoon, because the real party begins after 3 am.
"I'm not a DJ"
The Sónar festival is divided in two: Sónar by day, which takes place in a huge cultural centre in the middle of Barcelona, and Sónar by night, located in what seemed to be an exhibition centre outside town. Tickets can be bought for each day's day or night happening separately, or all together.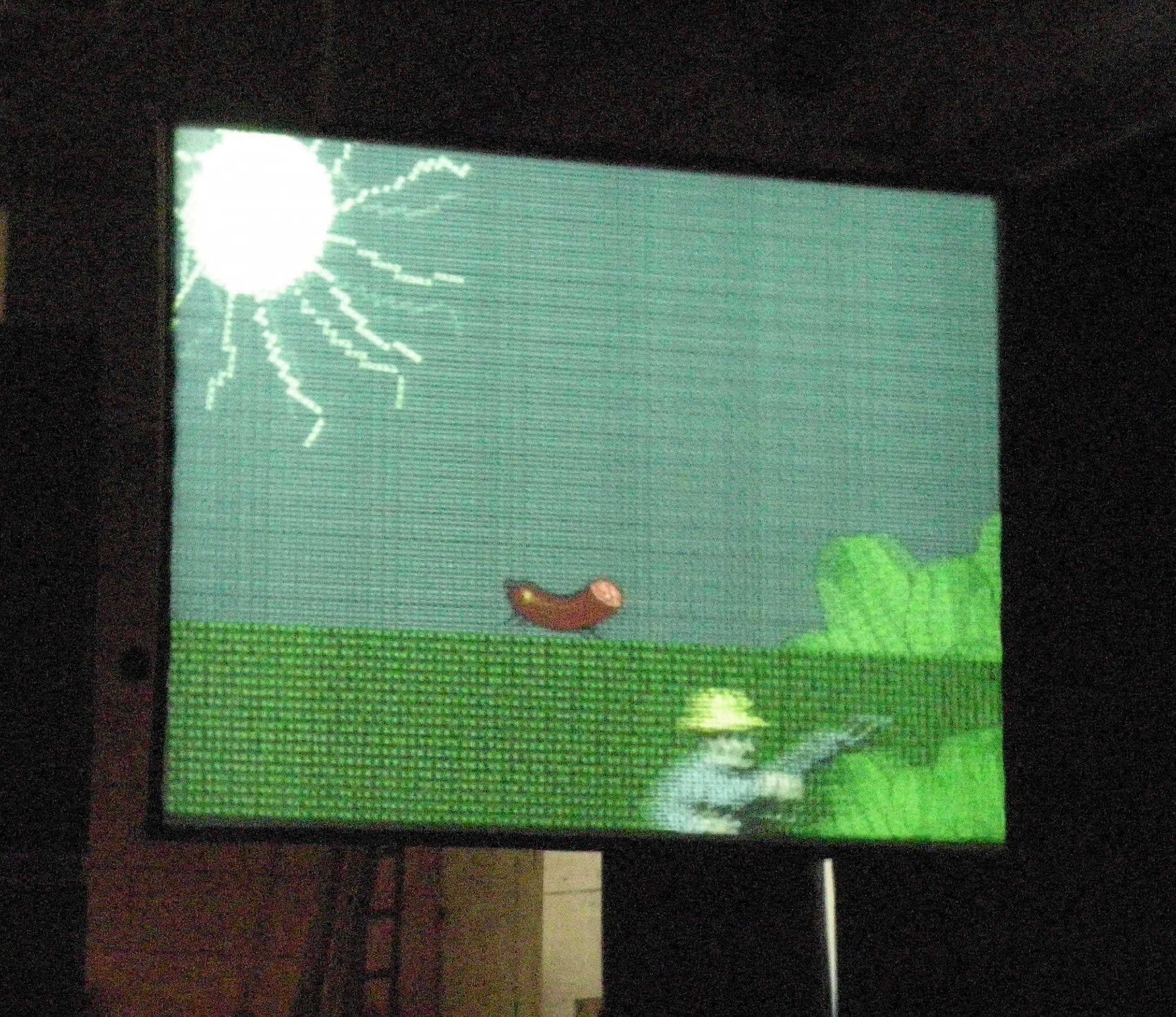 More than anything, Sónar by day felt like a happening for professional musicians and frequent clubbers. The merchandizing must have been heaven for the serious DJ. Stickers and T-shirts telling "I'm not a DJ" seemed to bring out good laughs. Half of the performances on one of the five stages were DJ sets. Concerts performed were mostly true electronica - and all bands seemed to have put a lot of effort into the visual part of the performance: The huge screens on each side of the stage were frequently in use.
Sónar by night attracted a somewhat different audience: Younger, with party on their mind. But flip-flops were still going strong. The four different stages were all located in huge halls, of which none were more than half-filled even during the main attractions, and most people turned up after 2 am.
Beastie Boys headlined
Talking about main attractions: This year, front-cover bands were Beastie Boys and Devo (both US) and Cornelius (Japan).
White hip hop legends Beastie Boys, who did a special instrumental gala-event on Thursday, started their new tour at Sónar with a split concert on Friday evening. The crowd consisted of many fans that have followed the trio of Mike D, Ad-Rock and MCA during their 20 years of performing.
The gig was divided into two parts - playing the old good stuff making the audience go crazy and sing along, and the much calmer, instrumental songs from the new album. And in between they talked quite a lot - which might have worked on a small stage, or at least where the microphone works properly, but in this case it felt more like technical breaks every now and then. But somehow they still managed to keep my concentration and interest - by knowing that in between there were going to be some songs performed with the attitude I came to see; I was waiting as a child on Christmas. And it did pay off: among the songs performed were "Intergalactic", "Body Movin'" and last but not least - a song dedicated to president Bush: "Sabotage".
Beastie Boys are still going strong and the spark is definitely there, however I don't really see the connection between the former five records and the newer material. At least it did not blend well together on a stage. However, Mixmaster Mike really made an impressive performance behind the DJ-table.
"The Devolution is still real"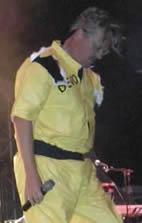 "It could have been 1968, or 1984. The Devolution is still real". A message that all true Devo fans in Europe have been longing to hear for the last 17 years kicked off the group's performance on June 17. Devo is more than a band - it is a philosophy. Fans are not humans, they are Devo.
There are many ways to describe the parallel world created by the five members of Devo: art-rock, visionary new wave, electronic post-punk - but none of them really manages to catch the true essence of this band who has been performing for more than 35 years.
The audience was really filled with expectation as the band entered stage - in yellow protective dresses and the red circular-pyramide shaped Devo hats. And Devo managed to deliver. Songs played were "Girl u want", "Whip It", "Uncontrollable Urge", "Peek-a-boo", "Secret Agent Man", "Gates of Steel", "Mongoloid" and so on - the hit-parade seemed endless, but ended with "Freedom of Choice".
The gig at Sónar was the band's first one on European soil in over 17 years, and will be followed by a short tour in Europe covering UK, Ireland, Scotland and Italy.
One of the more popular Spanish artists seemed to be Fangoria. The concert started great with violins, cellos and violas on stage and DAF's "Der Räuber und der Prinz" as intro. Expectations were high I must say - when it suddenly turned out to be all schlager with some influence of eurodisco.
More than music
One good - or bad thing, pending on focus, is the location Barcelona. The city has a lot to offer, so visiting the festival areas felt more as a luxury add-on between sightseeing, visiting "Cerveserias" (beer halls), sunbathing at the city-beaches and shopping. Although the tickets were quite expensive - over 140 Euro for a ticket covering the whole programme - I can recommend you to at least check out the line-up for next year. If you see a band or two you want to see - don't hesitate but book a ticket to Barcelona and enjoy, both the festival and the pulse this city has to offer.