Swedish Alternative Music Awards, Kåren, Gothenburg - April 1, 2000
Apart from the name being changed from SEMA to SAMA, most things were the same even this year. Both the attending crowd and the bands performing seemed to be in the best of moods this, somewhat rainy, April 1.
New for this year was the use of two bigger scenes accompanied by the two small ones downstairs instead of past years' one main stage. This proved to be a smart move, since more of the bands got a well-deserved opportunity to put their work on display for a larger audience.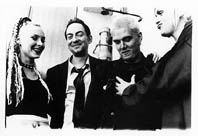 Cat Rapes Dog was one of 15 live bands. Annelie Bertilsson also organized a spectacular fashion show on the main stage.
Photo by: Karolinah Wojcik

Sista mannen på jorden was first band out, and then things went on until late night. Featured were Saft, Cat Rapes Dog, Mobile Homes, Melotron, Page, Mesh, Welle Erdball, Covenant, Apoptygma Berzerk, Chinese Detectives, PAF, Volvo 242 and Fidget. Many of them gave great shows, but one of them seemed especially appreciated.
The Page reunion-concert on the main stage, their last performance ever. The crowd was nothing but ecstatic and the original line-up consisting of Eddie Bengtsson, Marina Schiptjenko and Anders Eliasson pulled off a mind-blowing, magic performance, leaving the viewers totally stunned. Truly a moment for the history books.
Johan Kinde, singer and front figure of Swedish new romantic band Lustans Lakejer, hosted the show and presented the awards with the help of several well-known faces including Robert Enforsen (ex-Elegant Machinery), Marina Schiptjenko (ex-Page, now Vacuum), Ulf Ekberg (Ace of Base) and Hans Erkendahl (Mobile Homes).
First up was "newcomer of the year" where, quite surprisingly, Venus Outback received most votes, with Lorelei de Lux as runner-up. S.P.O.C.K, with their still increasing fanbase, won the live award and singer Alexander Hofman gave a sentimental speech, evidently happy. Mr Hofman gave another equally emotional one when S.P.O.C.K won their second award of the evening with their album "S.P.O.C.K: 1999".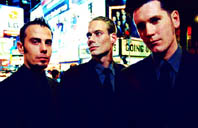 Covenant "only" won one award this year, but they released no album 1999.
Photo by: Dirk Eusterbrook

The song category featured tracks from Statemachine, Yvonne and Saft, but they were outdone by Covenant and their club hit "Tour de Force". Finally, at well past the stroke of midnight, Saft were the lucky winners of the artist award, of many considered to be the most desirable.
A special price was also given by Swedish magazine MusikerMagasinet (MM) to what they thought was the best electronic gadget of 1999. The winner was Sidstation, a synthesizer using the sound chip of the Commodore 64.
SAMA is, without a doubt, a highly popular event for the starved electro fans. And with it being completely sold out, leaving many crying over not buying tickets in time, it seems the future of SAMA is brighter than ever.
NIKLAS FORSBERG