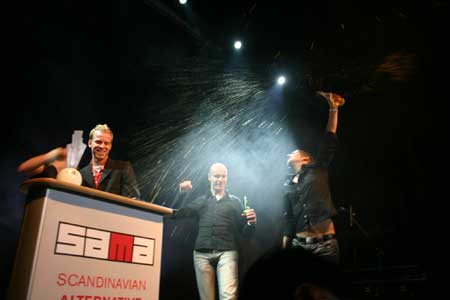 Statemachine awarded.
I couldn't help but feel puzzled by a nagging sense of deja-vu as I walked into SAMA-land this year. Luckily, the element of confusion, the third venue in as many years, actually became a positive surprise as the evening progressed. Trädgår'n (the current home of popular synth club Romo Night) managed to host all 13 bands on one floor, which facilitated easy access somewhat, as you never had to fight your way up and down narrow stairs with your sword drawn to witness your favourite electro heads. Allowing more people than ever this time around, I guess, SAMA still sold out although very late.
After looting Hot Stuff, time came for a mind-boggingly difficult choice for an incurable electropop slave like myself. Back-to-basics synthpop with Mr Jones Machine with the Ollila brothers (newly signed to Intrapop Records in Germany, by the way) on the tiny third stage. Or obstinate, beat driven chunks of electronica and pop served by Backlash at stage two. There seemed to be a general feeling of schizophrenia plaguing the crowd as both shows were well attended, considering the early hour. New Backlash vocalist Erik Torstensson proved his ability by lifting older songs like "Alter Ego" to new heights through warm emotion and powerful eruptions. Haunted by the will to see Mr Jones Machine and my undying love for Daily Planet, I managed to stumble through trenches of vinyl skirts, surreal haircuts and heavy make-up to witness one and a half of their bouncy pop tunes. Close to Daily Planet, but significantly more dominated by clubby beats.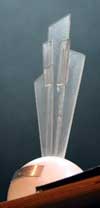 Rejuvenated by insanely cold water (I was driving, OK? Plus I had to remember something for this report, didn't I?) and not one bit surprised by the fact that Alice in Videoland won the newcomer award, I took the wise decision to see what the pranksters of Slagsmålsklubben (Swedish for "The Fight Club") were up to as first act on main stage. Drawing heavily on what Pluxus did a few years ago, the six (!) man band performed something of a paradox concert. Humorous, sometimes incomprehensible in-between-songs-talk paired with some form of I-have-no-control-over-my-body dance routine at least made for an interesting show. Worth mentioning also that Slagsmålsklubben, in spite of their unhealthy Pluxus complex, seemed to please quite a large number of people with their playful video-game pop instrumentals.
Add some clicks and cuts and a low-key, distant voice to that sound, and you might be able to hear Sophie Rimheden's broken soundscapes. At least I did for a few songs, before I realised that what makes Sophie so interesting on record is what makes her rather boring on stage. You need to pay attention to the precision of her sometimes overly intelligent music to fully appreciate it, not have it smothered by a hectic live environment.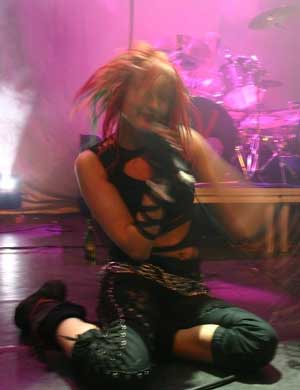 Toril in Videoland.
Following The Knife's award for best Scandinavian song of 2003 ("Heartbeats"), Alice in Videoland, boosted by their prize earlier in the evening, rocked the SAMA crowd at stage one. Their punk-laden electro works exceptionally well, as their attitude comes across unmercifully live.
British trio Univaque has been crowned the successors of Elegant Machinery and many with me were excited to hear material from their upcoming debut album "Lost in a Maze". Produced by ex-Elegant Machinery men Johan Malmgren and Robert Enforsen and, surprisingly, also joined by Johan on stage, they sounded more Elegant Machinery than the originals, only aided by a weaker song roster and an uninspired vocal performance.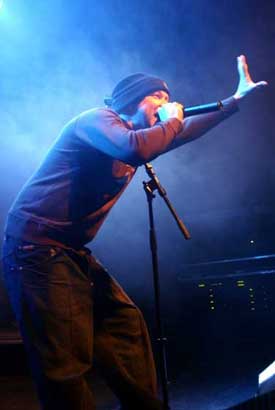 Mesh.
Disappointed to the very core of my being, barely able to hold the tears back, along comes Mark, Neil and Richard to pull me back up. Only moments after Statemachine's scream of joy for receiving the album for "Short and Explosive", Mesh began their ongoing quest for electropop domination. It struck me how fantastic Richard's backing vocals sounded live, especially in "People Like Me (with This Gun)". And Mark's lead vocals always impress me as he always walks that extra mile when he's on stage, giving the enthusiastic audience a magnificent treat. One new track was played, the up-tempo "Step by Step" (I'm guessing the title) where Hockings picked up the guitar to aid him mostly in a patented Mesh chorus. A possible single later in the year, one can hope.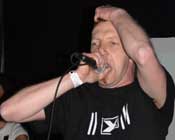 Suicide Commando isn't my cup of tea, but they delivered hard, energetic body to a packed audience on the second stage. Norway's judgement day electropop duo Panzerveps then barely fit onto stage three for a short, but very nice concert before time came for the surprise of the evening. Bodies without Organs, the new project of Alexander Bard, Marina Schiptjenko (both previously members of Vacuum) and singer Martin Rolinski (who were one of the finalists in the Swedish version of Popstars a few years back), showcased three of their songs on main stage. Three, if I may say so, kick-ass pieces of vibrant electronic pop. As I stood there with my jaw dropped, exchanging ridiculous smiles of approval with colleague Johan Carlsson, I finally got a well needed receipt for Bard's song writing ability of today. I sincerely hope to see their first single "Living in a Fantasy" released soon. What an album this could be!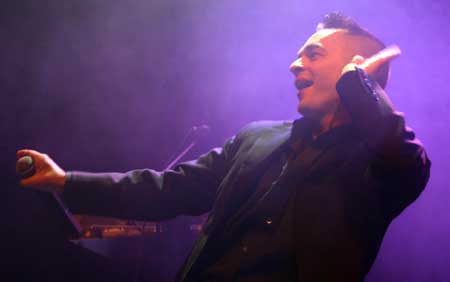 And One.
Statemachine, now pretty hammered, were presented with their second SAMA award for best artist as the time was closing in on one o'clock and And One were getting closer to their performance. Slightly delayed, they gave the best show I have ever seen them perform, even though some of their song choices were pretty odd. Old hits like "Metal Hammer" and "Techno Man" (which ended things) sent the big crowd into body frenzy, as some of the more pop oriented hits were greeted more conservatively. Still, a good show to end a great event. One may wonder, though, where will SAMA be held next year?