---
Scandinavian Alternative Music Awards, Folkets hus, Gothenburg - April 5, 2003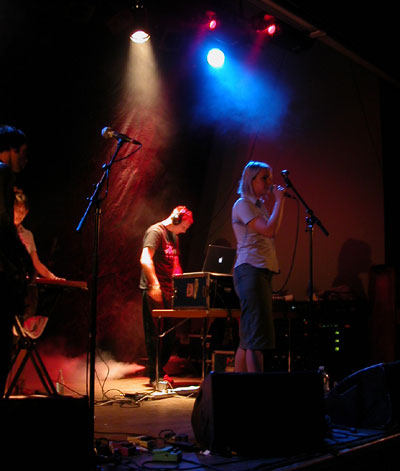 Client showed themselves.
By: Niklas Forsberg
Photos by: Mikael Kahrle

Just when I thought that a new generation of synth and electro fans had started to take over, the old, narrow-minded one struck back. The SAMA award for best song was given to new wave newcomers Melody Club for "Electric" and the crowd started booing. It showed unmercifully how nothing has changed; that a non-exclusively electronic band with a fan base in the mainstream could never be accepted. At times like that, I'm ashamed to be part of this scene of ours. What would happen if Welle:Erdball broke through into mainstream charts? Would they be as easily discarded as Melody Club? Everyone doesn't have to like everything, but there always needs to an element of respect.
On another, significantly more positive, note SAMA is always a pleasure. Even after getting in rather late, missing the Colony 5 performance, things were quite enjoyable. A few organisational glitches may have to be perfected for next year's event, though. Some areas were too lit up, for instance.
The scene has certainly has expanded. Not only because of the 500 extra attendants and the tickets being sold out eleven weeks in advance. There were also many new and younger fans present and the concerts seemed more thoroughly appreciated. I chose to tell you more about four of them this time.
My own first experience for the evening, not counting the admiration for some spectacular outfits and haircuts, was Tyskarna från Lund's performance on the main stage. Their show is nothing short of perfect for an event like SAMA. Well-rehearsed comedy paired with both amusing and good music put a smile on everyone's face and set the mood for the night. They are already a classic, if you ask me.
There were plenty of activities for those who didn't run frantically between shows this year. The sales stands are always popular, as is the heavy drinking and intense socialising. But if you ask me, one of the 2003 highlights was the ability to play Space Invaders, the old computer game classic, on an old machine...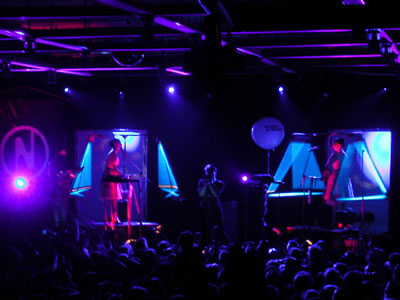 Welle:Erdball with rotating neon triangles around the girls and Erdball balloons.
Come nine o'clock, the main stage area was packed, both with people and anticipation, as Welle:Erdball were about to give all on a stage crowded with electronic gadgets, delivering most of their hits and a few new pieces.
It's about this time my back and legs started hurting from all the standing and minimal moving (I'm not one of those bouncing black balls you see at every concert). Maybe I shouldn't have started my Saturday with a three-mile run, after all. Ah well, walking up the multiple stairs up to stage two loosened me up a bit, a feeling that was enhanced by the laidback, cool Client concert. Client A and Client B maintained their sexy image with electroclash in the vein of Ladytron, albeit somewhat stale and soulless on occasion.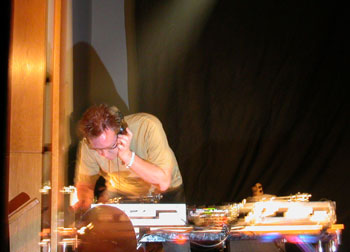 Andy Fletcher didn't perform with Client, but tried to DJ prior and after the show. Maybe he shouldn't have. He played some good tunes (also Depeche Mode, actually) but he looked like he rather wanted to be back home in his sofa. Few people danced - they were rather busy staring at Fletch. This is a guy who should know how to behave on stage and inspire a crowd. And the organisers should have backed him with above all things, a better light show.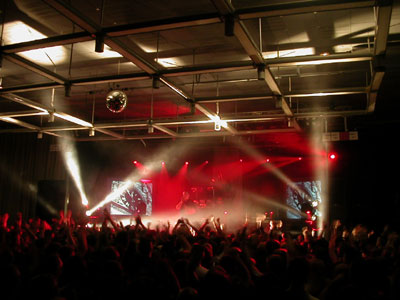 Noone standing still. The entertainer of the night: Ronan Harris in front of a huge cheering crowd.

After some refreshing liquidly stuff and buzz with friends and acquaintances, time had come to waltz back down to witness my first VNV Nation show. The big stage floor was filled with, if possible, even more enthusiastic electro heads than before when the two Irishmen entered main stage. Ronan Harris is blessed with a fantastic stage presence and extraordinary song writing skills. He managed to energize the huge crowd, accompanied by Mark Jackson who spent most of his time banging the drums in the background. A nice touch to their concert was the cover of Nitzer Ebb's "Getting Closer" with Mark on vocals (and I have to say he sounded good).
The next and final band on stage one, SAMA superstars Covenant, had a tough job matching their friends VNV Nation's show and we have seen better Covenant performances, that's for sure. On the other hand, most people were rather tired at this late hour.
As usual, SAMA delivered. It was a great night indeed. With the increasing interest for events like these and the scene as a whole, one can't help but wonder what lies ahead of us.
NIKLAS FORSBERG (WITH SMALL ADDITIONS BY MIKAEL KAHRLE)