---
Swedish Alternative Music Awards, Kåren, Gothenburg - March 3, 2001
For the fourth time, Swedish Alternative Music Awards (SAMA), was held on Kåren in Gothenburg. Five awards were presented and 15 live acts played on four stages during the nine-hour super-compact festival.
The move from April to March made no difference on the attendance. As usual, Kåren was packed to the brim with cheerful synth fanatics, music business people and as much as 15 performing bands.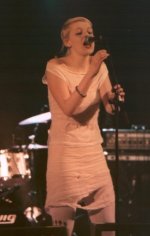 Photo by: Peter Åstedt (Release)
Sadovaja.
First out on stage two was local technopop duo Sadovaja, who just after their gig won the award for best newcomer of 2000. Stockholm nerds Pluxus, also award winners (for best live artist), made a much-appreciated appearance on the main stage with an enthusiastic cheering crowd, in spite of playing as early as six o'clock. Their instrumental tunes with roots in the early days of electronic music, charmed the audience. I'm impressed by the fact that they play everything, or maybe almost everything, live.
As the evening went on, more and more people found their way to SAMA, and after a few hours, the three floors were full.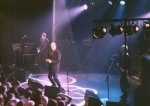 Photo by: Peter Åstedt (Release)
Lustans Lakejer played at Kåren once again.
The April Tears, with new promising material, bounced around on the second stage, while Swedish new romantic legend Johan Kinde and his Lustans Lakejer maintained a more laid-back facade on the main stage. The floor was packed when they performed and Kinde is as usual a natural stage star.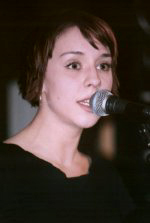 Photo by: Peter Åstedt (Release)
The April Tears won the best song award and played live in a crowded stage two-room.
The April Tears then won the award for best song of 2000 with their "Model, Actress, Whatever" and Covenant won yet another prize, this time for their album "United States of Mind".
German Neuroticfish had a good impact on the electro fans, with an energetic vocalist and stale, melodic electronics. S.P.O.C.K entered the main stage in their new outfits and performed both new pieces and old favourites.
The highlight of the evening (mine, anyway) took place about a quarter past eleven on stage two. German analogue synthpoppers Second Decay made the audience dance and sing along with live friendly hits like "Für immer", "Hinter Glass", "Nouvelle Vague", and, especially, "I Hate Berlin", Second Decay's masterpiece.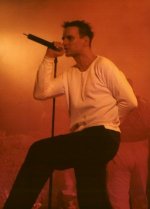 Photo by: Peter Åstedt (Release)
Funker Vogt, last band on stage one.
The last award of the evening was given to Teddybears Sthlm before Yvonne and a monotonus, but danceable Funker Vogt closed things out this fourth SAMA festival.
Other smaller bands that made appearances included Animals in Jungles (a band I hope will sign a record deal soon) and Nightclub (promising Fidget side project). Norwegian synthrock newcomers Zeromancer are pretty unknown in Sweden, but their gig impressed a lot of people, so things might change. Elvis Presley cover project Aaron Sutcliffe will soon launch their debut album and Johan Malmgren (of S.P.O.C.K) is indeed a cool guy on stage.
Once again, the SAMA tickets were all sold before the event and the attending people seemed to have a blast, in spite of a significantly weaker line up than, for example, last year. Still, I'm already waiting for SAMA 2002.

NIKLAS FORSBERG (WITH ADDITIONS OF MIKAEL KAHRLE)