I have been to more than a thousand concerts. And I have just witnessed a top ten performance.
Last time I saw Pet Shop Boys live was at Liseberg in Gothenburg back in 2002 during their "Release Tour". Neil Tennant seemed pleasantly surprised over a nice turn up of more than 10 000 people then, but the show was a bit slow and
This time around the crowd was smaller, around 1 800 people had made the trip to Cirkus in Stockholm for their aptly named "Pandemonium on Tour" gig. I found that the performance was much better choreographed. Also, in my view, the energy of the crowd as well as the band's performance was superior.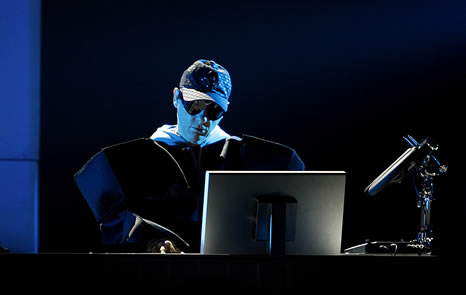 I saw the Pet Shop Boys "Nightlife Tour" at Globen and remember being utterly cold, five below zero, a snow blizzard and only a T-shirt was not the best combination. This time around it was almost too hot, almost 30 degrees Celsius instead and with the wooden construction of Cirkus the heat was almost unbearable. Chris Lowe used a fan under his desk, to be able to stand the heat while wearing a spectacular mirror jacket.
We arrived an hour before the stated starting time of 19.30 for a photographer meet up but that was postponed until a few minutes before the start of the show. I generously received a photo pass from Live Nation but I found the photo procedure very strange. We were only allowed to take pictures from behind the sound desk so please excuse the poor quality of the images. I do not understand this policy, I mean in the front row and throughout the audience I saw huge numbers of more or less professional cameras being used without any interference from security. Also we were only allowed to stand at the very back of the crowd at the same floor lever as the thousand people in front of us. Nevertheless I am thankful for the photo pass. It will make a nice souvenir in my PSB collection. After the first three songs I had to hand in my cameras and hurtled back to the show.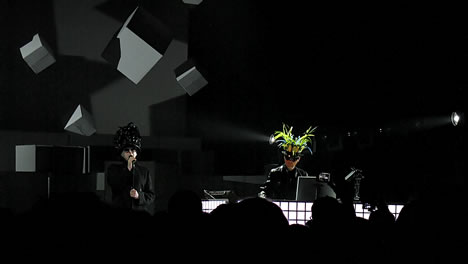 The stage design was based around cubes in various sizes and behind the cubes was a huge screen used for projections. I spotted four different projectors. Some of the cubes were lit in different colours and patterns to further enhance the visual perception of the show. In my opinion this was the most beautiful stage design of Pet Shop Boys so far. The arrangement of the cubes was changed all the time converting walls to stairs and so on. This was done by staff clad in white protective helmets and laboratory robes.
The sound and video engineer also wore laboratory robes, no detail left to chance. The sound was very crisp and loud, but not disturbingly so. I usually wear ear plugs but decided not to this time (my philosophy is that if I am to get tinnitus it should be from either from Depeche Mode, Erasure, Kraftwerk - or Pet Shop Boys).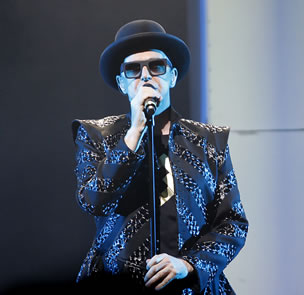 The start of the show was tremendous: an intro was followed by "Heart". I was already satisfied after that but we were treated to more than one hour and 30 minutes of additional shear joy. Two cubes in the wall were used as doors and Neil Tennant and Chris Lowe entered the stage from these wearing cubes on their heads. As usual Chris took his place stage left behind keyboards, electronic equipment and pads and spent more or less the entire show there with a 20 second exception dancing with the four dancers while Neil changed his outfit. I usually do not reveal the entire set list in these reports but I feel that I have to make an exception this time, and yes this is the biggest spoiler I have ever written and it is a product endorsement because I urge you to visit any remaining concert if you have the possibility. If you are a die hard Pet Head or just have the least of interest in Pet Shop Boys you are bound to love this concert. Just check this set list:
"Intro"
"Heart"
"Did You See Me Coming?"
"Pandemonium"/"Can You Forgive Her?"
"Love Comes Quickly"
"Love etc"
"Integral"/"Building a Wall"
"Go West"
"Two Divided by Zero"
"Why Don´t We Live Together?"
"Always on My Mind"
"Closer to Heaven"/"Left to My Own Devices"
"Do I Have To?"
"King's Cross"
"The Way It Used to Be"
"Jealousy"
"Suburbia"
"All over the World"
"Se A Vida E"
"Domino Dancing"/"Viva la Vida"
"It's a Sin"

Encores:
"Being Boring"
"West End Girls"
The show, produced by acclaimed theatre stage producer Es Devlin, was very well executed and Neil changed the lyrics in some songs to include Stockholm and they seemed to be in a fabulous mode.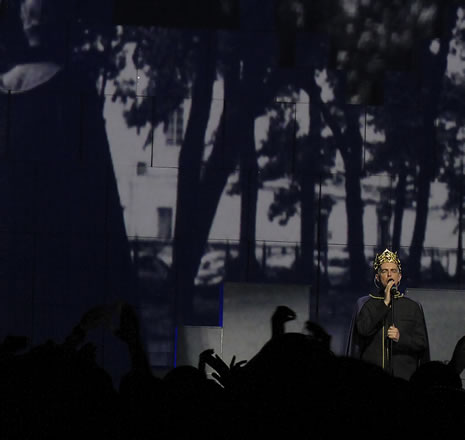 The king of pop?
During the Coldplay cover the projections shown paid homage to Anton Corbijn's work with Depeche Mode: female models, interesting architecture, all in black and white, as Neil wore a crown. It was very nice. In some other projections Chris' hometown Blackpool was shown.
The most unexpected song had to be "Two Divided by Zero", one of several songs from the debut "Please", and it was great. The best thing about the sound and song choice was perhaps not the songs themselves but rather the fact that they had opened just about every old sample project and spiced up the edits with very familiar sounds and samples. Monster producer Stuart Price aka The Thin White Duke and the man behind Madonna's latest live shows, musicwise, has helped the Boys this time. So, as expected, the songs were more dance oriented and heavy. The hundred minute long show seemed to start in a frenzy and then accelerate more and more, with a slower, more serious part in the middle. Surprisingly they did not play many songs from the recent albums except for a couple of songs from "Yes" of course.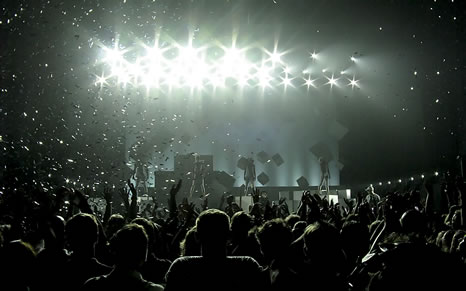 After spending a small fortune on merchandise we went back to the hotel and scanned through the images, despite them being shot from a distance they will still be a nice addition to the photo archieve, not for their obvious lack of technical splendor but they will remind me of that perfect hot night in Stockholm when Pet Shop Boys showed why they have been at the front line of pop industry the last quarter of a century.
Read more
"Yes" review