---
Gary Numan, Brixton Academy, London, England - October 20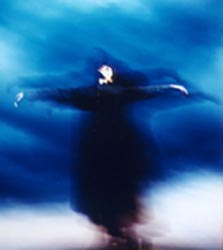 I've always had a weak spot for Gary Numan, but it wasn't until I saw an 80's live video of him performing "(Are Friends) Electric?" that I realised what a total rock star he is.
And this night, at the opening show of his new tour, it was even more apparent. The stage set and light show were both stripped down, but nothing more was needed since Numan, all clad in black, filled up the entire stage on his own. With all the presence Mick Jagger probably wishes he still possessed, he made the fanatical audience scream at every swing of his guitar, every arrogant nod of his head. Off stage he is a tiny, gentle looking man. But on stage, Gary Numan becomes a conquering Caesar, leading his band to captivate the audience entirely.
The 100 minute show consisted of most of the material from the new album "Pure", as well as a fair amount of old gems. Most notably an ice cold rendition of "Down in the Park", and a sing-a-long "(Are Friends) Electric?". The live band was fabulous and Numan's vocals excellent, not faltering once. So this tour should be a must for anyone who has ever been remotely interested in Gary Numan.

KRISTOFFER NOHEDEN