| | |
| --- | --- |
| | |
---
Einstürzende Neubauten 20th anniversary concert, Columbiahalle, Berlin - April 1, 2000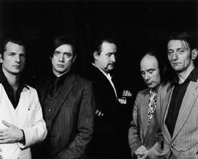 Photo by: Thomas Rabsch

Walking the streets of Berlin earlier in the day, it was impossible to find any traces of the fact that the city's most long-lasting, most uncompromising art terrorists were about to celebrate 20 years of breathtaking existence. There was no electricity in the air, no American congress houses collapsing, not even a single poster announcing Einstürzende Neubauten's anniversary performance later that evening. It was as if Berlin was trying to deny the existence of its antiheroes.
But when the band entered the stage at Columbiahalle it was with an energy that must have radiated out of the hall, throughout the entire city. Although Einstürzende Neubauten got severely decimated by the loss of bass player Mark Chung and beefy metal grinder and stone abuser F M Einheit in 1996, they've recovered extremely well. The new members Jochen Arbeit and Rudi Moser have molten perfectly into the band in the few years since they became members. And on this particular night, they did a performance that was partly so overwhelming that it makes almost every other concert I've attended seem unnecessary and pale.
Opening with "Ende neu", Einstürzende Neubauten filled out the stage with such a confidence and overwhelming charisma that it was stunning from the first second. Blixa Bargeld soon announced that they intended to play for at least three hours, divided in two sets.
The first saw them perform "Haus der Lüge" and a madly metallic "Die Interimsliebenden", whose huge bassline must have shaken the Columbiahalle at its very foundations. The beautiful love songs "Sabrina" and "Stella Maris" followed. For the later Blixa was joined by singer and actress Meret Becker. They also hammered out insane versions of "NNNAAAMMM" and the bone crushing "Headcleaner". The enormous volume made these songs feel almost like physical abuse, but at the same time their fierce funk rhythms made it impossible to stand still.
The concert's biggest moment came a mere three songs into the set. The rendition of "Zebulon" was one of the largest moments of my life. Already on record (on the underrated "Tabula Rasa", to be more specific) it's one of the most intensely emotional songs I have ever heard, and played live it grew to unbelievable proportions. The magnetic Blixa Bargeld sung the poetic love lyric with so much Soul that every so-called soul singer pales beside it. And when the song changed course midways, turning from pseudoharmonic calm to multilayered metal percussion mayhem it was a release of orgiastic proportions.
The second set did unfortunately not live up to the heights of the first. The more restrained songs from the new album "Silence Is Sexy" that was played didn't work really as well live as the older ones, and where "NNNAAAMMM" gained even more power live, the classic single "Yü-Gung" felt a bit weak compared to the original. And devoid of most of its orgies in screeching metal, "Der Tod ist ein Dandy" lacked the relentless power of the recorded version. But "Die Letzte Biest (am Himmel)", another really fantastic Neubauten moment, was compensation enough.
That Einstürzende Neubauten have survived 20 years of cathartic noisemaking and soulburning expressionism feels unlikely in itself, and that they still burn with such a fierce power is no less than a miracle. Let's hope they'll at least survive till their 25:th anniversary too.

KRISTOFFER NOHEDEN