Depeche Mode did not take the chance
On May 12 to 15 the annual Short Circuit festival was held at the Roundhouse in Camden, London, UK. On this occasion two of these days were devoted to legendary Mute Records. Speculations regarding which of the label's artists would be performing started last autumn and when the final program was revealed, rumours regarding the appearance of Depeche Mode boomed. Both Martin Gore and Andy Fletcher were allocated DJ slots and with the addition of Alan Wilder with his Recoil project and Vince Clarke with Erasure featuring special guests being announced many people thought that there was going to be some sort of reunion of present and past Depeche Mode members on stage.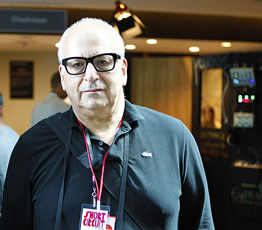 Daniel Miller, head of Mute Records.
Roundhouse is an old building originally used for mending trains and has now been transformed into a wonderful concert facility with a studio section especially dedicated to the education of young musicians. The capacity of the main auditorium is around 3 000 with smaller rooms throughout the complex, along with several bars and other facilities. There were two stages used for the Short Circuit festival, the main auditorium which is a round former railway turntable shed and a much smaller room called the Studio Theatre; this was going to be a logistical nightmare in some cases. The entire program was built upon one stage being used whilst the other was prepared for the next gig, and in the main area the gigs were mixed with DJ sets. This meant that if you were going to see all of the bands you had to make it down or up the stairs between all gigs, along with hundreds of other visitors. The studio theatre capacity was roughly 200, which meant that it was for the most part overcrowded and terribly hot.
Friday with Recoil and Nitzer Ebb
Arriving at Roundhouse I was given the premium ticket pass I bought and after some telephone calls also the photo pass I was promised. Included in the goodie bag all premium ticket holders were given was the program. My first task was to interview Alan Wilder, which was both fun and interesting of course, more about that in a later Spotlight.
Kicking off the entire festival was Richard Warren DJ:ing in the main space. I stayed a little while but decided to start queuing for the Komputer gig in the Studio Theatre. A lot of people did not make it into the small space but we fortunate enough were treated to a mix of I Start Counting, Fortran 5 and Komputer songs (and some technical problems). Despite the technical difficulties I enjoyed the gig very much and made my way to the main space for the Recoil gig.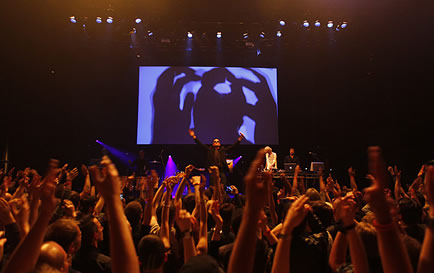 This was to be the fourth "Strange Hour" for me and I am really impressed by the way the project has evolved during the year Alan Wilder and Paul Kendall have toured the world. Yet again the songs and mix was upgraded as well as the marvelous videos, courtesy of collaborator Igor Dvorsky. There were a lot of drums on stage. I had some secret info on what they were for. And 40 minutes into the set Alan announced Douglas McCarthy who preformed "Faith Healer". Next the rest of Nitzer Ebb, Bon Harris and Jason Payne, along with Daniel Myer (Haujobb, Architect and Destroid) joined in performing "Family Man" entwined with "Stalker" and they finished the set with "Personal Jesus" (pic).
It was now time for checking out the merchandise. I couldn't resist buying the Dirty Electronics Mute Synth for 50 quid of course (copies now selling for more than 300 US dollars on eBay), especially developed for this occasion, along with a new pressing of The Normal – "T.V.O.D." on white vinyl and a new I Start Counting/Fortran 5/Komputer compilation.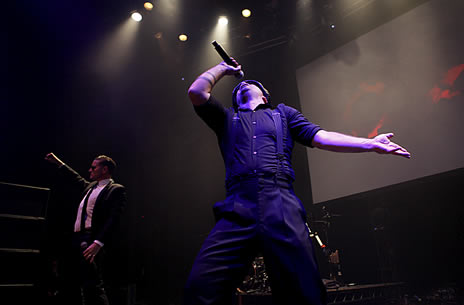 Then it was time for Nitzer Ebb; energetic as always they did a best of selection spiced with a few new tracks from "Industrial Complex". Douglas McCarthy gave us the best quote of the day thanking Mute founder Daniel Miller by the words: "From the hearts of our bottoms, thank you!". And there was much rejoicing.
Failing to gain entrance to the Carter Tutti with Nik Void gig I stayed and watched Moby DJ in the main space, which was nice with excerpts of his own songs beautifully mixed in novel ways. On another venue level Thomas Fehlmann (The Orb and Sun Electric) was DJ:ing, very atmospheric as expected. Then it was time for Boyd Rice and his Non project. Wearing his uniform and only bringing two Lexicon effects and his backing track it soon became unbearable, not that I don't like the project and the music, but the warmth of the small venue and the painfully loud (even with ear plugs) level made me leave the gig after 15 minutes for the benefit of a DJ set by Thomas Brinkmann (Sould Center). Daniel Miller DJ:ed in the restaurant section of the venue and it was more than full of people. He played mostly early Mute-stuff on his Macbook Pro running Trakktor hooked up to an iPad running a DJ-interface. Being quite tired I decided to call it a night and strolled back to the hotel.
Saturday with Erasure and Martin Gore
The Saturday events begun with a talk by no one less than Gareth Jones, producer of numerous Mute artists and generally a very nice guy. Again the organization left more to be desired since the number of people allowed in the conference rooms were limited to 80, which meant that even many of the premium ticket holders were left outside. The talk by Gareth was very informal and informative; my interview that followed left few questions unanswered. The lecture was mainly dealing with "Construction Time Again" and its creation.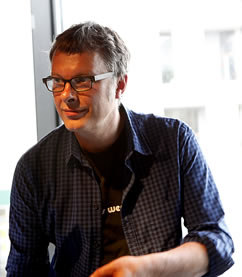 The day progressed with talk from Stefan Betke (Pole) on mastering and a fantastic insight to the crafting and artistry of some songs produced by Flood (pic), namely "Personal Jesus" and "Enjoy the Silence". This was followed by a short set from new Mute signing Beth Jeans Houghton. Danny Briottet from Renegade Soundwave started DJ:ing and I was greeted with a big smile and handshake for being the only photographer there.
The first live act in the main area of the day was Liars. I haven't listened to them much, but I was impressed. The singer, Angus Andrew, succeeded in looking angry the entire gig, as he was full of energy and wrath.
I was then given the privilege of meeting Vince Clarke for ten minutes and I asked him how the new album was progressing. He has gone back to using his old analogue equipment again after experimenting with soft synths and Logic.
- I still use Logic and I program the entire songs using software, but then I reprogram everything using my old synthesizers, very tedious but I found I can't get the same warmth from the soft synths, he told me.
He then revealed the name of the next Erasure single:
- Here is an exclusive. It is called "XXXX XX", but you can't tell anyone, right?
The whole interview was funny and laidback and he started the whole thing with a joke by his son Oscar and I finished the chat with the only joke I know I in English, which is very bad and I won't put it in print. Vince loved it though and said he might tweet it. We'll see.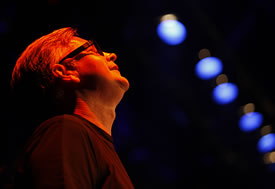 I missed Polly Scattergood who did a session with Maps during the Vince interview but my friend reported that I didn't miss much. I managed to see the latter part of The Residents' performance, a chilling tale of ghost stories, mirror people and all sorts of horror; very theatrical. Slightly behind schedule, thanks to The Residents, Andy Fletcher (pic) entered the main stage to a roaring crowd, he then started DJ:ing mostly chart tracks, which was fairly uninteresting, but people seemed to enjoy it.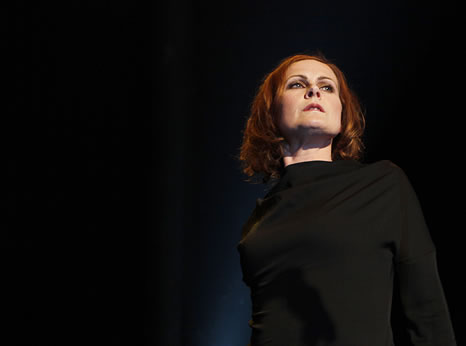 Time for Erasure with special guests Alison Moyet, performing three Yazoo songs. Alison Moyet was superb and Andy Bell too. The Erasure set list was sort of best of the early material, starting with "Hideaway", "Fingers & Thumbs" and then "Heavenly Action". The stage set was minimal with no backdrop and no changing of clothes, albeit Andy took some of his clothes off as always, of course. The only recent song performed was the brilliant "Breathe".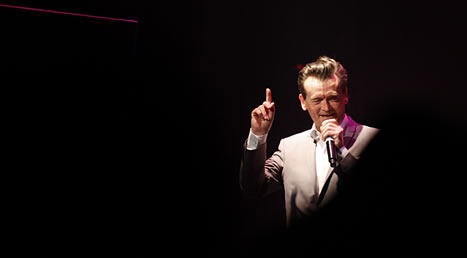 After a glorious finale with "Sometimes", "Blue Savannah" and "A Little Respect" it was time for the second special guest. Andy announced Feargal Sharkey and after thanking Vince he sang "Never Never" like never before.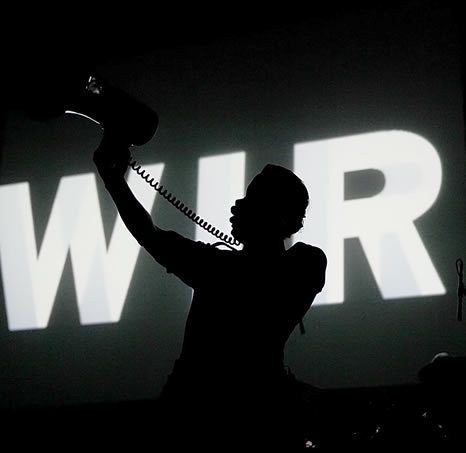 A quick set change later Laibach entered the stage, starting with three songs in Slovenian. I really like Laibach live, I know it is not everyone's cup of tea, but ending their set with a glorious cover of "Warm Leatherette", how can you not like that?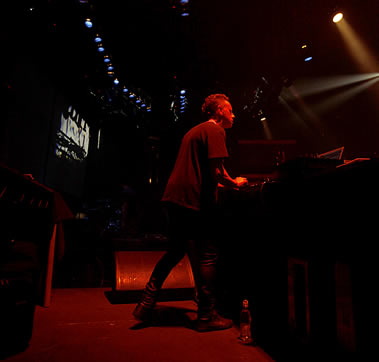 Martin Gore finished the general festival with an upbeat and energetic DJ set, meticulously timed by Depeche Mode manager Jonathan Kessler. During the evening Big Deal, Poppy and the Jezebels, S.C.U.M. and Josh T. Pearson preformed in the Studio Theatre but I did not have time to see them unfortunately. For the premium ticket holders there was chance of see Daniel Miller again DJ:ing at the Studio Theatre, playing mostly weird versions of old Mute material followed by Rex the Dog giving the best DJ set of the entire festival in my view.
Overall it was a great weekend, the minor flaws like the size of the small second stage and some confusion amongst the security personnel regarding who had priority to some of the events could easily be rectified and I look forward to another Mute Festival some day.
Extra thanks to Tom Davies and Zoe Miller from Mute for setting up the interviews and photo passes and being extremely kind to me.