Since its start in 2000, the M'era Luna festival has attracted over 20 000 attendees each year. The festival takes place during two days at an airfield at Hildesheim, Germany, featuring only one outdoor and one indoor stage so the schedule is really intense. Already from the start, their line-up has been impressive, but frequent visitors notes that some of the larger artists seem to reoccur rather often; one third of the bands performing this year have played at the festival before, some of them, more than once.
The festival doesn't start of so good, as we're greeted by massive rains that continue throughout the entire Friday night. Luckily, the weather got a lot better during the two concert days. Only one band, Bloodpit, cancelled, but we also got a few switches in the program that resulted in some people missing the bands they wanted to see.
The concerts started as early as around 11 AM at Saturday, but this review will pick up a bit later with Swedish band Necro Facility performing on the main stage. Although you might argue that they may tend to be a bit too much influenced by a certain other band performing at the festival, they're competent and had the opportunity to leave a good impression at this important event. Unfortunately, the young duo have adopted a bit too much attitude, resulting in large parts of the audience becoming somewhat irritated instead.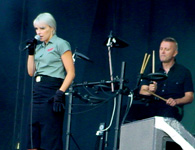 Sarah and Robert.
Next on the main stage, Sarah, Kate and Emily of Client appeared in airline hostess uniforms, supported by no-one else than Robert Görl (D.A.F.) on drums. Their performance is like an exact visualization of their music; clean, subtle, and with a touch of eroticism. It's not one of the festival's more energetic performances, but in a way a perfect mid-day appearance.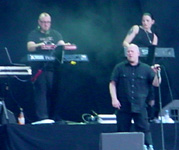 American Assemblage 23 (pic) played next and musically, this is one of the better gigs I've seen with them but neither the band nor the audience reach the level of energy their music carries. I suppose the scorching sun made everyone a bit tired.
Eskil Simonsson of Covenant seemed better prepared for the weather, once again wearing a white suit and hat, and he was seemingly in a good mood. Together with Joakim Montelius and Daniel Myer of Haujobb (replacing Clas Nachmansson) they delivered a compact set, starting with "Der Leiermann" ("Like Tears in Rain"), ending with "Call the Ships to Port", mainly playing material from the later part of their catalogue.
Throughout the years, I've seen some questionable live performances with And One, but this time they got things right and did a good show. So did Suicide Commando, and although they're not the most visually interesting band around, Johan van Roy got the crowd going and shouting along throughout most of the concert.
The last Saturday act, Tool, was an unexpected booking as they don't come across as a typical M'era Luna band, but nonetheless an interesting one and they attracted a large audience. Their songs are long and complex, and in terms of style, more or less indefinable. Vocalist Maynard James Keenan lurks in the shadowy background, his voice hardly penetrating the music, while big video screens in the back provide visual focus. But honestly, with music that good, visual appearance isn't that important.
Hocico vocalist Erk Aicrag entered the stage at Sunday afternoon with his solo project Rabia Sorda, supported by a keyboardist and a drummer. With only one album released, there are not that many songs to choose between, but as usual there's full speed ahead from the first moment and he has no problem getting the crowd in motion.
The Crüxshadows attracted a large audience, as always in Germany, and vocalist Rogue ran around on stage and even down in the audience while girls in small pink dresses dances around him. However, the sun seemed to have taken its toll as the concert appeared a bit uninspired, too routine one might say.
Then three middle-aged men, with sunglasses and thin hair, entered the stage. They're known as 32Crash, or perhaps better known as Jean-Luc de Meyer (Front 242), Len Lemeire (Implant) and Jan D'Hooghe (Implant/ex-Vive la Féte). They sound pretty much as the constellation suggest and they're not bad but not that interesting either.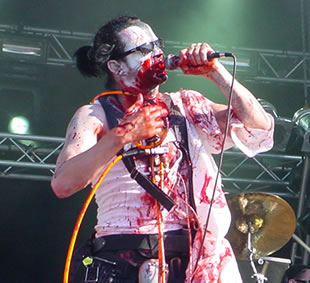 I was a bit sceptic about Skinny Puppy performing in broad daylight, but when "Ugli" started the set and Ogre appeared on stage dressed in a black coat, swinging a giant rosary, it became clear that nothing can stop his manic, intense stage show. It's a mystery to me why they only got one hour playtime; covering their career in such brief time is virtually impossible. The set was rather mixed, stretching from "Dig It" to a couple of tracks from "Mythmaker" and some classic songs such as "Dogshit", "Tormentor" and "Worlock". I actually find the songs from the later albums better when performed live. Ogre ripped his clothes apart, soaked himself in blood, and played with plastic tubes covering his body, and when the performance ended you got that feeling "it can't get better than this, so I go home now". Luckily I didn't.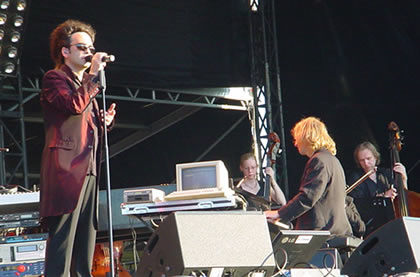 Deine Lakaien have been celebrating their 20:th year anniversary by bringing Die Neue Philharmonie Frankfurt (New Philharmonic Orchestra of Frankfurt) on stage, Ernst Horn spent the stage time either directing the orchestra or playing keyboards while Alexander Veljanov provided the vocals. They played more or less the same songs as they do at regular performances, and managed to transform the more experimental passages to an orchestrated form in an interesting way. Overall, we watched a performance which was a bit different but yet enjoyable, but the downside was that by performing in this form they loose the dynamics they have in their regular shows, where they move between just piano and vocals to full electronic arrangements.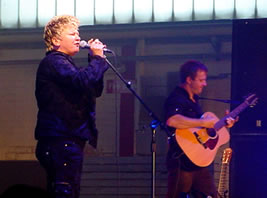 Anne Clark doesn't seem as a 100% match for the M'era Luna audience, with only parts of her extensive repertoire approaching the typical style of the festival. But that doesn't stop the Hangar stage becoming crowded with high expectations, expectations that not only get fulfilled but surpassed. Her poetic, spoken word-styled vocals were backed by a guitarist, a drummer, a piano virtuoso, and a guy doing keyboards and vocal effects, and it all blended into perfection. When "Sleeper in Metropolis" started about halfway through the set, the audience went into ecstasy and remained there. At least until the encore, when the notes of "Our Darkness" became recognizable, and things go beyond even that.
Closing the entire festival was Scottish band The Jesus and Mary Chain. Recently reunited, having split in 1999, brothers Jim and William Reid entered the main stage together with three supporting musicians, all having worked with the brothers in the past. Musically they sounded like a more laidback version of themselves, as if they've lost some of their edge during all those years. Perhaps I was a bit picky after having seen so many really good performances, but to me they appeared a bit tired and uninspired.
Of course, the festival featured a lot of other activities, such as examining the market area, drinking Becks, and meeting friends, both old and new, but that's another story. It was a very tired but pleased reviewer that left Hildesheim, already counting down the days to next year's festival.