---
Koneisto Electronic Music Festival, Helsinki, Finland - August 13-14, 2004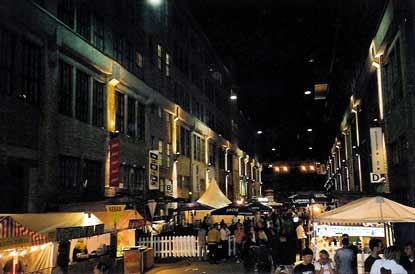 By: Mattias Huss
Photos by: Eva Örndahl
Strange choice of lead act
Festivals grow old, too. Koneisto ("machinery") celebrated its five-year anniversary this summer, but the prevailing atmosphere was business as usual. The impression of Koneisto as a platform for new and exciting electronica acts – and Koneisto was the first festival for electronica in Northern Europe – has faded with the years. Its first years in Turku were plagued by financial deficits, and after the move to Helsinki, the focus has become increasingly commercial.
How else could the choice of lead act this year be explained? The Streets is for sure a great band, but has hardly anything to do with the scene that Koneisto is set to cover. Someone a bit more into sound manipulation like Dizzee Rascal might have been more appropriate. Very little in the way of truly experimental electronica was presented, making Koneisto the "mainstream" dance music counterpart to the stubbornly difficult Norberg Festival in Sweden.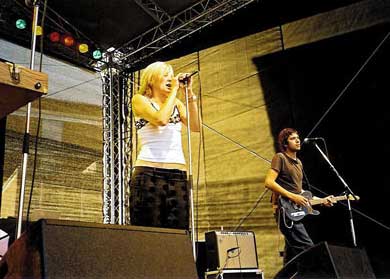 On my arrival at the Cable Factory (a factory-come-cultural-centre that serves as festival venue), Dani Siciliano was entertaining on the outdoor stage, serving a cool but rather dated trip hop-ish musical cocktail along with her live band. Her musical patron Matthew Herbert, for whose songs she has been providing vocals for years, presented a very nice, laid back set at the same stage on the next night.
People were slowly trickling into the festival area and the six proper concert venues, buying impossibly expensive soft drinks and beginning to constitute a recurring problem of this venue: the Cable Factory is simply too small sometimes. Putting an international celebrity like Finnish atmospheric techno star Jori Hulkkonen on one of the smaller stages resulted in massive queues and a missed gig on my part.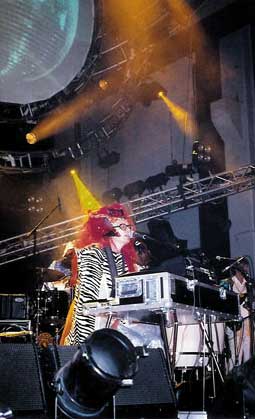 Spaced out Jimi
The majority of the visitors also seemed to be present at the Jimi Tenor concert. Tenor has during his career undergone a gradual change from sleazy lounge electronica performer to cosmic jazz cat. Now, he completed the transformation, entering the stage in true P-Funk style with his entire band decked out in silver capes and other campy accessories of the home made variety. True to the style of his two recent albums, he played a straight set of psychedelic, mostly non-electronic jazz, and why Tenor is playing here instead of at some big band festival orbiting the rings of Saturn is beyond me. The set was weaker than during his Stockholm club gig last year, one of the problems being the big venue. Leaving the saxophone orgy behind, I found solace with Alexkid from France. Although his music sounds a little watered down on record, the live performance was a good show of groovy beats and strong female vocals.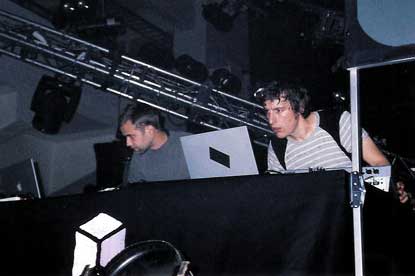 My main hope for the night was Plaid, the uneven masters of melancholic beatscaping. Unfortunately, they downplayed this aspect, opting for a pretty static dance approach but failing to use the huge concert hall to their favour. By and large, I found myself admiring the impressive lighting of some of these main stage gigs more than the sound itself.
The Koneisto way of presenting electronica on stage is to alternate live acts with DJ:s, which is a clever arrangement if you want to move gear around between the live acts without silent intermissions. If you, on the other hand, came to see Ellen Allien or Richie Hawtin perform their music, getting a mere DJ set – which would be great in a nice club – in a crowded, sweaty concrete hall will not make you happy. While there was nothing wrong with these sets, I much prefer live music on live stages.
Competition raises the stakes
On the second day, The Streets charmed the crowds with their rowdy pub hip hop extravaganza, while Finnish eccentrics And the Lefthanded turned out a disappointment with their monotonous kraut rock and weak vocals. Many of Finland's most important electronic acts, such as Uusi Fantasia and Mr. Velcro Fastener were absent this year, appearing instead at the brand new Uuden Musiikin Festivaali (New Music Festival) in Turku a week earlier. Lacking Koneisto's big sponsors, this festival displays all the freshness missing at Koneisto. This unexpected competition delivers Koneisto a much-needed kick in the rear and bodes well for the future of both festivals.
---