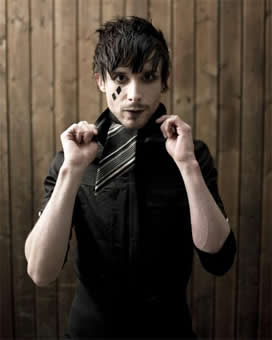 Photo by: Vera Hoffman
So, it was finally time for Chris Corner and his live band to enter the Swedish shores again. IAMX played at the Arvika Festival in 2007, and it's one of the best gigs I've ever been to. The sheer energy and intensity were immense, and the lucky crowd was not late to respond. I was in ecstasy, and when they played the masterpiece "Mercy" I almost left the ground.
Well then, let's go back to earth, to Debaser Medis. It's a cosy venue, with nice bars and good music streaming from the speakers. This night, the place wasn't full, but the crowd was enthusiastic. Chris entered the stage behind a masque, but that quickly came off. They kicked off with the menacing tones of "Bring Me Back a Dog", and the show was off to a great start. It dragged a bit towards the middle though, when some slower songs were played, and I'm sorry, I just find "My Secret Friend" a bit dull.
After that though, Chris yelled "let's start the party" or something to that effect, and "Nightlife" started to tear up the room. It was all smooth sailing from there, and it shows that IAMX is a great live act. They put in a great effort to offer more than just brilliant music, with their energy and their unique look. The sound was a bit iffy though, and Chris' voice almost disappeared at times.
Looking at other set lists from this spring, it feels like we were a bit shorthanded in Stockholm. No "This Will Make You Love Again", or "Your Joy Is my Low" or "After Every Party I Die". And more to the point, no "Missile" or "Mercy". Instead we were treated to "Sailor" which for me is a low point from the debut album.
A healthy portion of new songs were played though, and they worked well live. The crowd responded best to older hits, but "Think of England" got the people into a frenzy too.
All in all, I had a blast, even though I think the Arvika gig can never be beaten.
Read more
Release IAMX interview