After watching The Pixies, PJ Harvey and Peaches - among others - at The Hultsfred Festival last year, Releasemagazine vowed to return. And when Nine Inch Nails and Marilyn Manson headlined this year's festival - how could we go back on that promise?
So, of course we packed all our gear into the car belonging to Release photographer Daniel Pedersen this year too, and braved the sunshine for a four hour drive down to the dark forests of Småland. The Hultsfred Festival 2005 - the 20th by the way - were sold out a long time in advance and drew over 30 000 eager visitors, making it the biggest in the history of the festival.
Upon arrival early Thursday afternoon (yes, we missed, damn! damn! Andreas Tilliander and should be publicly executed), the sheer magnitude of the crowd and the sunlight nigh knocked us out, and we decided to just check out Helmet (not a Release band, and, quite frankly, not a fun band to watch either), skipping over Slipknot (who, in our experience don't really come to full bloom in blazing sun) before preparing for this night's main attraction - Mr Marilyn Manson.
When the former Antichrist Superstar burst on to the large Hawaii stage around 21.30 expectations were quite high. And boy, did the pot-bellied (!) Marilyn Manson not rise to the occasion. Working his way through his greatest hits, the star that has scared the shit out of parents all worldwide only managed to be... - boring.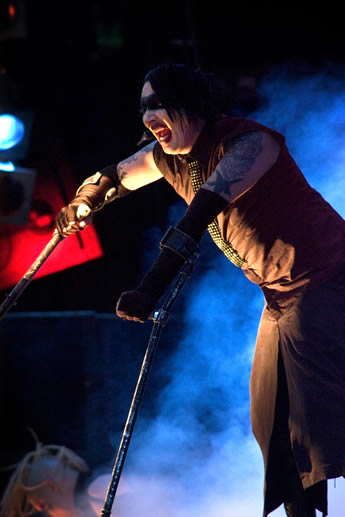 "Torniquet", with Marilyn on stilts stood out as kind of cool, in a cabaret the grotesque way. But that was, basically, it. Manson and band managed to not get any nerve what so ever into their performance, chugga-chugging apart all their songs in a "Fight Song" fashion. The crowd booed when the band left the stage and the Superstar-podium was rolled to the front of the stage, only to be rolled off again (without Manson using it). We understood them.
Turbonegro - who many of Release's more guitar bent readers really should check out live - was a different matter altogether. With cool shock rock front man Hank von Helvete, these Norwegian lads managed to whip the audience, in front of the somewhat smaller Pampas stage, into a frenzy in a way Marilyn Manson only wished he could have done. And yes, making the crowd sing "Sell your body to the night" and then making them dance the Zorba is cooler than drawing down your pants, showing your black underwear and pretending to touch your penis - remember that next time, Marilyn.
After watching rhythm driven, British electro hip hop-girl M.I.A. in the Atlantis tent, the Release crew decided to call it a night and went home to the rented house. Tomorrow was to be a big day - with the first performance in Sweden by Nine Inch Nails. One should be rested when God decides to grace us with his presence.
And, no, we were not all that rested when Friday began and with that the looong wait under grey clouds for Trent Reznor. Hadn't Swedish postrockers Silverbullit played so damn early - 13.30 - we would definitely have seen them. Now, we mused on our memories of former Silverbullit performances (all you Release readers really should try to catch them live) instead, before heading into the crammed festival area, cursing the expensive festival beers, to watch Tori Amos.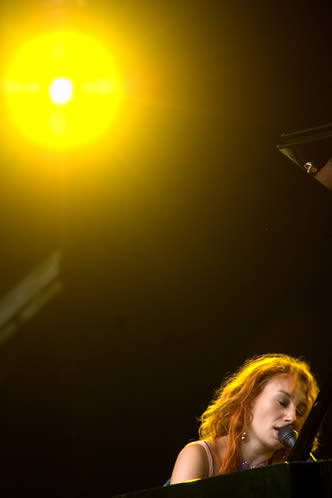 Not being our cup of tea exactly, Tori still managed to come across as a sensual and devoted artist, sitting by her piano at the Pampas stage, making her concert one of the highlights so far. The more devout fans of Amos in the Release entourage were overwhelmed and couldn't stop talking about the gig afterwards, and that is praise as high as any.

Slayer then - again not a Release band per se - but if you like Ministry and more grinding variations of industrial metal, you really ought to be into Slayer. Tom Araya and cohorts really put up a great show on the Hawaii stage, despite the fact that the sun decided to check them out too from some cracks in the massive grey clouds that covered Hultsfred this holy day.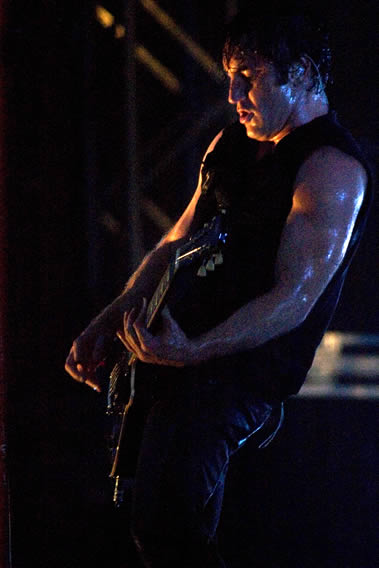 And then - the moment we all had been waiting for: Nine Inch Nails entering the Hawaii stage!
And.
And.
And.
And for once, I'm at loss for words.
Simply put, this was one of the greatest concert experiences of my life. Trent being clean from drugs, ever present on stage, an elaborate backdrop with a different colour for each song ("Closer" = red, and I almost died), great sound, the list could go on and on. Actually, the NIN-gig was the only show going on when the sky cracked open and the rain poured down on us pigs. It didn't matter one single bit. Not when a steaming (!) Trent Reznor sings "Hurt" and several thousand people with tears in their eyes sing every word with him. Not when Trent Reznor has to take a break in "Starfuckers Inc" because he laughs so hard. Not when Trent Reznor sincerely thanks the Swedish audience for being so fantastic, saying at the same time that he is not a man used to saying kind words. Not when "Something I Can Never Have" is so, so beautiful it makes you cry. Not when "Terrible Lie" knocks your socks off. Not when Nine Inch Nails leaves us with "Head Like a Hole" ringing in our ears, never to go away.
Hallelujah! I say.
Guess who fell to sleep a very happy man?
Yeah, you get the picture.
So, in some ways, Saturday, the last day of the festival, is somewhat of an anticlimax. Sure, neo-gothic heavy progg rockers System of a Down are cool when they make the earth in front of the Hawaii stage rumble around 21.30 and play all their greatest hits, even throwing in "Fade to Black" by Neil Young as an intro.
And sure, we really should have seen more of Danish Efterklang in the afternoon. But with Trent Reznor on your mind, almost three days of mostly sunny festival in your body, you are prone to be grumpy and to long for more kicks like NIN.
But the Hultsfred festival definitely isn't only for fans of alternative/industrial rock and electronica. The hip hop heads has to get their share too - with a quite dull Snoop Dogg after Nine Inch Nails, by the way (we saw it all) and a cool Immortal Technique. And the friends of more mainstream oriented rock have to get their share also, with, for example, a predictable Hives late on Saturday.
So, when we sum up our festival experience in the car home on the Sunday, we count several cool concerts, but only a few really great ones.
But, sure, if Hultsfred can book acts of Nine Inch Nails' magnitude next year, we will be back once again.