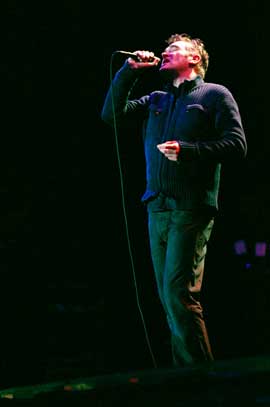 Hultsfred Festival '04, Sweden - June 17-19, 2004
By: Kalle Malmstedt
Photos by: Daniel Pedersen (for Release)
Well, it has been some time since Release last graced the Hultsfred Festival with our presence. But if you have a line-up consisting of Pixies, P J Harvey, Peaches, Him and Morrissey (pic. above) – how can we stay away?
With three days, 23 000 screaming visitors and a load of good and even great performances from the 133 booked artists, in the rear view mirror we were right to come.
Hultsfred is a diverse gathering, drawing everyone from 14-year old pop kids to black clad goths, homeboys in baggy pants and 40-year old rockers. The first day of the festival – June 17 – was a perfect example of what draws all these different kinds of music lovers: Pixies, P J Harvey, Erlend Øye, Kris Kristofferson, Meshuggah, Bright Eyes and The Roots.
Unfortunately, the Release crew of brave explorers of the great forests of Småland in the south of Sweden where Hultsfred is situated – didn't get to the festival area in time for Øye. After parking our car and unpacking our gear – yes we slept in the car but that just means we are dedicated old blokes who don't like sleeping in tents – we walked into the festival area just in time to catch the concert by Kris Kristofferson. Kind of a nice bloke with great, political lyrics, but not our glass of beer – so we walked on. The weather was great and so was the beer – albeit as expensive as in a pub – and from there on the festival was a string of highlights.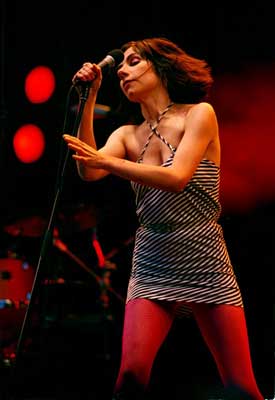 The first near-life changing experience came early the first, kinda sunny, evening when Polly Jean Harvey poured her heart out to the thousands of ecstatic visitors in front of Hawaii – the largest of the six stages in the dusty and grass covered area that is the Hultsfred Festival. Of course Polly Jean could have played more songs from her brilliant "To Bring You My Love", but her intense voice, chitchat with the audience, the force of the performance consisting mainly of her new material, was good enough.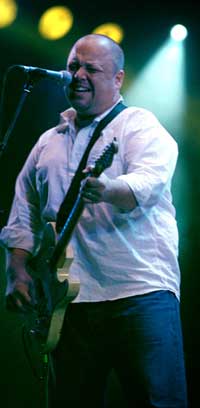 But The Pixies – performing after several good bands as Meshuggah, Dizzee Rascal and The Roots – truly blew everyone away. These re-united alt-rock icons had one of the crispest, sharpest live sounds ever heard on a festival and did play each and every one of their popular songs. Sort of a greatest hits – but done by four fourty-somethings that clearly enjoyed themselves immensely. "This Monkey's Gone to Heaven", "Where Is My Mind" and "Debaser" – shivers and tears!
The next day also brought some highlights – along with a slightly greyer sky that would erupt into pouring rain on the festival's third and last day. Him played on the biggest stage and seemed to be enjoyed by loads and loads of young fans with their eyes painted black. The voice of frontman Ville Valo leaves something to be desired, but even a man weary of commercial and fake goth rock can see that the young Finn has stage presence enough to make up for the lack of singing abilities.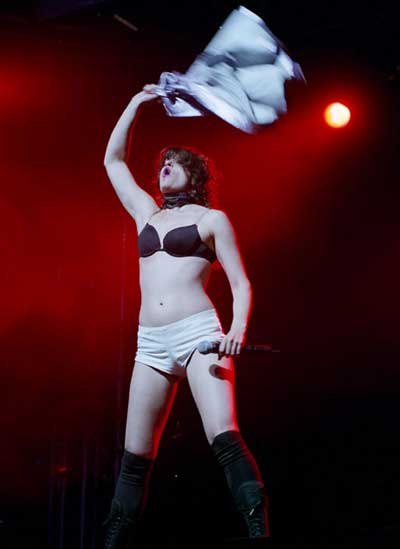 Canadian electro-punk provocateur extraordinaire Peaches – who performed (yes, in every sense!) in the smaller Atlantis tent didn't need a voice. Climbing, tearing off her clothes and playing furious guitar, she whipped the crowd to a formidable frenzy. The projection of Iggy Pop was a nice touch too.
And yes, I hear from my colleagues, that didn't chicken out like I did and went to Gothenburg to watch Dimmu Borgir and Alice Cooper the third day of the festival, that Morrissey managed just fine. As did Swedish angst-rockers Broder Daniel. But the third day also was a festival of rain, so I'm glad I went somewhere a little less muddy. Release photographer Daniel Pedersen – who's not a fan of Morrissey – stayed and held the fort for Release and was stunned by Morrissey. And that ain't saying a lithe.
Yeah, it was some time since Release went to Hultsfred. But if the festival keeps the bands and the mix this interesting we will surely be back soon.