---
Fixmer/McCarthy, The Loft, Barcelona, Spain - January 23, 2004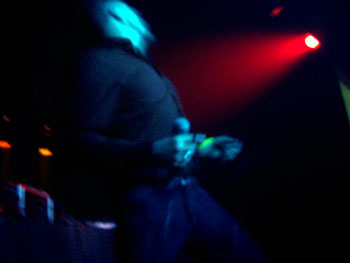 Text and photo by: Neil Smith
Back in the 1980:s, many of the world's dancefloors rocked to the distinctive voice of Douglas McCarthy, vocalist with the mighty Nitzer Ebb, demanding we "Join in the Chant", and "Let Your Body Learn". In the 1990:s, Nitzer Ebb evolved into a rockier outfit, with "Getting Closer", "Fun to Be Had", and "Godhead", announcing their malicious intent. Then in 1995, suddenly, the EBM pioneers ceased to function.
French techno producer Terence Fixmer however, had other ideas. After releasing a string of hard EBM tracks that leaned towards the Ebb sound, he remixed "Let Your Body Learn" in 2002 to great effect, and late last year announced that he and Douglas McCarthy were to begin working on new material.
Tonight was the live debut for that material. Coming on stage to the pounding "Destroy", "to me you're nothing!" barked McCarthy, and in an instant I felt 18 again as the crowd swayed to the punishing beat. Fixmer's electronics are nothing if not muscular, and their sinuous meaty sound perfectly complimented the demented soul of McCarthy's vocals.
The soulful bleep of "Freefall" was sandwiched by another eight tracks of twisting, tweaking, electronic body music - Fixmer controlling the beats and the charged electro sequences, whilst McCarthy flipped and bounced around the stage like a man possessed.
Encoring with an electrofied version of "Let Your Body Learn" - "CHOOSE!", "LEARN!", "FEEL!" - you could do far worse not to obey Fixmer and McCarthy in 2004.
---