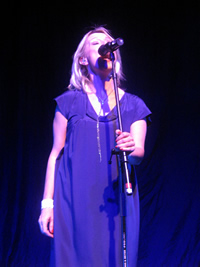 The evening begins with two legends on stage: Paul Humphreys (OMD) and Claudia Brücken (Propaganda). Together they form Onetwo that released its first album "Instead" in February 2007.
They start off a bit slow, but by the third song "Sequential" they seem to get their act together and appear to actually have fun on stage. It's as minimal as it gets: two synthesizers and a microphone, so in order for it to work they need good songs and stage presence. The songs work, no question about that, but the stage presence could be better. They have added an extra keyboard player, who unfortunately adds very little to the show. However, the Onetwo material works on its own, it's new, fresh and exciting and definitely not another meaningless 80:s-reunion.
But of course we are treated to a few classics; first out, OMD's "Messages", that starts of good but lack a bit of heart and you can see that they really want to focus on the new stuff. After paying tribute to the late Billy MacKenzie in "Club Country", we return to Onetwo again including "Cloud Nine" written by Brücken and Martin L Gore from Depeche Mode. The show ends with Propaganda's "Duel" that really gets this reporter going. Propaganda is one of my favourite bands and to see this performed live was a dream come true.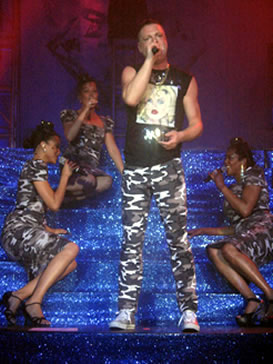 Erasure kicks off impressively behind a backlit curtain that drops when Andy Bell starts singing "Sunday Girl" from the new album "Light at the End of the World". The stage is impressive with steps and levels covered in glitter, plasma screens, a huge backdrop and big, rotating steel diamonds that reflect the stage light. Everything looks like a miniature Las Vegas production, suiting this band perfectly. Apart from Bell and Vince Clarke on stage, there is also three female backing vocalists that give a nice live feeling to the songs. While Clarke is standing solid behind his laptop and keyboard, Bell is a true performer, giving everything he's got and sweating like crazy while dancing around and singing every song like it was his last.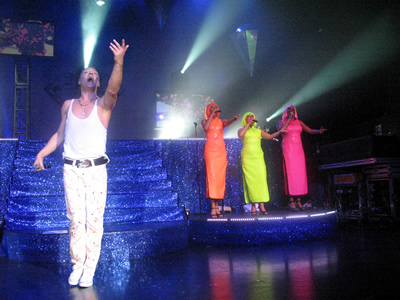 They focus on the new material, playing seven of the total ten songs on "Light at the End of the World". Apart from "Breathe" off the 2005 album "Nightbird" nothing is newer than songs from "Chorus" released in 1991. So it's a blend of old and new songs, nothing in between.
Bell and the backing singers take good use of the stage, moving around, doing a choreographed dance here and there and you never quite know what to focus on, wanting to take in all of the sights and sounds from the show.
The early part is focused on the new material, a focus that slightly change after a small intermission in the middle of the show; during which the band change into new outfits leaving camouflage for neon-speckled white suits. During the second part we are treated to classic synthpop in form of songs like "Ship of Fools", "Sometimes" and "A Little Respect". During the whole show I think that they blend perfectly between danceable songs and slower ones; the only mistake comes after "Oh L'amour" which should have been the last song before the encore if you ask me. The band chooses to throw in "Glass Angel", a really good song, but it would have fitted better in the encore instead of right before. Now the only encore we get is "Stop!" from the 1989 EP "Crackers International"; a great song of course, but a bit too sudden ending of the show if you ask me. But then again, if I was in charge, they would have played for an entire hour more.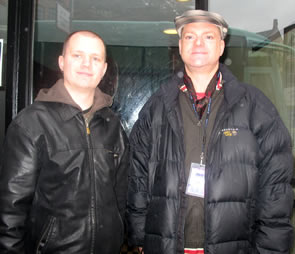 Prior to the gig, Andy Bell told Tobias Eliasson he was in a good mood and really looked forward to the sold-out gig.