There is an electronic scene in Norway with a lot of great bands where Apoptygma Berzerk and Icon of Coil are among the ones that have made it the longest outside the border. ElektroStat is the largest gathering in the country, an indoor festival for two days every autumn. Release reports from the festival for the first time, in search of new acts from Norway and checking out some of our favorites.
The first thing that hits me is the venue. Månefisken (The Moon Fish) is an old industrial site, right in the center of some old building and with a streaming river right by. The setting is excellent, everything works as a charm and we quickly find ourselves waiting for Echo Image. I saw them at SAMA in Gothenburg back in 2001 and enjoyed their own brand of happy electropop. This time however, I don't enjoy it as much, mostly due to the mixing where the vocals take over completely, leaving all the good melodies in the background.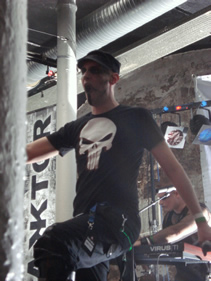 Trakktor.
Photo by: Sara Almgren (Release)
After getting some really expensive beer (which goes for the whole of Norway I should add) we head over to the second stage for Trakktor instead. This is a Swedish band working hard on becoming a top band in the aggrotech genre. I must say that they have evolved musically, the music hits you as hard as ever, but they still need some more variation to really get me going.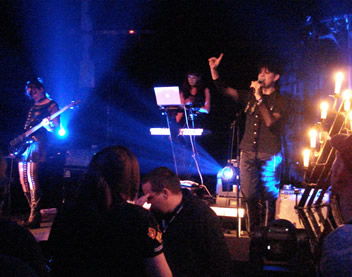 Clan of Xymox.
Photo by: Sara Almgren (Release)
Last out is Clan of Xymox (pic), a legendary band that I have wanted to see for some time. I was worried about the sound since this obviously was a problem on both stages. While being a really cool venue, it's understandably difficult getting a good sound here. Therefore I'm really happy that they seem to have gotten things in order for the old Clan. Despite being difficult goths, they seem to enjoy life on stage and thank the audience over and over. The sound is far better now and I enjoy a full set before they round off the first day of the festival with "A Day".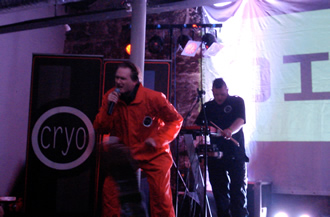 Cryo.
Photo by: Sara Almgren (Release)
We start the second day with Swedish EBM act Cryo (pic) who I have seen before. They also experience some technical difficulties; their vocoder works during soundcheck but then stops and the sound technician mixes the drums too high, despite the band constantly telling him to lower them. Sad to see amateurs at work, but the band act professional and play on anyhow, getting the crowd in a good mood. It also obvious that this is the big day - much more people is here, probably waiting for the festival headliner Mesh.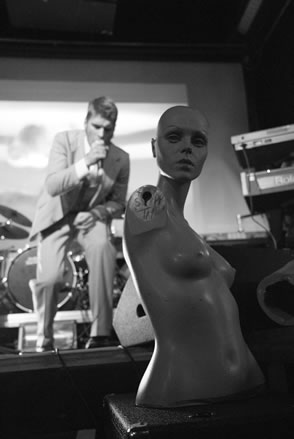 Electro Spectre.
Photo by: Nicolas Muurmans
But before that we have Electro Spectre which I haven't heard before. Their first album "Watch It All Turn" was released in 2009 and the band plays modern synthpop with some influences from regular pop/rock. This is really nice and while I often have a hard time finding good acts in this genre, Electro Spectre have something that keeps me listening. They don't go for a Depeche Mode imitation like so many others, instead these guys manage to produce a sound of their own. They are definitely a band to look out for in the future and I wouldn't be surprised if they land a hit single in Norway in a couple of years.
Next band up, Essence of Mind, is also from Norway. They are an electro band with heavy rock elements and live guitars, yes; it's difficult not to think about Apoptygma Berzerk. However, Essence of Mind let the rock influences take more space, and as Electro Spectre is a band that I could see appeal to the masses in Norway. They are signed with Alfa Matrix and with promotion they could lift up a notch.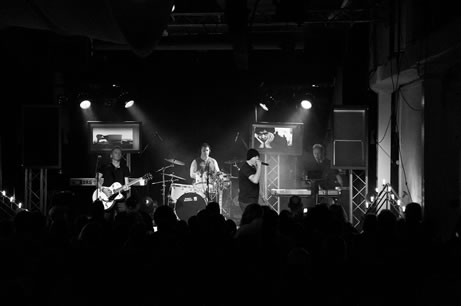 Mesh.
Photo by: Nicolas Muurmans
And to finish off our visit in Oslo the UK act Mesh enters the stage. They have always had a huge fanbase in Scandinavia, mostly thanks to Swedish label Memento Materia who was the band's home for some years. It's almost a year ago the last album "A Perfect Solution" was released and I'm looking forward to hear some new material live. Live as well as on album the keyword is quality. They really have the ability to write catchy pop tunes and live they also gice a good performance. Since the last time I saw them they have added live drums, which give the songs an extra kick. It was also fun to see them on a smaller venue with a more intimate feeling.
ElektroStat was a nice cozy festival and it was fun to get a taste of the scene in Norway. Please keep the venue for next year as the atmosphere is perfect for this type of event.