---
Electric Gathering, Fryshuset, Stockholm - August 30, 2003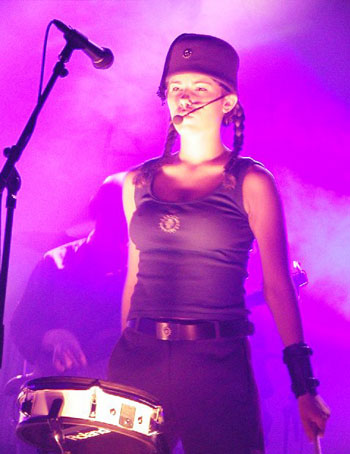 Laibach girl number two.
Photo by: Magnus Eklund (Diktator)
By: Johan Carlsson
Front page drummer picture by: Fredrik Arenhag (Diktator)
After a one year hiatus Electric Gathering has returned, this time indoor at Fryshuset in Stockholm. It's a nice three floor venue indeed, but it sometimes felt a bit too large. Even though the first band started playing at around 2:30 PM, most people didn't show up until seven or eight in the evening, making the first hours look very empty. Another worrying thing was that many people left most concerts after a few songs, and instead went to the bar to have some more beer. Even headliners Laibach suffered from this. I don't know if it was because people didn't like any of the bands very much, or because the Stockholm audience have become too cool. Maybe we are spoiled the luxuty problem of too many concerts? If that's the case, it's really a shame. That said, I myself didn't really think any band was great, but some good performers could be found.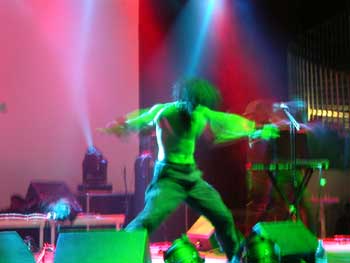 Full speed ahead with The Fair Sex.
Photo by: Mikael Kahrle (Release)
My day started with The Invincible Spirit, a band mostly known for their old hit "Push". Unfortunately they were pretty awful. Granted, they had sound problems, but at least they could have made an effort on stage. Luckily, their countrymen The Fair Sex came after that and showed everyone how a frontman should act. Myk Jung really gave it all, alternately crawling and jumping around the stage while singing a nice selection of their best songs. "Cyberbite" is a damn groovy piece of work.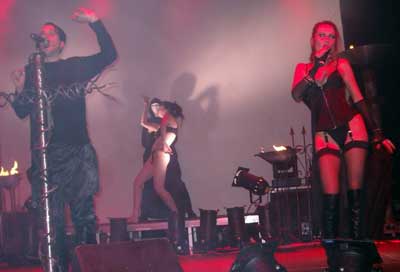 Entertainment the German way.
Photo by: Mikael "Mike" Larsson
Blutengel's show was very speculative, with lots of scantily clad women, blood and hooded men. They sound like a crappier version of VNV Nation (can we notice a trend here?) or any other of the countless neo-EBM and darkwave bands out there, but with female singers at times. So let's briskly move on to Camouflage, a big reason many came to EGF (besides Laibach of course). At first they also experienced sound problems, as there was way too much bass. The sound improved after a few songs though, and they put on a good show, and the singer seemed really into it, shaking his hips like John Travolta. Of course, the crowd went wild to "The Great Commandment".

Still going strong.
Photo by: Johan Carlsson (Release)
Laibach is a band shrouded in mystery, and the anticipation was immense before their concert. We waited for a while before the band came on, accompanied by the powerful first track of the new album "WAT". Two women with drums were standing on each side of the stage, banging and clapping their hands with impressive military precision. The singer of course had his trademark headpiece on, and growled a lot of new songs, interspersed with classics like "Life Is Life" and "Alle Gegen Alle". A good show with a reborn powerful Laibach in good shape, but god was I tired after 10 hours of partying!
In addition to this, we could see mostly competent performances by Nebula-H, Boytronic, Arcana, Project-X and a couple of others. Electric Gathering is a fun festival that caters for the more alternative people too, with S&M shows, noise experiments and darker bands like Ordo Rosarius Equilibrio. I like the wide selection of genres and styles represented here, and I hope that the festival will return. It might be a good idea to start later with fewer bands or to set bigger acts earlier. Most people didn't show up for the first couple of bands, and the schedule felt tight during "prime time".