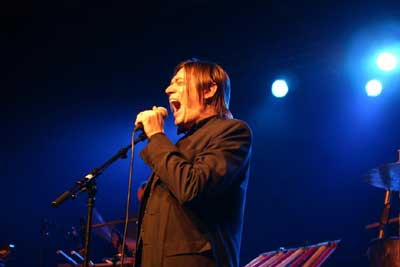 Einstürzende Neubauten, Fryshuset, Stockholm - March 20, 2004

Text and photos by: Karin Martinsson
Blixa Bargeld was in top-shape, a dildo was used as an extra guitar-effect and the stage was crowded with home-made instruments in true Neubauten-style. But still there was something missing, and the band did never really get any contact with the 1 500 strong audience.
How come? It is difficult to tell, but I think that many in the audience, myself included, was hoping for some sort of balance between new and old pieces. And that is not too much to ask for from a band that has been active for almost 25 years and that doesn't tour each and every year. But of course their new album just was released.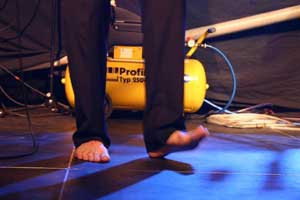 A bare-foot Blixa and his band-members did their very best to flirt with the audience. Blixa is one of the most chatty singers I have seen on an "industrial" stage, sharing anecdotes and talking about the sound problems some of the instruments (based on two compressors and some pipes) created. And then we had Blixa's screams every now and then, which probably can wake up the dead.
Still, I have to say that Einstürzende Neubauten is a band that should be enjoyed live. There is always something going on on stage, like a dildo giving a sound-effect to the guitar strings and a man running around on the stage with empty oil-thumps.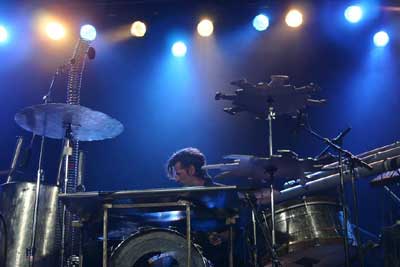 And of course there were some moments when I was in the heaven that only Neubauten can create; take for instance the song "Die Befindlichkeit des Landes" from the record "Silence Is Sexy". With heavy bass and a theatrical performance with a lot of planted silence it really made me shiver with pleasure. The same with "Haus der Lüge", which was played in the middle.
Otherwise, to a great extent, the playlist consisted of songs from the latest albums. I would also like to thank the band for two extra-extra numbers. They discovered that they actually had a fewminutes left before they had to leave stage – and we got to hear "Alles", one of my personal favourites, as well.
For those of you not present – don't cry. The spectacle was legally recorded and a number of records were on sale immediately after the concert.
---