---
Deutsch Nepal + Death in June, Podion, Stockholm, Sweden - November 8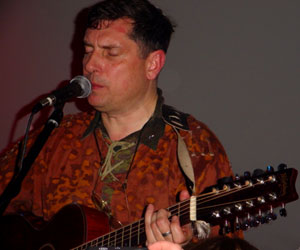 Douglas P of Death in June.
By: Karin Martinsson
Photos by: Sören Jensen
It's amazing what you can do with a set of drums, some percussions, a twelve-stringed guitar and two middle-aged men. Douglas P and his companion John Murphy really showed the best of Death in June at the second gig on their little Scandinavian tour.
But it took a while. The supporting band, Deutsch Nepal from Sweden, did a lame performance. And Death in June started quite weak as well. But it escalated into something really good. It is hard to explain, but the first two songs did not leave any impressions. Then it all just got better and better. Compared to the last Death in June show in Sweden, the playlist was much broader. It stretched all over the discography, from "Burial" to "All Pigs Must Die", including my favourite "She Said Destroy".
Judging by the massive sing-along in almost every song, the audience must have liked what they heard. When the applauses brought Douglas Pierce and John Murphy back on stage for the third time, the audience was asked to make requests, a perfect closure of a concert that in the end turned out to be a really nice best-of Death in June-show.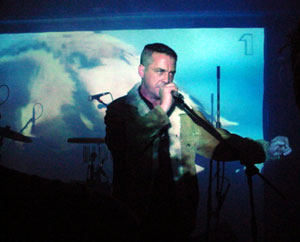 Lina Andersson of Deutsch Nepal.
---