I must say that my expectations for this year's Arvika Festival were pretty low. The line-up was weaker than normal with most of the program aimed at the mid-sized bands where there were quite many to choose from, but the festival lacked the big headliner that everybody talks about. Sure, Arvika have spoiled us for some years now, with Kraftwerk, Skinny Puppy, The Knife, New Order, Soft Cell and such, so of course we can't help but wonder what's happened when we suddenly get nothing in the EBM/synthpop-genre on the festivals main stage Vintergatan.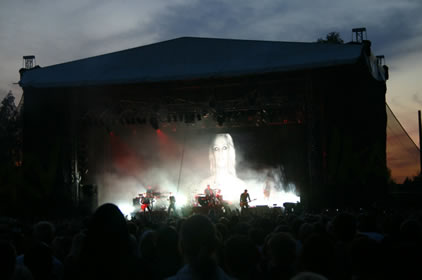 Kent at Vintergatan.
And likewise this has been a festival where you got a chance to see a lot of the new, upcoming Swedish bands perform for a bigger crowd for the first time. But this year most of the bands at Lyran, the smallest stage, were established ones like Rotersand and Red Cell.
However, Arvika have always been the main event in Sweden for lovers of electronic music, with a great feeling of one big happy family dancing and partying for a weekend.
The bands played great shows, but a lot of the atmosphere from past years was gone, this due to the fact that the EBM/synth-crowd was almost nowhere to be found. I understand that the organizers behind the Arvika Festival want to become bigger, and sell more tickets. At the press conference they told us that they had set a new record with 18 000 tickets. They didn't sell out this year however, even though they have reported several times that the tickets where almost gone. We also heard that the festival was calm, without any big incidents.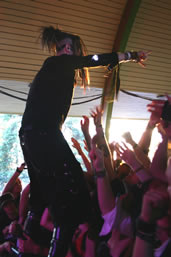 The Crüxshadows.
What me and my friends found out however was that they where some idiots visiting the festival harassing people just for the fact that they looked different and listened to "weird" music. And that's not the Arvika Festival I've spent every summer the last ten years at. That festival was the huge family gathering for us Swedish supporters of alternative electronic music and in the car going home, I missed that feeling.
I asked Olov Hallberg, head booker, why they had treated the electronic bands so badly in the first schedule where many similar bands played at the same time.
- We quickly understood that we had to fix that somehow. The electronic fans really want to see each and every band within their genre, which we didn't really grasp until it was too late. We were able to fix most of the accidents in the schedule, and for next year we will make sure to notice this right away, he said.
This year the festival started off slow on Thursday with acts like Familjen, Firefox AK, Danger and Tamtrum.
Universal Poplab played at the same time as Arvika darlings Slagsmålsklubben (third year in a row) but still managed to get quite a crowd at Lyran. It soon became clear that this stage had sound issues, something that I more acts suffered from.
Electropop project Firefox AK has good material to choose from, but Andrea Kellerman needs to work up her confidence on stage. When your musicians are the ones whipping up the crowd, then you need to take a step forward and not stand silent in the background. With more attitude, Andrea Kellerman could go far, because she sure can write songs.
Finishing off the day was Robyn, yes believe it or not, Robyn. This girl has grown up and now kicks ass in the Apollo tent with her excellent electro/hip-hop mash up. With two live drummers the show is great and she sure gets the spectators going. This reporter is impressed.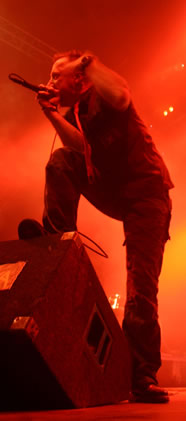 Friday was the big day for the EBM crowd, with Suicide Commando (pic), And One, Rotersand, Assemblage 23 and The Crüxshadows. Red Cell played at Lyran, but once again I was annoyed by the poor quality of the sound from the stage, something other people in the audience seemed to agree on. Sad since I thought that the sound on the other stages was very good.
The Crüxshadows did a terrific show with great support from the crowd, much thanks of course to singer Rogue that really gives everything he's got to fully interact with the audience. Up next was the band that I was looking forward to see the most this year, Kent, and I had quite high expectations since their last album "Tillbaka till samtiden" presented a more electronic sound. And I sure was't disappointed as their show is simply stunning. I ask myself again just how much bigger this band can get in Scandinavia.
After stopping by the dancefloor created by Rex the Dog, then checking out Interpol on the way, we visited Apollo where we find out that And One sound better than ever. They start the show with "Fools" by Depeche Mode and Steve Naghavi seems to be in an excellent mood. They mix between new and old, throwing in some fun tracks in between. I have never seen And One this strong before, a very nice surprise when we finish off this day.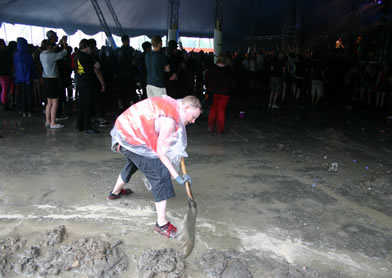 We started the last day by checking out In Strict Confidence when suddenly the sky opened up and an insane amount of rain poured down on us. We rushed to our tent, passing by Apollo that had to be evacuated due to the rain, forcing Alice in Videoland to hold their show for a while.
And by now people had finally found a show to talk about, the upcoming S.P.O.C.K 20th Anniversary Show. And what a show it was. Android, Crull-E and Yo-Haan were joined on stage by no other than Plasteroid and Cpt Eddie B Kirk. It was a blast to see these guys reunited and the crowd went wild. They played all their hits, some nice old songs and sure could have played much longer than they did. When they left the stage, most of the audience didn't leave and demanded more songs, even long after their instruments were taken off the stage. The band finally emerged and told us that they weren't allowed to play longer, but promised to return somewhere, sometime.
A very nice end to the festival, but all in all I feel somewhat disappointed. I sure hope we will see more exciting bookings next year and that the festival will focus more towards electronic bands at all levels, not just the mid-sized acts.