The very finest alternative music. Blend with one piece of mud and two pieces of beer, and you have the smoothie of Arvika festival 2007 in your hand.
Two years back, the Arvika festival was almost bankrupt and it felt really close to the end for one of Scandinavia's major alternative festivals. The organisers managed to rescue what was left last year, and in the 2007 edition - the 15th in order - the Arvika festival is definitely back on track again with all 15 000 tickets sold. With over 90 bands and concerts on the program - although the line-up nowadays is a more than ever mixture between many different genres - Arvika still is the number one festival in Scandinavia if you want to enjoy electronic body beats, synthpop tunes and goth. This year it was not the line-up that attracted me, it was the cozy atmosphere and all the friends, I used the festival as a vacation start-up.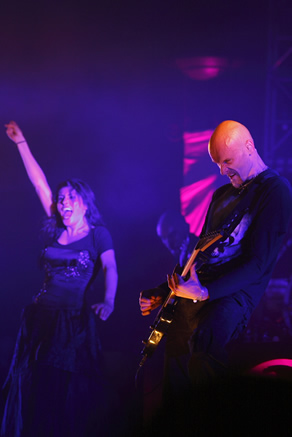 Within Temptation.
Some of the must-sees gathered already on Thursday: Within Temptation, Portion Control and Front Line Assembly. Dean Piavani and John Whybrew of Portion Control revealed that a new proper album is to be expected during the autumn. FLA did a great gig and it looked like the entire band was having a lot of fun on stage.
Friday was the night for Hocico, Infected Mushroom and IAMX. It was the first time for the Mexican hardcore EBM-duo Hocico to enter the festival stage at Arvika, and they pulled off their show as they usually do: filled with power and positive anger.
IAMX played the small Andromeda stage, but it was filled with people, and Chris Corner seemed very happy with the response he got. Everyone sang along and jumped like mad men to his exquisite electro. Israel´s Infected Mushroom got a big crowd of course, who readily screamed furiously as soon as they heard the first drum beat.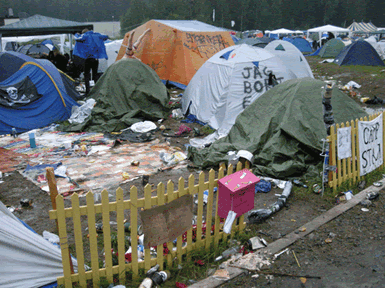 The cozy campsite at Arvika.
Photo by: Karin Martinsson
Saturday was rain day. And rain does work as a de-party factor, that cannot be denied. One thing that is very important to do before you take off into the woods if Värmland is to check the weather forecast (if you didn't reserve a cabin last year, that is). Thus, most visitors were well prepared when the rain started to pour down Saturday morning and created lakes at the camp-site.
Swedish youngsters Necro Facility was filled up with energy as usual, however they tend to talk a little bit too much between the songs. Swedish Emmon did a great gig late afternoon with her classy electropop. Slagsmålsklubben got a huge crowd despite the rain on the main stage, and tweaked the knobs on their analogue synthesizers to our great pleasure. Last but not least, Apoptygma Berzerk, Pluxus and VNV Nation closed the festival for this year.
A little unexpected, but one of this year's energy-gigs was Miss Li. With her whiskey-voice and cabaret-inspired music, she really managed to create that happy feeling only a real good concert can do.
The festival takes place on four main stages and a fifth, smaller one. Previous years, this stage has been used for spoken word and theatre performances, but this year it was set for bands as well. The smaller stages opens up for smaller bands, like German Frozen Plasma and KLOQ from the UK . It's a pity almost no one turned up for KLOQ though, since they make really energizing, hard and catchy electronic music that would surely appeal to the typical Arvika goer.
Despite the rain and lack of strong headliners, Arvika 2007 was a pleasant experience and I will gladly return next year.