---
Arvika Festival, Sweden - July 10-12, 2003
By: Johan Carlsson
Photos by: Mikael Kahrle
Another year, another great Arvika Festival. This time with a new record in attendance - a whopping 15 000 people (sold out on Saturday), lots of upcoming and big names and some fantastic shows on good stages with impressive sound and light. No money was spared here. I'm proud to say I managed to catch 24 different shows.
I arrived one day early, and put up my tent on a soon to be very overcrowded press and artist camping site. I soon realised the organisation of the festival was top notch, except for the number of toilets available, but other than that, everything worked fantastically well. I think every band started on time, or only a couple of minutes late. Three bands cancelled: DAF, Goldfrapp and Meshuggah. DAF had to call the gig off at the last minute because Gabi Delgado had broken one of his hands, and he will be in operation soon. Sad, but things like that happen.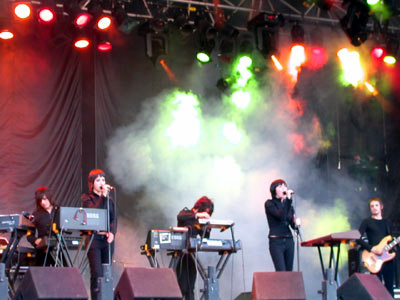 Ladytron charmed the male audience.
Thursday came like a big flashlight, and the sun burned like a furnace all day. Almost too hot for a festival, but the evening was incredible. Tyskarna från Lund started the three day event for me, and they made a fun show, but were forced to stop playing due to technical problems. In the evening Ladytron was a good replacement for Goldfrapp, and delivered a decent show, even though I'm not a big fan of their material. Impressive with a synth act placing six people on stage playing live. The girls also played keyboards.
The cool and cute Brits were followed on the big stage by Björk, a woman that seems to be fiercely avant-garde. Not many of her hits were played; instead we were treated by a beautiful string section and a fantastic voice and fireworks by a French firm that did the 2k celebration fireworks in Paris. The Björk fireworks were cut short by the people in charge after two persons were lightly injured. So the show could have been even more impressive than it was. Björk really took some songs to the extreme, maybe because she knew the Arvika crowd cold handle almost anything. So we got to see the festival queen deliver harsh power electronics, more extreme than that many power noise bands produce, which was kind of fun.
After treating myself to some very comical but nice Gothminister (the guy brought two plastic bats on stage, for gods sake), some festival food and some backstage partying I went to sleep only to wake up to a rainy and overcast Arvika. Where did the sun go? I tried to not care much though, as I knew I was going to be treated like a royalty when the night fell. Him, Ministry and Front 242 played after each other! I managed to watch hyped quartet Alice in Videoland during the day, a very very nice surprise. This band can be huge if they play their cards right from now on. Infectious melodies, a cute female singer, heavy EBM basslines and live drums make for an interesting and odd mix.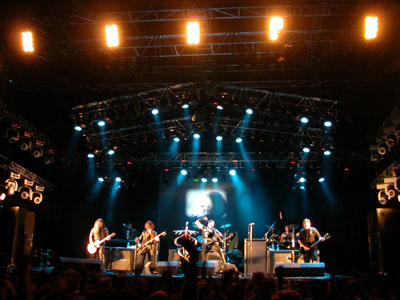 Ministry was as heavy as a ton of bricks, and good old Al looked hard as hell. A bit stiff in his limbs sometimes though, but we all know what this man has gone through in the world of rock'n'roll. He could spit loogies with the best of them. He throwed his guitar increasingly careless to a poor stage guy. I thought my limbs would part from my body when they played "N.W.O." immediately followed by "Just One Fix". Whoa!
Front 242 didn't play the largest stage (Mesh did, for instance) and delivered extremely energetic and drum-based music. They played some new songs, and some very ravey versions of their old stuff like "Body to Body", "Headhunter" and "Welcome to Paradise". They were of course so much better in the past.
The last day was spent in the company of Soulfly, Project Pitchfork and Mesh amongst others. Gosh, was Soulfly heavy! And I say that after witnessing Ministry the night before. Mr Cavalera sure knows how to downtune a guitar. I simply loved the immensely powerful percussion segment in the middle of the show. Awesome. Project Pitchfork seems to have lost it and more or less made fool of themselves considering what they are capable of. They were uninspired and monotonous. Are they finished, with the glory days far behind them?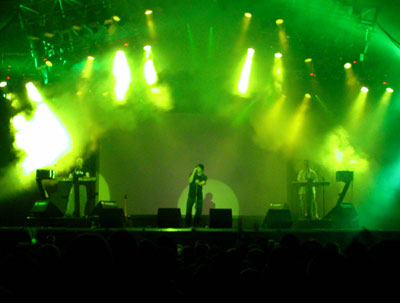 Mesh had the honour of headlining the biggest stage (named Vintergatan - Milky Way) on the last night, and they were a bit apprehensive about it. "We are as surprised as you are", the singer said. They knocked me down however; in fact it was one of my favourite gigs of the entire festival. That's based on the songs, vocals and lightshow alone, since they sure didn't make a very good stage show. Mesh is a band I think could go very far if only they had some help with their appearance. They have truly fantastic pop songs, a talented vocalist, brilliant production and so forth, but they are plain boring, to say it out loud. The singer just lumbers around on stage, seemingly not very interested. Is he up to the job at this higher level?
As last year, an almost perfect and very friendly Arvika Festival with lots of cool people to meet, good bands to see and a truly chaotic camping site. And by the way, try the moose kebab! We all found this is food that rules.