---
Arvika Festival, Sweden - July 11-13, 2002
By: Johan Carlsson & Mikael Kahrle
Photos by: Mikael Kahrle & Lotta Kahrle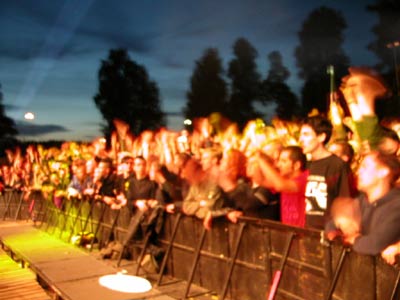 Covenant fans.
Aah, home again after this year's Arvika Festival. Our minds are now working full time trying to take in everything that has taken place these last three fantastic days. But we know this: we're impressed - Arvika did it again. The Swedish festival is almost perfect. Even the weather. It rained before and after the festival.
The police and ambulance crews where almost not needed. Just a handful of small incidents which is nothing but amazing.
One can hardly imagine all the work behind this annual super party. It's located in the middle of nowhere in Sweden but attract 14 000 people. With this crowd, the organisers are more than happy and went beyond break even. This year, the visitor limit was raised from 10 000 to 15 000. Now they can hire the big ones.
This festival mostly aimed at the synth and goth people is now as big as a normal rock festival. But it still has the feel of a small event with a compact, very nicely arranged area. All the different stages are pretty close to each other, so you could walk between them in under a minute.
And this is a festival where you find moose and wild boar kebab. Where you get thousands and thousands of music lovers together, partying for three days, regardless of musical preferences. You get to see so many different clothing styles; you stop taking it in after a day. You see couples making out on the grass next to a portable toilet booth. These are the things festivals are made of.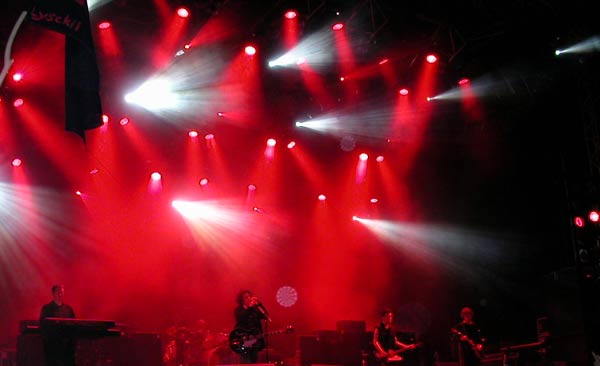 The Arvika organisers had an old dream come true. The Cure came to town. So when Robert Smith ignited the festival with his magic the first night, many where in tears, even the heads of the festival. "My god, they are playing in our parking lot", one happy Arvika girl said.
The Cure made a good show, where they focused on older and slower material, which we thought was a quite good choice, especially at Arvika where so many had seen them before. Robert Smith doesn't make a show to look at, but if you just stand and listen, you're in for a treat. A lot of people missed obvious hits and thought the legendary band didn't do their job. They only played "A Forest" and a couple of other known songs – the huge majority was fairly unknown even for us who have listened a lot to The Cure in the past. Cool or stupid? You decide.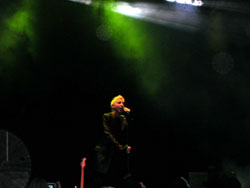 Another highlight was of course senior synthpoppers Soft Cell's first appearance on Swedish soil ever – and what an appearance. We knew Marc Almond is a great entertainer on stage, but not this full-fledged and competent. He actually looked young and seemed to enjoy every minute of the time in the spotlight. Keep in mind we are two decades after the golden age of Soft Cell. Some Arvika visitors weren't even born when "Tainted Love" was made. It was a nice touch of Almond to give a lot of attention to keyboard maestro Dave Ball and not take all the credit himself. Almond is of course a star who shines very bright in comparison to a majority of the modern synthpop front men. This is how you do it – watch and learn!
And the new songs don't disappoint so we are happy to say: we can look forward a comeback in style.
Primal Scream on the other hand sounded messy and uninspired. Great fist-in-the-face body rock hits like "Swastica Eyes" can set a club on fire, but a sunny festival - no. And very few were interested in their psychedelic retro trips.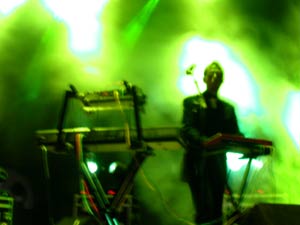 Swedish unstoppable electro kings Covenant had the honours of playing the last show on the biggest stage, which is a mighty feat for an electronic band. They pulled it off fantastically! The crowd was huge, and there was dancing and jumping all over the place. Eskil has grown into his role, and has a voice to boot. They stacked up hit after hit, as well as new tracks (in old style) from their forthcoming album. "We Stand Alone" is already a favourite with a killer chorus.
Extremely polite and super nice as always, they thanked the audience, each other and then the audience again a couple of times. Pretty cool for a hard and tough band.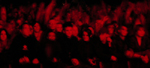 To briefly mention two more bands on the main stage, Swedish Smiths-like melancholic pop stars Weeping Willows really touched the Arvika visitors with a superb concert. They now have a well-earned position as one of the top bands in Scandinavia. And some Orbital fans (yes, there are some left) were satisfied by their calm late night show. Nice goodnight music to fall a sleep to in a tent nearby, we discovered.
Johan's personal highlight was Assemblage 23, who made a kick-ass show on the smaller Andromeda stage. Tom Shear appeared on stage together with a keyboard player (who in all honesty didn't do much) and smashed right into a hit frenzy. The big crowd was very much into it, and Tom seemed amazed at the support. During the gripping finale when Tom sang about his fathers suicide in "Disappoint", Johan was so moved a fought to keep the tears from his eyes, and I think Tom did too. The new single "Document" showed that they still have a talent for infectious melodies.
Haujobb's Daniel Myer sure is a powerpack. He jumps around on stage and screams like a madman, firing up the audience like few people can. The live drummer added some groove to the slightly remixed live tracks, and the guitarist added some weight to the sound. No new stuff, but the old songs are so good it doesn't matter.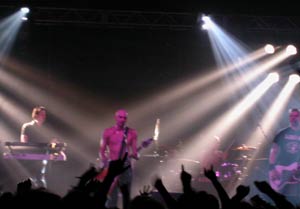 Tiamat focused on the straight songs and we loved it! Old men of goth pop The Mission did a quite good show too; one of the few delayed ones. The Mission need to hang on to their downhill career or they are finished.
Twice a Man didn't attract many, but they need more time since it was five years since their last performance (!). More of their great classics please.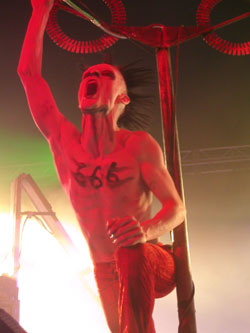 The one and only Das Ich was stunning and was the last "Release band" to play on the final night. Stage maniac Stefan in ballet shoes and screaming Bruno in a skirt – what a lovely duo they are.
The big talk of town was Miss Kittin & the Hacker – they can obviously become new stars. We were also served good concerts with Luke Slater, Seabound, Pain and Antony Rother. We can go on forever. The bands just kept playing, one after another. I think we need a vacation.
On July 10-12, 2003, it's time again.