---
---
AD

---
August 31 2004

---
Enjoy the remixes
• As you probably know already, Depeche Mode are releasing the remix album "Remixes 81-04" album on October 25 (26 in USA). In preparation for this, "Enjoy the Silence" will be released on single again on October 18.
Depeche Mode have really gone on a remixing spree this time, and be warned, if you're a completist collector prepare to hand out the dough. Commercial releases come in three different formats: standard CD (CDBONG34), limited CD (LCDBONG34) and extra limited (XLCDBONG34). Track listing for these are still not set. To top it off, there will also be three promotional formats. Confused yet? Anyway, here are the tracks on the promotional 12":
P12BONG34: "Enjoy the Silence (Timo Maas Extended Remix)", "Enjoy the Silence (Ewan Pearson Extended Remix)", "Enjoy the Silence (Richard X Extended Mix)", "Enjoy the Silence (Ewan Pearson Extended Instrumental)".
PL12BONG34: "Something to Do (Black Strobe Remix)", "World in My Eyes (Cicada Remix)", "Photographic (Rex the Dog Dubb Mix)".
PXL12BONG34: "Halo (Goldfrapp Remix)", "Clean (Colder Version)", "Little 15 (Ulrich Schnauss Remix)".
Rumours say that LFO will mix "Lie to Me", and "Nothing" will be remixed by Headclnr for the commercial single. /Johan Carlsson
Seabound's debut reborn in America
• The German electropop band Seabound released their debut album "No Sleep Demon" in Europe in 2001. Now, the American continent can get it too, when Metropolis issues "No Sleep Demon v2" (out now). It features the original album in remastered form with three bonus tracks. /Johan Carlsson
---
August 27 2004

---
Marilyn Manson's "Personal Jesus" cover getting closer
• The double-disc, 17-track double best of album with Marilyn Manson will be released on September 27. Featuring both all the classics, it also contains a cover of Depeche Mode's "Personal Jesus". An early listen tells us that Manson's version sticks closely to the original, but with a bit more distortion on the guitars.
There's also a deluxe edition with a bonus DVD, containing 20 of his music videos.
According to Side-Line, Manson will lend his voice to the computer game "Area 51", where he will play an alien called Edgar. David Duchovny – good old Mulder from the X-Files – is also doing voice over for the game. /Johan Carlsson
Sonic Youth's "Sonic Nurse" live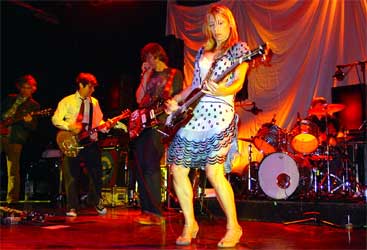 Sonic Youth live in Toronto 2004.
Photo by: Alex Veronac (Release)
• Long time New York art/noise rock project meld into their ump-teenth album and tour. Gone is "Confusion Is Next" but the 100% dirty D.I.Y. effort is here to stay. 19 albums in, Sonic Youth's latest offerings are CD "Sonic Nurse" (Geffen Records) and DVD "Corporate Ghost Videos" (Universal Music). Sonic Youth completed their US Tour to start their current select seven date European tour. It almost seems like yesterday when their seminal "Daydream Nation" album was released...
Check Kalle Malmstedt's latest SY CD review here. "Sonic Nurse" is also available in double vinyl format on Goofin' Records. /Alex Veronac
Juno Reactor finish up new album
• The new Juno Reactor album is called "Labyrinth" and comes out in October on Metropolis. Two tracks from the "Matrix" soundtrack have been remixed, and are featured on the album. /Johan Carlsson
---
August 26 2004

---
New songs on Delerium compilation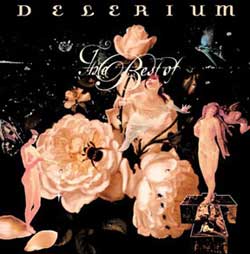 • Delerium have released four albums on Canadian label Nettwerk since they signed on in 1994, and now the time has come to issue a "best of". Appropriately titled "Best of Delerium" it of course features tracks from the Nettwerk years, but it also contains two new songs, namely "Paris" with French singer Aude and "You and I" with Zoe Johnston. A new remix by Above and Beyond of the smash hit single "Silence" is included, pulled from the upcoming single reissue. The compilation does not include tracks from Delerium's pre-Nettwerk releases. The album is out on September 6. /Johan Carlsson
Vancouver reunion of sorts
• Images in Vogue played their hometown of Vancouver for the first time in 19 years over the weekend.
Release got word from Don Gordon (Numb, Proof by Nine) before his trip to Canada from his new residence in Saigon, Vietnam. Gordon did not listen to the Images music for over 15 years and was recently surprised how high the quality of production and songwriting were. He was looking forward to playing live with the band after his departure in 1984.
Fans travelled from as far away as Belgium to attend this special gig.
Also on hand at the reunion concert was soundman Dave "The Rave" Ogilvie. Ogilvie worked as a studio assistant and did the live board for the band as early as 1982! Jakalope is Ogilvie's new full time music project with their first release on Toronto's Orange Record label. Original wave era project Spoons opened the evening. /Alex Veronac
Tyskarna från Lund serves a new single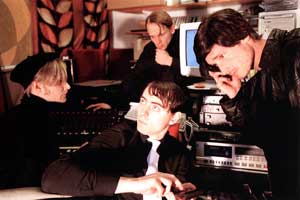 • Swedish synthpop entertainers Tyskarna från Lund hit us once again with a new single called "Kniven, Gaffeln, Skeden" ("The Knife, the Fork, the Spoon"). It was recorded with the Swedish Culinary Team, and is the "official anthem" for the Culinary Olympics 2004 which takes place in Erfurt, Germany on October 17-20. Included on the disc is another new track called "Klötzodizian Venue Menu III" and two remixes by Folie. A second album is in the works. /Johan Carlsson
Pet Shop Boys play new music on Trafalgar Square
• This fall sees the anticipated DVD release of the Pet Shop Boys "Performance" video. Filmed during their spectacular "Performance Tour" in 1991, it features 18 songs, directed by opera directors and designers David Alden and David Fielding, ten dancers and three backing vocalists. The move to the digital domain has brought 5.1 surround sound, a new stereo mix, commentary by the boys themselves, rehearsal footage and stills from the show. Have your wallet ready on September 27.
The boys will play a free concert on Trafalgar Square in London on September 12. It's PSB together with the Dresdner Sinfoniker, and they will play Neil Tennant and Chris Lowe's newly composed soundtrack for the movie "Battleship Potemkin". /Johan Carlsson
---
August 24 2004

---
Skinny Puppy: video, website, tour and remix album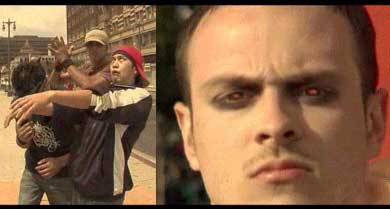 The characters of the "Pro-Test" video.
• Skinny Puppy's official web site (skinnypuppy.com) has finally taken shape over the weekend. While the new video for "Pro-Test" is not part of the current content though, music is streamed, pictures are shown, news and discography is given and it features the band's first online merchandise store.
Release spoke with video director William Morrison (also: FLA, Junkie XL, Fear Factory, Ohgr, Delerium) on tour back in June about the video's content. Morrison having made three Puppy videos to date, spoke to us about working with the Krumpers street dancers of Los Angeles in the new video but we were sworn to secrecy then. The video has selectively been released at Process.org, Mtvu.com, Fuse.tv and Launch.com. This clip does not incorporate the band members on screen. "Pro-Test" visually proves that the goth kids can do the same if not better than other street kids when shown to struggle.
Skinny Puppy's management is close to announcing the second leg of live dates starting October 13 in Sacramento, CA. 30 US dates followed by 20 in Europe and the band hopes to confirm Aussie and Japanese dates.
Cevin Key announced in recent interviews that there will be a remix version of their latest "The Greater Wrong of the Right" CD in the future.
Finally, yesterday (August 23) marked the dark anniversary of keyboarder Dwayne Goettel's fatal overdose. /Alex Veronac
Romo Night plans: Elegant Machinery, Twins and summer SAMA
• The largest synthpop club in northern Europe, Romo Night in Gothenburg, is busy making plans for the next two seasons and has released some live names.
On the autumn premiere on September 24 they will, as previously reported, put De/Vision on stage (newly booked support act: Greenhaus, UK).
We have known the plans for some time, but now they are confirmed: on October 29, synthpop veterans Elegant Machinery will be reborn on stage; of course something of a big bang for old Machinery fans. Romo Night has released one more act, old pop veterans Twins will not play until January. They make Elegant Machinery look like newcomers.
We also hear, next year's Scandinavian Alternative Music Awards (co-organised by Romo Night), will take place later this time, on May 15 to be exact. This means the huge outdoor area of the venue Trädgår'n can be used. On the other hand, it's quite late for a 2004 award show (but not too late). /Mikael Kahrle
---
August 18 2004

---
Reignited Garbage slaving away on new album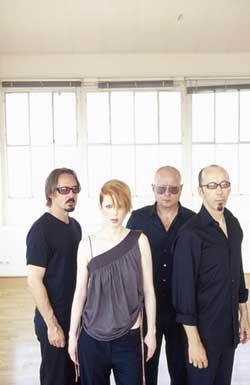 Garbage might not be happy, but they are back in business together.
• The future of Garbage has been rather uncertain - the band machinery has not been running smoothly lately. But now they are obviously back in business. Garbage are currently slaving away on their fourth studio album which has the working title of "Hands on a Hard Body". No release dates have yet been set.
The track list as it looks now: "Be My Bad Boyfriend", "Run", "Why Don't You Come over", "Guilty", "It's All over But the Crying", "Sex Is Not the Enemy", "Hanging with the Bitches", "Why Don't You Love Me", "Calling All Girls", "Honeybee", "Bleed Like Me", "Right Between the Eyes", "Space Can Come Through Anyone" and "Nobody Can Win". /Peter Marks, Mikael Kahrle
Stina Nordenstam helped by Pluxus
• Swedish alternative star Stina Nordenstam is currently working with her new album "The World Is Saved". While we're waiting for the release, we are treated the single "Get on with Your Life", remixed på blip bloppers Pluxus, in September/October. /Mikael Kahrle
Live release with Klinik classics imminent
• September will see the unleashing of the successful Agra Halle retro concert which a reunited old version of Klinik did for this year's Wave Gotik Treffen festival. Hands Productions will be releasing the album, which obviously contains powerful live versions of most of the old Klinik classics like "Black Leather" and "Moving Hands". /Peter Marks
Arcana release definitive retrospective
• Joining the ranks of other acts to put out collections, Sweden's Arcana have just released "The New Light" (Erebus Odora), a look back at the last ten years of the band's existence in the world of dark atmospheric music (think Dead Can Dance). This album comes in a DVD-like package and features several unreleased tracks from Arcana's early days and includes newer works which have been created since "Inner Pale Sun", the latest studio album by Arcana. /Peter Marks
More darkness from Lustmord
• The new album by classic dark ambient project Lustmord is called "Carbon/Core" and is out now on Happy Pencil. /Johan Carlsson
---
August 16 2004

---
Alexander Hofman "Malmö's finest"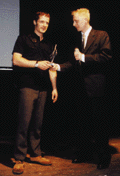 MC Alexander Hofman hands over the SAMA award to Eddie Bengtsson a few years ago.
• During its city festival, S.P.O.C.K's hometown Malmö in Sweden is paying tribute to local musicians who have put their musical footprints throughout the past 20 years. S.P.O.C.K's Alexander "Android" Hofman will be awarded as one of "Malmö's Finest" and perform one song live on the main stage, backed by non-S.P.O.C.K musicians from En svensk TV-orkester (A Swedish TV orchestra) on guitar, bass and drums.
Eddie Bengtsson (formerly in S.P.O.C.K and Page, now active in Sista mannen på jorden, This Fish Needs a Bike) who was living in Malmö up until a couple of years ago, also deserves the award but was not chosen. Bengtsson has previously complained over the lack of recognition for his musical work. /Mikael Kahrle
Clan of Xymox release compilation
• Metropolis is going to issue a best of collection with darkwavers Clan of Xymox, spanning from the early days in the eighties up to now. Aptly titled "The Best of Clan of Xymox", it's out on September 14 and also features five re-recorded songs from the 4AD era. /Johan Carlsson
Klinik re-release original CD box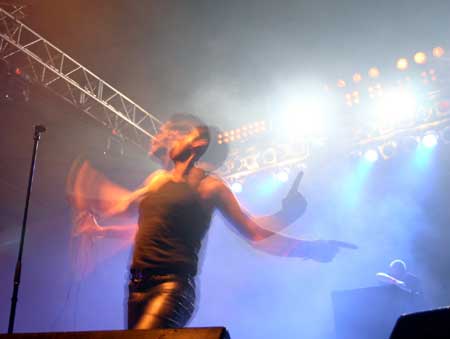 The original line-up of Klinik on stage during this year's Wave Gotik Treffen.
Photo by: Karin Martinsson
• Belgian classic EBM act Klinik's limited two-disc box was originally released in 1989. It is now re-released by the Hands label, and features all the music from the original edition.
Meanwhile, Marc Verhaeghen has just released the new Klinik album "Dark Surgery", in dark, ambient psy-trance style, also on Hands. As usual, Dirk Ivens is not taking part in Marc's Klinik, although the two original members have reunited for two live shows with old material.
Read the "Dark Surgery" review (grade: nine). /Johan Carlsson
Busy days for NFD
• Noise for Destruction (featuring former members of The Nephilim) are due to release their debut album "No Love Lost" in October and are playing a few UK dates as well: August 21 in Colchester, November 13 in London, November 25 in Cambridge and November 26 in Bournemouth. Further dates are expected to be announced soon.
In related news, according to the official Nephilim web site, an entirely new album is nearing completion. /Peter Marks
---