---
---
---
Mar 12 2004

---
The birth of a festival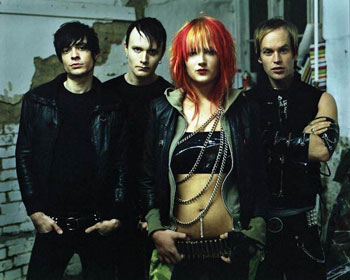 Alice in Videoland play live as much as possible, including tomorrows Static fest and London's Slimelight on April 17. This is a new pic whithout keyboard player Anders Lundgren, who has left the band.
Photo by: Marcus Nilsson
• The first instance of the Static Festival is taking place at Kolingsborg, Stockholm, tomorrow. Lots of bands will play, for example ex-Kraftwerkian Karl Bartos, The Mobile Homes, Code 64, Statemachine, Nasa, Colony 5, Moulin Noir and Alice in Videoland.
Guest DJ's includes Client, Komatrohn and Johan Kinde from Swedish "new" wave act Lustans Lakejer. /Johan Carlsson
Doctor's orders: one week's rest
• Broder Daniel have been forced to cancel even more live shows (two this weekend). Front man Henrik Berggren has been ordered by his doctor to take a one week-time out due to exhaustion. He ended a hospital stay earlier this week. /Mikael Kahrle
Run Level Zero on the right path?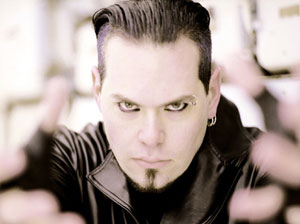 Reach out and touch faith.
Photo by: Billy Bob
• The new album from EBM hardhitters Run Level Zero is called "Walk the Psycho(path)". The project is now a solo effort by Hans Åkerman, and the short clips available on Memento Materia's web site hints of a change in sound towards a more sophisticated approach. Thanks to Minuswelt, the album will be available in GAS. Memento Materia handles the Nordic release. Date to look out for: March 29. /Johan Carlsson
Could make some ENVious
• ENV[itre] (aka Miroslav Slavomir Majewski); one of the latest electronic artists to come out of Germany, has produced what must be seen as one of those few albums
you could file alongside classic Aphex Twins albums "I Care Because You Do" and "Richard D James". The album "Teaktshramin" is the first ever long-playing release
on the new Aphorism label, which promises to be a label artist lovers of off-the-wall and wacky music should keep their eyes and ears open for.
The album is on general release as we speak, and is a must for those who like their music; filled with acid tinges, clever machine and sample manipulation, drill and bass beats. Although relatively unknown outside his native Hessen, Germany (apart from single track releases on Neoouija and Databloem compilations, and a remix of Metamatics on Hydrogen Dukebox), this talent doesn't look like it will be contained much longer. /Mike Whyte
---
Mar 10 2004

---
A different Backlash on its way back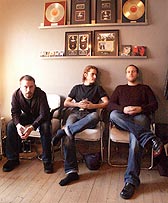 • Swedish electropoppers Backlash have lost their singer Malin Andersson, but gained a new voice in Erik Thorstensson. Together they have finished the new album "Heliotrope" which is out on March 29 (Memento Materia). /Johan Carlsson
Hultsfred proudly presents Morrissey
• Morrissey's only concert in Sweden this year will take place at the Hultsfred Festival. He will play alongside Pixies and fan band Weeping Willows. /Johan Carlsson
EBMfest 2004 returns with Das Ich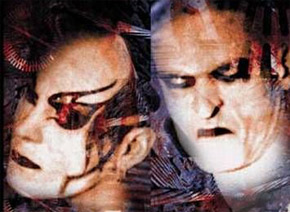 And the Oscar for best makeup goes to...
• Das Ich returns to North America for the first time since a couple of US live dates in January 2003. The Germans are set to arrive headlining the EBM and wave EBMfest 2004 festival in Toronto. This Canadian exclusive gig includes live support by new Canadian-American project Ayria, goth rock locals Perdition and analogue vets !Bang Elektronika on March 14.
See coverage of prior EBMfest here. /Alex Veronac
Qntal signs with Dancing Ferret
• Michael Popp's (ex-Deine Lakaien member and founder of Estampie) darkwave/medevial/pop band Qntal have signed to Noir, a new sub-label of Dancing Ferret for the Japanese and American markets. Current plans: a domestic release of their last album, the cryptically titled "III". One thousand copies of this edition will be released on June 22 and will include their recent live DVD in NTSC and region 1 format. /Peter Marks
Machines have feelings?
• The latest album by BT is called "Emotional Technology", and was released in the autumn of last year, full of high-tech electronic pop. Now comes "Technology EP", featuring remixes by DJ Tiësto, Dylan Rhymes, Attention Deficit and Compufonic. Plus, it will come as enhanced CD with song parts for three tracks so you can make your own remixes. /Johan Carlsson
---
Mar 8 2004

---
Broder Daniel front man in hospital
• Swedish indie rock stars Broder Daniel have cancelled more shows on their current tour. Front man Henrik Berggren has spent the weekend in hospital. /Mikael Kahrle
Imperative Reaction's third album soon out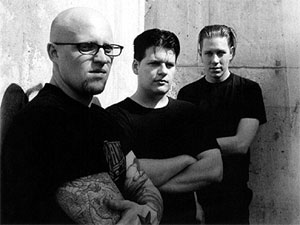 • "Redemption" is the title of EBM band Imperative Reaction's new album, out on March 9 in the States, and on April 5 in Europe. It's described as more aggressive than ever, but with smooth programming. /Johan Carlsson
The new Watts album on KMFDM Records
• After looking around for labels for some time, Pig lord Raymond Watts' new band Watts have just signed to the newly founded KMFDM Records. The album "Pigmartyr" will be out on May 17, with Grand Recordings handling the UK release. A sampler with snippets from the album has been available for download from Thesickcity.com for some time, and to judge from that, the sound is close to the heaviest moments of Pig. /Kristoffer Noheden
---
Mar 5 2004

---
Delayed Energy releases here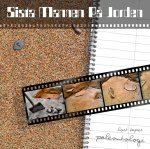 The archeology-themed "Lost Tapes - Paleontologi" cover.
• Swedish synthpop project Children Within has just released the new delayed synthpop album "Freedom of Choice" via Energy Rekords. This, the third Children Within album, is the first release in seven years.
At the same time, at the same label: classic synthpop outfit Sista mannen på jorden (Last Man on Earth) have just delivered their collection of their formerly lost, antique and reworked previously unreleased songs called "Lost Tapes - Paleontologi" (some of which are in really good shape). A SMPJ with a cold recently hosted a release party at Gothenburg's Romo Night - without the CD! But now it's here, we promise.
Furthermore, Slagsmålsklubben (Fight Club) has just released their new EP, "Hit Me Hard", on Energy sub label Beat That!. The band's music is similar to that of Pluxus and they are nominated for best newcomer 2003 at Scandinavian Alternative Music Awards.
Children Within and SMPJ reviews in progress. /Johan Carlsson, Mikael Kahrle
Pet Shop Boys work with Pete Burns from Dead or Alive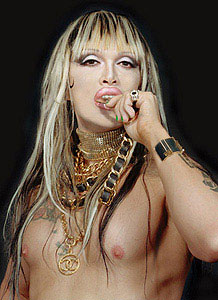 • The boys' own label Olde English Vinyl will release a track that Neil Tennant and Chris Lowe made together with Pete Burns, from classic 80's band Dead or Alive. The track is called "Jack and Jill Party", and is initially only going to be available from the Pet Shop Boys website. The song is written and produced by Neil and Chris and they describe it as "a hard electronic dance track". /Johan Carlsson
Ollila bros fuel Mr Jones Machine
• The Swedish retro-synthpop band Mr Jones Machine will release their as yet untitled debut album on the German label IntraPop. The brothers Jarmo and Jouni Ollila – from Daily Planet and Pouppée Fabrikk respectively – are making the music together with Magnus Lindström. The band will play at both SAMA and Arvika this year. No release date is set though. /Johan Carlsson
Dangers at French film screening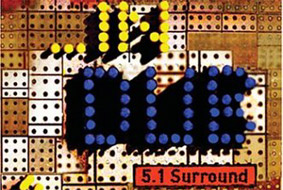 Artwork for "In Dub" DVD.

• Jack Dangers, the mindstream behind project Meat Beat Manifesto, hasn't toured to promote his last couple of CD:s. Now, we find Dangers playing in Nantes, a French coastal town west of Paris, on March 6. As part of the eclectic Ideal Festival, Dangers is playing a new interpretive score live to the 1956 sci-fi classic film "Forbidden Planet". He will likely be packing a few of his vintage synths for this gig. Other acts taking part in the two day event are Alan Vega (Suicide), Lydia Lunch and Sigue Sigue Sputnik.
Meat Beat Manifesto's redux of 2002's "R.U.O.K?" called "In Dub" CD/DVD package was just released on labels :\Run Recordings and Quatermass. /Alex Veronac
New album from PJ Harvey summer 2004
• Four years after "Stories from the City, Stories from the Sea" we find Ms Polly Jean preparing her new album for a tentative summer release date. The album title is unknown at this time but it has been produced by Polly herself with long-time collaborator Rob Ellis playing drums and percussion. Some song names which have been revealed include: "Who the Fuck?", "The Life and Death of Mr Badmouth" and "The Letter and the Pocket Knife". /Peter Marks
---
Mar 1 2004

---
Pet Shop Boys to Japan, Sweden and Denmark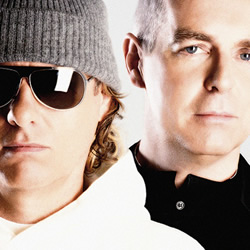 • Pet Shop Boys have announced a short tour of Japan, starting on May 17, going on to May 27. It's a total of six dates and includes Tokyo and Osaka. In addition, the duo has just confirmed that they're playing the Skanderborg Festival in Denmark on July 31 and the Swedish Storsjöyran on August 7. /Johan Carlsson
Morrissey is coming back in May
• Finally, Morrissey will return with a new album. It's called "You Are the Quarry" and comes out on May 18 in America, but on May 17 in the rest of the world. A single named "Irish Blood, English Heart" will give us a taste of what is to come, on May 10. Initial rumours talk about a happier Moz. /Johan Carlsson
Swedish Naked Ape debut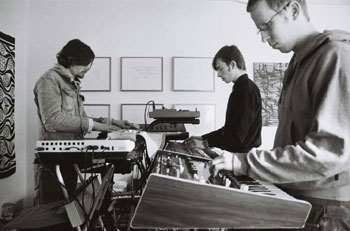 Photo by: Peter Fristedt (Berliner 6 Bahn)

• Swedish electro outfit Naked Ape will release their debut album "Anropa Aporna" ("Call the Apes") by the end of this month. They make a special brand of electro with heartfelt singing in "skånska" (Swedish dialect) and is signed to Lobotom Records. /Johan Carlsson
Second year for Sonika Festival in Stockholm
• This weekend saw the return of the Sonika Festival in Stockholm. Bands that played included System, Hundarna från Söder, Saralunden, Komatrohn and many more, totalling 16 bands. It was a two day event this year, spanning over February 27-28. /Johan Carlsson
---