---
---
Aug 15 2003

---
X-mas present for The Klinik fans
• Dirk Ivens and Marc Verhaegen, original key members of The Klinik, will reunite on stage during the B I M festival on Antwerp, Belgium, on December 27. 14 years after their last performance together they will play classic Klinik tunes in original versions. Both Klinik (today's version with just Verhaegen) and Dive (Ivens) played at this year's Wave Gotik Treffen seperately. /Mikael Kahrle
Lustans Lakejer return to Romo Night
• The largest synthpop and EBM club in Northern Europe, Romo Night in Gothenburg, will invite Melotron on September 26 (two days after Laibach plays the same venue...) and Lustans Lakejer on October 31. /Mikael Kahrle
New French band produced by Depeche Mode engineer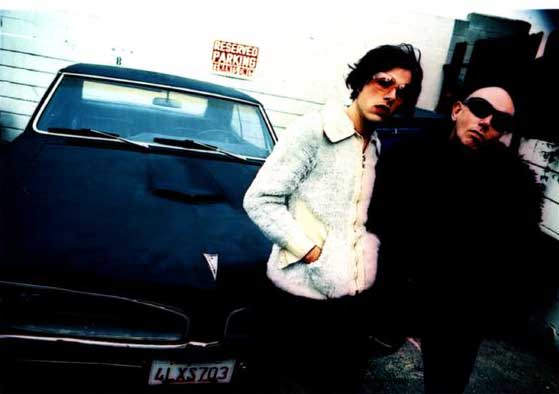 • New German label Electro-Shock Records will release the EP "Break Me" with French band The Dead Sexy Inc this autumn. In the producer's chair we find Paul Kendall (known for his work as engineer and remixer for numerous, mostly Mute acts, like Depeche Mode, Nitzer Ebb and Erasure). The EP will include a cover of Johnny Thunders' "Born to Lose". Universal ordered two Dead Sexy remixes for Marilyn Manson's "Mobscene" earlier this year, but they are still unreleased as far as we know. /Mikael Kahrle
Greece goes industrial
• A new festival for the gothic and industrial scenes has been announced and for a change it will take place in Athens, Greece (just like the Elfentanz Festival). Seelenschmerz Festival will be a two-day event on October 25 and 26. For a first-timer, the festival has managed to attract quite renowned acts. Among the announced so far are VNV Nation, Melotron, Psyche, the post Swans project The Living Jarboe and Front 242 side-project Male or Female. The line-up so far seem quite balanced between established acts and newcomers. If this festival goes well, the organizers Medieval Industry plan to make this an annual event.
Those interested can go here for more information. /Peter Takizawa
---
Aug 12 2003

---
Bon Harris speaks on possible Nitzer Ebb reunification
• With Nitzer Ebb's best-of release due out soon there have been some rumours flying around about a possible re-uniting of Bon Harris and former Ebbhead singer Douglas McCarthy. When questioned about this Mr Harris replied:
- Untrue, completely untrue.
As for the status of his current project Maven.
- We have just finished the Maven record and are getting ready to do shows in the US. I think it will be released early next year, that's about it, Harris said. /Peter Marks
Darkness and wonder from Lamb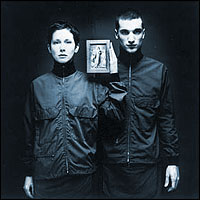 • Lamb has finished recording the fourth album "Darkness in a World of Wonder" (Mercury) which will see release at the end of October. A full UK tour is in the works with European dates confirmed in Spain, France, Switzerland, Belgium and Holland. Lamb will also be performing at the Carling Festival in Leeds, England on August 22 and on August 24 they can be seen in Reading, England for the final day of the festival. /Peter Marks
John Sellekaers retires from music
• The long-standing stalwart of experimental composition, John N. Sellekaers has just announced his retirement from making music and in his own words:
- Nine years after the release of my first album, and with nearly forty records in total, I've decided to take a break from music. After the next planned releases, I'm abandoning all the projects for an undetermined period of time. I want to pursue other (creative) interests, not linked to music. I need more time and more energy to do that. It's a natural evolution and, I think, a very sane need for change. That's the main reason behind my decision.
Mr Sellekaers recorded under the following monikers: Ambre, Ammo, Dead Hollywood Stars, John N. Sellekaers, Logatomistes, Moonsanto, Torsion, Uncotones, Urawa, and his first and best known project Xingu Hill. He also is a member of The Forgotten Odes Conglomerate. His studio, Metarc, has produced numerous artists' releases over the years. The final output planned for 2003 includes releases from Ambre, Uncotones, Xingu Hill and one collaborative disc. /Peter Marks
---
Aug 9 2003

---
New Skinny Puppy song premieres in vampire flick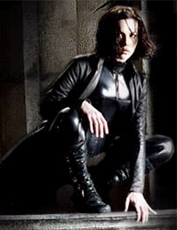 Selene the vampire from the movie "Underworld".
• While we were patiently waiting for Skinny Puppy's California recording sessions to be completed, news of a release have come early. Many will be drawn to the gothic metropolis battle film "Underworld" if only to hear the new Skinny Puppy track on a theatre sound system. "Optimissed" was recorded this year and is included in the film set for release on September 19 (USA, UK), enough to bring most vampires out of their coffins. The soundtrack CD arrives earlier on September 2 on Lakeshore Records (US) with tracks by other notables Danny Lohner (Nine Inch Nails), David Bowie (featuring Maynard James Keenan and John Frusciante) and A Perfect Circle. Catch the movie trailer here.
Underworld's theatrical release dates so far include France (September 24), Australia and Russia (October 16), Spain (October 17), Czech Rep (November 13), Netherlands (November 27) and Norway (November 30).
Skinny Puppy's new album is now set for release early 2004 with tour to follow. /Alex Veronac
à;Grumh... shows signs of life
• One of Europe's most unusual acts, Belgian EBM legends à;Grumh... have announced they are working on new material which will be their first in 14 years. No official release date has been set but the band's own label Titicaca is in negotiations with Play It Again Sam.
à;Grumh... are also known for their side project entitled A Chud Convention which featured Cevin Key and Dwayne Goettel as members. One vinyl EP entitled "Sorrow" was released in 1986. /Peter Marks
And One finally ready for launch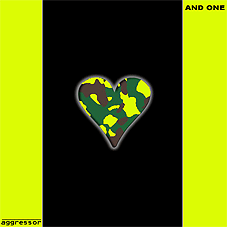 A first look at the new album.
• Monday marks the release of the new And One single "Krieger" in Germany. This is a song which lyrics are somewhat reminiscent of DAF's new "Der Sheriff".
The album "Aggressor" is slated for a August 25 release. The track list looks as follows: 1) "Kein Anfang" 2) "Schwarz" 3) "Krieger" 4) "Sternradio" 5) "Speicherbar" 6) "Fehlschlag" 7) "Nicht für Immer 8) "Strafbomber" 9) "Tote Tulpen" 10) "Fernsehapparat" 11) Kein Ende. /Jens Krause
New Front Line Assembly single in October
• As we have reported earlier, the new Front Line Assembly album "Civilization" will hopefully be out before the end of the year. Dark, futuristic and melodic is the description of FLA's newest work which re-unites Bill Leeb with Rhys Fulber. American Metropolis Records now tells us about the upcoming single "Maniacal", also featuring the song "Anti" and some remixes and stating October 7 as date of arrival. /Johan Carlsson, Peter Marks
---
Aug 5 2003

---
Dossche: new album after vampire movie
• German innovative electronic artist Dossche has made a cover of the Neue Deutsche Welle hit from Rheingold, "Dreiklangsdimensionen". This is the first single from his second album "Existenz" (August 11). The single comes with four versions of the title song as well as the non-album track "Ich bin Gott". Dossche has put together a live band and plan to go on tour.
Dossche can also be seen in the vampire flick "Kinder der Nacht 2", where his character's specialty is sadistic interrogations. The soundtrack has two Dossche songs. /Jens Krause, Mikael Kahrle
Anne Clark gives two special concerts
• Anne Clark (something of a wave queen in Germany) will play two special gigs in Berlin's Passionskirche on November 11 and Neubrandenburg's Schauspielhaus on November 15. /Jens Krause
---
Aug 1 2003

---
Psyche set to release their tenth album
• Long-standing popsters Psyche will send forth their new studio album "Babylon Deluxe" on September 5 (Accession/Art of Fact). Front man Darrin Huss states:
- This album is a further step for us, tribal rhythms, dark trance, and power electropop tunes full of surprises. For the first time ever you will hear a guest vocalist known as MS. Poly-ester.
The North American version of this album will feature "The Quickening" single as a bonus disc. /Peter Marks
Goldfrapp gets strict with the machine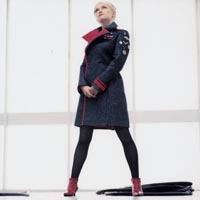 • Goldfrapp's new single, the heavy electropop tune "Strict Machine" taken from the top-20 album "Black Cherry", is out since July 21 available as a CD, DVD and limited edition CD. Two exclusive tracks come with the audio single (in both formats), "White Soft Rope" and an extended version of "Hairy Trees" recorded live in London. The DVD single features the previously unreleased film of the track "Lovely Head", Ewan Pearson's remix of "Strict Machine" and a live version of "Deep Honey". The limited run CD single is fortified by Rowan Oliver's remix of "Strict Machine" and another mix by Ewan Pearson, this one being a morodor-ish dub mix of "Train".
Goldfrapp continue to play frequently live in Europe, Asia, America and Australia and have scheduled a number of further festival dates in August. /Peter Marks, Mikael Kahrle
Alice in Videoland: one of the brightest shining newcomers
• Strange bodypunk outfit Alice in Videoland have kick-started their career in a way rarely seen before among Swedish synth bands. They play live on almost every important festival and occasion and are on many people's lips. So the pressure rises for record company National to deliver the debut album. If everything goes as planned, it will appear this autumn, preceded by their second single (maybe "The Bomb") and possibly another video. The video for their first single "Dance with Me" is spinning in Videoland right now. A deal with leading tour organiser EMA Telstar makes way for even more live dates. /Mikael Kahrle
Zeraphine to release new album in August
• Germany's dark rock act Zeraphine have completed a new album called "Traumaworld" which will be out on August 25 (E-Wave). The band is fronted by former Dreadful Shadows vocalist Sven Friedrich. Their new album will feature English lyrics rather than German which was the choice for their debut release "Kalte Sonne". /Peter Marks
---