---
---
Apr 29 2003

---
Juno Reactor enter the Matrix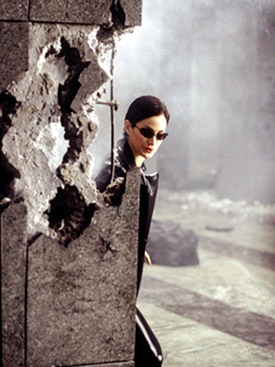 Photo by: Warner Bros
• As we have reported before, the band Juno Reactor has contributed two new tracks: "Teahouse", "Mona Lisa Overdrive/Dante" and a collaborative track with Don Davis entitled "Burley Brawl" to the soundtrack for the upcoming Warner Bros motion picture "Matrix: Reloaded". In addition to this, Juno Reactor has provided music for a twenty minute car chase scene in the movie which has been described as "audacious".
Juno Reactor plan to spend the rest of 2003 putting the final touches on their new as yet-untitled album. /Peter Marks
Hollywood's Collide guested by Cevin Key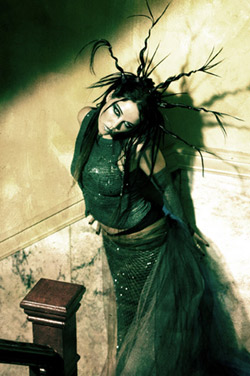 Photo by: Chad Michael Ward
• Karin and Statik of Collide from Hollywood, California, have recently finished their new album "Some Kind of Strange" after working three years on it. It is an album filled with emotional and powerful electronic songs. It features performances by Cevin Key (Skinny Puppy, Download in case you didn't't know) and Danny Carey from Tool. Out now on Noiseplus Music.
Coincidentally, Statik and Danny are also working on the new Skinny Puppy album. /Johan Carlsson
Johan Kinde and Fetish 23 join Sonic Havoc line-up
• The Stockholm EBM/noise/industrial festival Sonic Havoc adds two more names to their roster. Johan Kinde is known for his band Lustans Lakejer, and he will be DJ:ing new romantic, 80's and synthpop stuff you can dance to. Fetish 23 is a video artist that will accompany the music on stage two, on two big projector screens. /Johan Carlsson
Diorama plays America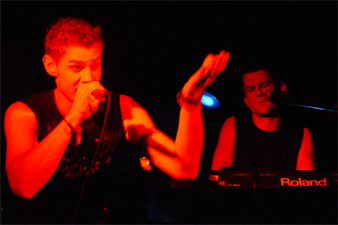 Diorama live in Toronto 2003.
Photo by: Alex Veronac (Release)
• Diorama played their first North American live dates in March. While in Mexico City, they decided they would like to film a video there in the future. On their way back to Europe, they stopped to play a benefit concert for CIUT Radio in Toronto. Noticeably, bassist Bernard Le Sigue was missing from the live line-up for the gigs on this trip. Darkwave Germans Torben and Felix were supporting their latest release "The Art of Creating Confusing Spirits" on Accession Records. They mentioned they were looking forward to their upcoming gig at Castle Rock 4 festival in Mülheim, Germany. European fans can also catch them soon at what seems to be the new southeastern hub of live dark synth music - Athens, Greece. /Alex Veronac
In the Nursery take us to "Praxis"
• "Praxis" is the name of the new longplayer from the prolific Humberstone brothers in In the Nursery and is described as being "about empowerment, interaction and defining a creative identity". This album is released on June 13 (ITN Corporation) and will be preceded by a short tour in May which is the band's first since 2000. Some of the cities being visited? Berlin, Leipzig, Frankfurt and Paris to name a few. /Peter Marks
---
Apr 25 2003

---
Red Flag vocalist passed away on April 7
• Red Flag singer Mark Reynolds passed away earlier this month, on April 7. This happened at a time when the US synthpop band experienced a rarely seen productiveness, recording and releasing albums in a steady stream on their own label Plan B Records.
Red Flag will mostly be remembered by their classic debut album "Naïve Art" (1989) and Mark will be mourned within the synthpop community for a long time to come. Rest in peace, Mr Reynolds.
We have waited with this News piece until we had definite confirmation. /Niklas Forsberg
KMFDM finds Sanctuary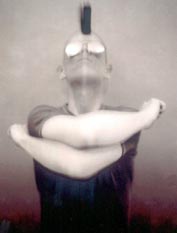 A MDFMK shot of lead man Sascha.
• Industrial hard-hitters KMFDM have now signed on to Sanctuary Records and the new album tentatively entitled "WWIII" is preliminary scheduled for a September release. The band obviously seem to stick to the principle of a five character title for their albums. A tour is likely to follow close upon the
album release, but no details are available as of yet.
In further news, the "Sturm & Drang" DVD from last year's tour, said to include 90 minutes of live and backstage material will be released on June 3. The live "Sturm & Drang" CD is already out. /Peter Takizawa

Melotron re-release old albums on their own label
• German electronic trio Melotron will re-release old, sold-out albums on their own label Plattenkombinat (a sub label to Minuswelt). They started with their debut "Mörderwerk" yesterday. The new edition comes with bonus material and new cover art. /Jens Krause
28 date Covenant and Melotron North America tour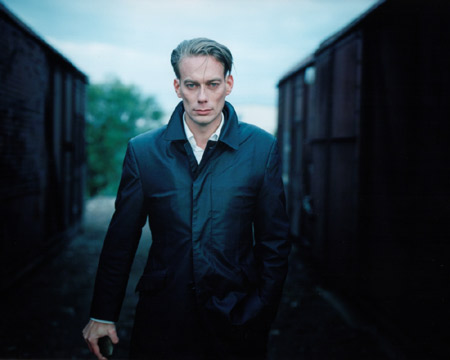 Photo by: Kasskara
• May 5 marks the start of Covenant's "Northern American Light Tour 2003" in Miami. They will be supported by Melotron. 27 more dates follow until May 31 in San Antonio, Texas. Covenant tells Release they are busy with touring and a new album lays far into the future, but they look forward to it. /Mikael Kahrle
Dave Gahan and Robert Smith on new Junkie XL album
• Dave Gahan has recorded vocals for the Junkie XL song "Reload", to be included on the new album "Radio JXL - A Broadcast from the Computer Hell Cabin". Robert Smith will also participate. All according to the Junkie XL web site.
JXL delivered the huge hit remix for Elvis Presley's "A Little Less Conversation" last year.
Dave Gahan appears on Swedish TV4 tonight. /Mikael Kahrle

Huge Laibach tour
• We have new details on Laibach's plans for world-domination this summer. The new album will be preceded by the single "Tanz mit" in July. We mentioned this DAF-tasting EBM piece the other day.
After playing some festival dates (so far five are booked), the Slovenians will embark on, first a European, then American tour. The European cities which will be visited from September 17 and on are Graz, Salzburg, Vienna, Münich, Magdeburg, Malmö, Gothenburg, Oslo, Stavanger, Copenhagen, Hamburg, Frankfurt, Nürnberg, Glauchau, Geneva, Strasbourg, a French city to be confirmed, Paris, Krefeld, Bielefeld, Tilburg, Antwerpen, London, a UK city to be confirmed and finally Berlin (two dates, October 15 and 16). /Alex Veronac, Mikael Kahrle
---
Apr 23 2003

---
New Ohgr CD in July?


We have three new pics so we give you all of them. From left to right, shot from the new video, new CD graphics and a press picture.
• The long delayed release of industrial icon Ogre's new material comes closer. Ohgr's second effort "Sunnypsyop" will be out on Spitfire Records (US) and Eagle Rock (UK). The previous release date of May 6 in USA will likely be moved back to July. Song titles we are looking at are "Dog", "Chicks Are for Power", "Magic" and "Watergate". Ogre continues to work on the Ohgr project with Mark Walk and some added guests are expected on disc.
A new video, "Hylic Manouver", has been completed by William Morrison who also directed the last two Ohgr clips. /Alex Veronac
Chameleons call it a day again
• England's The Chameleons gained notoriety first for club favourite "In Shreds" back in 1982. They disbanded in 1987, but in recent years started playing together again. Touring Europe, Canada and USA, the band started clicking again. Before a recent journey to Athens,Greece, tensions between the band members had them split prior to the April 12 gig at X-Bug Club. Singer/bassist Mark Burgess and vocalist/percussionist Kwasi Asante filled in with an acoustic set of Chameleons songs to fulfill commitments to the promoter.
Rumours have a solo tour by Burgess in the UK and US east coast later this spring. We last caught The Chameleons doing a special intimate jam for fans in Toronto in October 2002. Catch earlier The Chameleons news from Release here. /Alex Veronac
---
Apr 22 2003

---
Boytronic re-release and live in Sweden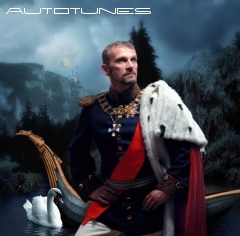 Holger Wobker posing.

• Reformed synthpop duo Boytronic have enjoyed some success the past couple of months. Their comeback album "Autotunes" was praised by reviewers all over, myself included, and the newfound interest sparked an idea to re-release the classic debut album "The Working Model". I know, Tatra has already re-released this one, but the new Strange Ways version features remastered sound (it sounds fantastic) and no less than eight bonus tracks, three of which have never been released before. The other five are independently released single tracks, for example "Late Night Satellite", "Bryllyant" and "Hurts". "The Working Model (Reverse)" will be released on May 26. A new single from "Autotunes", "Song for the Lonely", is also planned, but without date so far.
In other Boytronic news, Gothenburg synth club Romo Night has just booked the band for their seven year anniversary on May 30. /Niklas Forsberg

New Swedish electro festival
• Yet another festival for our beloved music has been born. The Sputnik Festival will take place on October 4 at the venue Allhuset in Stockholm. Eight bands will play on two stages. No bands are confirmed yet, but the festival already sports a web site. /Niklas Forsberg
---
Apr 18 2003

---
New Apoptygma Berzerk side project on WEA
• The new side-project from Apoptygma Berzerk's Stephan Groth, Fairlight Children, will release its debut album in April on Apoptygma Berzerk's company WEA. The influences? Kraftwerk, Ladytron, Air, OMD and a host of others. Three demo tracks are currently available on line at the band's web site.
The Fairlight, incidentally, was a keyboard responsible for numerous band's careers in the 1980:s and indeed a fair share of the "80:s" sound came from its presets. One can probably expect this approach to thrive on the album. /Peter Marks
Hilt release with previously unreleased Skinny Puppy track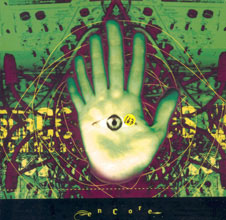 Cover art for "Encore".
• Subconscious Communications, the den of Cevin Key's musical projects has shipped out the last of the limited edition "From the Vault" subscription series CD:s. The seventh and last CD was a collection by Skinny Puppy side-project Hilt titled "the Worst of the Flu '85-'96". Those who purchased the entire series were promised a special bonus gift. The bonus four track "Encore" CD includes an additional Skinny Puppy song available nowhere else. The rather beaty Download-ish instrumental jam "Crazy Tonight" is from the 1990 "Too Dark Park" era. With this major project out of the way we will soon see new material from Ohgr, Cevin Key (solo) and a newly recorded Skinny Puppy EP this summer, if all goes as planned...
Catch earlier news on the "From the Vault" series at Release here. /Alex Veronac
Growing following for Poland's God's Bow
• Up-and-comers God's Bow will appear at this year's Wave Gotik Treffen festival in Leipzig. Poland's God's Bow recently finished a series of very successful concerts as support for darkwave legends Deine Lakaien and wowed audiences at the last Eurorock winter festival. /Peter Marks
Another sampler from Ninthwave
• American label Ninthwave Records will release a compilation called "Electricity Volume II" on April 29. It will include new songs from Heaven 17, Freezepop, Soviet, Exhibition and many more. The first edition of the sampler (the first 1000 copies) will come with a bonus disc, "The Best of Ninthwave". Don't confuse the "Electricity" collections with the famous German "Electrocity" CD:s. /Niklas Forsberg
Absurd Minds to Sweden for the first time
• The small Swedish town Karlstad will soon be visited by the German band Absurd Minds. The band enters Swedish soil for the first time ever on April 25, and it's the club Radium that has brought them here. Check out this page for more info. /Johan Carlsson
---