---
---
Aug 30 2002

---
Countdown for Boytronic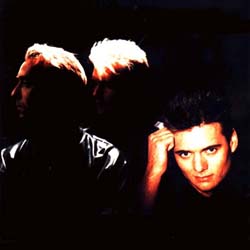 • Work on the Boytronic album "Autotunes" has been finished. The comeback disc will be released on October 21.
If you can't wait until then, the new single "Living without You" will be out on September 23 in two different versions. A blue, which is the standard one, with a number of remixes and an extra track - and a red one, including remixes. The blue one is a digipak limited edition. Moreover, it has been known for some time Boytronic will play the Tinitus Festival in Stockholm in November and has a new track called "Pioneers (are Marching on)" on a new Strange Ways compilation called "Strange Works 2", which is out now. A snippet from "Living Without You" can be heard on the Boytronic fan site. /Niklas Forsberg
Juno Reactor slaving away
• Juno Reactor has left Blue Room Recordings (rip) and have signed to Music of the Spheres. They are distributed by Universal in Japan and Metropolis in North America. Ben Watkins, the focal point of Juno Reactor is currently recording tracks for the new album. The initial work was done with traditional Japanese drummers (gocoo) in January, near Mt Fuji. One of these new tracks will be included on a compilation entitled "Odyssey 1992-2002" which came out on August 21 in Japan. This compilation will be out in January 2003 in North America. A single is also accompanying this release and is entitled "Hotaka". The single will feature four versions of this song including remixes by KLOQ and Kris Kylven. The gocoo drummers and Steve Stevens will also be appearing on this single. Juno Reactor plan to spend the rest of this year recording their new album. /Peter Marks
New FSOL album gets a misprint in the US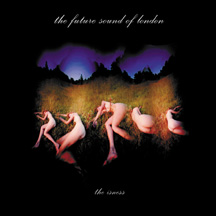 The unauthorized version of "The Isness".

• During the imminent release of Future Sound of London's new album "The Isness", it became apparent that the band's American label Cleopatra had accidentally released 2 500 copies of an unfinished version of the album, unauthorized by the band. The tracklisting is slightly different, and some of the tracks are in demo versions. Cleopatra Records has now issued an apology on their web site, and those which want to change to the correct version, you can get it by sending your CD to them. /Johan Carlsson
---
Aug 28 2002

---
Klinik to perform at Maschinenfest
• The annual Maschinenfest in Aachen, Germany, will feature a very special guest this year. Belgian electro legend Klinik will make a rare live showing and with any luck, this one-off show will evolve into a full tour in support of their latest work "Sonic Surgery", out now on Hands Productions (a review of which can be found in the On Record section). The festival will take place October 4 through October 6. Also slated to perform are: Ars Moriendi, Die Neue, Squaremeter (m2), Venetian Snares and many many more. /Peter Marks
Saint Etienne album moved one month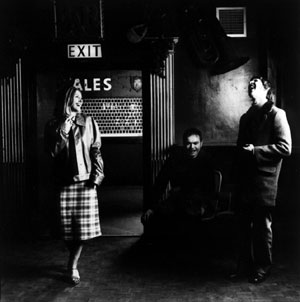 Photo by: Eva Vermandel

• The release of the forthcoming Saint Etienne album "Finisterre" is moved one month to October 7. /Mikael Kahrle
KMFDM live album out in November
• KMFDM will release their first official live album on November 5, through Metropolis Records. The album was recorded during the "Sturm & Drang" tour that took place in the United States this summer. /Kristoffer Noheden
Delayed Mute albums
• Mute have announced that the release dates of the new albums by Appliance and Echoboy have been pushed forward from this Autumn to early 2003. No reason has been given. /Kristoffer Noheden
---
Aug 26 2002

---
Calm autumn for SubSpace Communications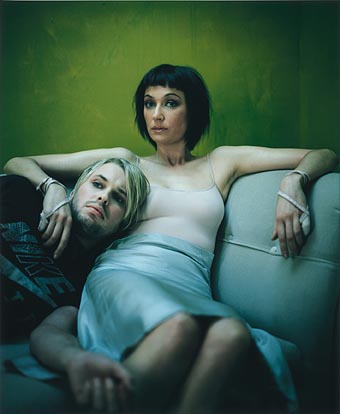 Wake up, time for release.

• SubSpace Communications tells Release their autumn plans include just two or three artists. Official, so far, is the Vacuum (pic) album loosely slated for a September 30 release and a new Statemachine single. We hear the long-awaited new Statemachine album will not be released until 2003 at the earliest. The possible third artist is still unrevealed. It's safe to say SubSpace Communications may be the label for Eddie Bengtsson's new band This Fish Needs a Bike, if they decide to go for record releases. The new Covenant album is not released by SSC, but Sony's KA2, and no records are planned with for instance S.P.O.C.K or Sista mannen på jorden. /Mikael Kahrle
Suicide Commando works on new tracks
• Johan van Roy is a busy man these days with the re-design of his web site which will soon feature all sorts of information about Suicide Commando and it's main member. Van Roy is also quite busy completing new tracks for a forthcoming album which has not yet been titled. A single is expected later this year. /Peter Marks
Seabound on tour with Stromkern in the US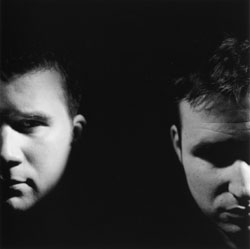 • The German duo Seabound will be on a double headliner tour of the United States with Stromkern. They will play Los Angeles, New York and San Francisco and the tour commences in October. Seabound are also in negotiations to tour Germany with a very well known former Dependent act later in the year. /Peter Marks
---
Aug 22 2002

---
More Kraftwerk live dates next month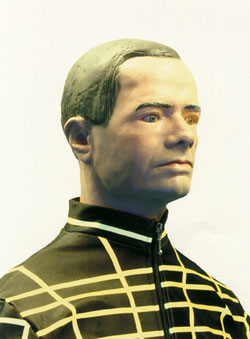 Photo by: Peter Bottcher
• Added dates in Luxemburg and Belgium have been confirmed prior to the announced Kraftwerk Paris gigs on September 25 and 26. The venues are den Atelier in Luxemburg on the 22nd and at Vooruit in Ghent, Belgium on the 23rd.
See the earlier Kraftwerk live in Paris announcement here. /Alex Veronac
The next single from Covenant is "Bullet"



Cool cover. We can show you the "Northern Light" album cover for the first time.
• The new album "Northern Lights" by Swedish electro-perfectionists Covenant will be out on September 30, and one more single will precede it. The chosen track is "Bullet" but no release date has been set. The band has made a video for it, at an abandoned power plant in Germany. Joakim Montelius tells us:
- The location was like something out of a science fiction dream. It was so cool, it was a place that could only exist in the movies. Covenant will tour this winter in support of the new album, starting at the Tinitus festival in Sweden, and then working their way through Europe. /Johan Carlsson
Fields of the Nephilim go for the loot
• As previously reported, Fields of the Nephilim will release a new single entitled "From the Fire" in the next couple of weeks, and here are the details.
This single will be available on disc in not one, not two but three different formats. CD1: "From the Fire" (radio edit), "From the Fire" (extended) and "Trees Come Down" (live). CD2: "From the Fire" (radio edit), "Love under Will" (live) and "Laura" (live). CD3: "From the Fire" (extended), "From the Fire" (radio edit) and "Moonchild" (live).
Obviously, Carl McCoy and company have the fans wallets locked in their sights. The single is out September 9. Can the official Fields retirement fund be far off? /Peter Marks
Underworld back again as a duo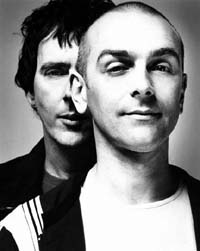 - I'm a little shy, so I hide behind this big ear here, OK?
• The fourth full-length album by Underworld is named "A Hundred Days Off" and will be out on September 24 on V2. A US tour is planned for October 14-21 and will take the band to Chicago, Pontiac, New York, San Francisco and Los Angeles. A lead single, "Two Months Off" has been getting rave reviews from numerous press outlets and DJ:s.
The album and single are the first releases since the departure of third member Darren Emerson. Track listing for the new album: "Mo Move", "Two Months Off", "Twist", "Sola Sistim", "Little Speaker", "Trim", "Ess Gee", "Dinosaur Adventure 3D", "Ballet Lane" and "Luetin". /Peter Marks
Das Ich on tour; M'era Luna apology
• Stefan Ackermann and Bruno Kramm of Das Ich are on tour between September 27 through October 13 in support of "Antichrist". The band recently issued an apology for booking problems at the M'era Luna festival. Apparently, the organisers underestimated the number of people who would be attending Das Ich's show at the festival. /Peter Marks
"Mass enjoyment on the dark side of the planet"
• Spring of next year will see the fifth album by dark rockers Evereve. The band will enter Communication Studios in November to begin work on this album. According to Evereve, this release will continue serving up "orgies of mass enjoyment on the dark side of the planet... and everyone's invited". The new songs are more guitar-oriented and will purportedly expands on the direction begun on their previous work "E-Mania". Massacre Records will be minting Evereve's next album. /Peter Marks
---
Aug 20 2002

---
Industrial metal act Sulpher signs to Dependent



• In a rather bold move, the British metal act Sulpher has signed to the Dependent label. The band has a previous album entitled "Spray" out and have been crowned "Best British industrial metal band" by Classic Rock Magazine. Sulpher recently were alloted a 40 minute slot on the main stage at M'era Luna Festival.
A promo single, "One of Us" will be released in an edition of 2000 at the end of August. The album "Spray" will follow on October 7. /Peter Marks
New vicious video gamer hardcore shots from Kpist
• Kpist has been merely a promising Swedish band for many years. Perhaps their big break is finally coming, judging from the new album we have received. "Enemies of Silence", due out on August 26, offers new orgies of vicious video gamer hardcore. Some people may remember "Voltage Controlled", their funky and inspired synthesizer rock/rap album of 1997. Their artwork and music was heavily influenced by computer games, and just judging from the titles of the upcoming singles "Lost in the Game" and "C64" we can expect more of that.
Kpist will tour Sweden sometime during autumn. They are also responsible for the soundtrack of "Livet i åtta bitar", a Swedish movie about a guy trying to become the world champion of Nintendo... /Mattias Huss
---