---
---
April 30 2001

---
Memento Materia signs Backlash...



• Memento Materia has signed Swedish electro act Backlash. The debut album "Impetus" is scheduled for the autumn. Backlash has previously released an EP on Warner (see review where they got a seven), but the co-operation with Warner is obviously terminated. Memento Materia describes the new sound as a melodic fusion of Mouse on Mars, Haujobb and Autechre. /Mikael Kahrle
...and demo competition finalist Michigan
• The Swedish demo contest Quest for Fame is over after three part finals and a final, uhm, final in Linköping. Michigan won and can lay their hands on a contract with Memento Materia. A debut album is in progress, in the heavily exploited Depeche Mode and Mesh school.
Memento Materia has now replaced lost acts The April Tears and Mesh with new ones: the above mentioned as well as Rational Youth, Neverwood, Sadovaja and Iberian Spleen. /Mikael Kahrle
New London based band blends industrial and big beat
• Concept 7 have released a self-financed debut CD called "The End of Time Project" and a new CD is already in production. They also plan to make presumably low budget videos for not one, but several songs.
London based Concept 7's aim is to produce a modern sounding industrial with a big beat feel to it and they have been doing just that since 1999. /Mikael Kahrle
Mobile Homes: new single and tour with Karl Bartos



• The second single off the latest Mobile Homes album "The World Will Listen" has been decided. It will be "The More I Think the Deeper I Sink" and will hopefully see a release at the end of May. Mobile Homes will also perform a number of Scandinavian tour dates with their previous producer Karl Bartos in May. See On Stage. If the tour goes well, more dates in the rest of Europe might show up. /Niklas Forsberg
What's life like in a tree?



• The Knife is a talked about newcomer on the Swedish alternative scene, mostly known to host singer Karin Dreijer from Honey Is Cool. The Knife is about minimalistic electronic art pop music with a personal touch. Some similarities can be found in Björk.
On May 1, The Knife's new single "N.Y. Hotel" will see the light of day. It is taken from the debut album released in February and also features the new song "I Live in a Tree". It's about "how it is when your friends are birds" and environmental problems. The Knife's small label Rabid has invested some money in a video, signed animators and artists Andreas Korsàr and Andreas Nilsson.
Rabid is also home of Honey Is Cool, Rockmonster and Monster & Maskiner (monsters & machines). The latter plays electronic music about "forests, horrors and nice ghosts". A slightly odd label, it seems. /Mikael Kahrle

---
April 27 2001

---
Dance or Die take two steps back and one step forward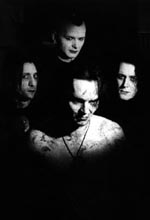 • Berlin electronic music veterans Dance or Die will finally release their new album "Schlafende Energie" on June 25. They are now on SPV/Synthetic Symphony. The album is finished and we can say that they have returned to a more classic Dance or Die sound, which might please old fans. The label labels the music with the following words: "electro sounds for modern people".
We will be back with a short interview and a Competition with ten albums. Album is in our Playlist now. /Jens Krause, Mikael Kahrle
Anti fascist protests against Kirlian Camera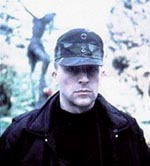 Angelo Bergamini of Kirlian Camera. Also former member of synth disco act Hipnosis.

• Italian band Kirlian Camera played live in Rostock, Germany on April 20. Anti fascist organisations launched heavy protests. The gig was held on Adolf Hitler's birthday and the neo folk band is accused of playing with nazi imagery, among other things. /Jens Krause
Bruno Kramm goes solo
• Das Ich musical mastermind, producer and head of the Danse Macabre record label Bruno Kramm, has launched a solo career. June 5 is D day for the debut album "Coeur" (now in Playlist). He is helped by several beauties behind the microphone and will surely hit the clubs thanks to his musical experience and wisdom. A chat will be held on May 26 between 20-22 CET. /Jens Krause
---
April 24 2001

---
Skinny Puppy finds new label
• German label Synthetic Symphony/SPV will now handle all Skinny Puppy releases. The first product will be the live recording of the Doomsday Festival, mixed by Greg Reely, out this summer. The DVD release of the same concert is not confirmed yet. /Johan Carlsson
Exclusive The Cure gig on Roskilde Festival



• Roskilde Festival has announced that The Cure will play exclusively at this year's festival. Other Roskilde acts include Nick Cave, P J Harvey and Briskeby. /Mikael Kahrle

Weird pop from Northern Sweden

• K-Pist mix electro, pop, rock, hip hop and punk in the same vein as Teddybears Sthlm and Beastie Boys.
- Our sound is hard, heavy and dirty. No guitars, just old synthesisers, Elias Varg, singer of K-Pist says to Release.
K-Pist's new single "Golden Coat" was released on April 4 (Nons/MNW). The record covers have been sprayed manually with gold colour.
The debut album K-Pist "Voltage Controlled" received a positive review in Release and was celebrated by New York Press. A new album will see the light of day in August or September. It will be the first with new member Emma Degerström on keyboards.
- She was supposed to play with us on just one gig a year ago. But she was so great we forced her to join the band, second keyboard player Anders Lind laughs.
The band is currently on a Swedish tour. /Mikael Kahrle
New album from Swedish trance queen
• Miranda is something as unusual as a female trance artist. The new Miranda album, "Asynja" is out now on Goldhead. It contains more trance oriented dance music in the vein of her earlier material. /Niklas Forsberg
Participate in Misterbuster's songs
• Misterbuster call themselves the world's first interactive band. If you are a registered user at their web site, you can contribute to their songs, and send in your own loops and sounds. /Johan Carlsson
Psyche busy as always dream of new hit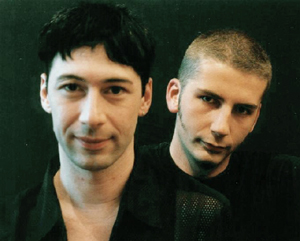 Psyche and particulary Darrin Huss to the left is busy as always.

• Psyche is back with a single called "Sanctuary", which they hope will give them back some of their fame. It is a radio friendly, direct techno pop piece.
Psyche have finished mastering the new album "Hiding Place", expected to be released in June. The band has also remixed Icon of Coil's "Everlasting" for an upcoming EP, and Psyche mastermind Darrin Huss has recorded another duet with Sara Noxx. This time it is a cover of Falco's "Jeanny pt.1". /Johan Carlsson, Mikael Kahrle
Delerium set details for Europe
• The new single from Delerium will be slightly renamed for the European market. The new title is "Innocente (Falling in Love)", and it will come as two CD singles and a 12" vinyl, with the usual array of mixes, on June 4. The latest album "Poem" will be available in Europe on June 18, more than half a year after it was put out in North America. /Johan Carlsson
---
April 19 2001

---
Rebirth of KMFDM
• Two years ago, KMFDM seized to exist because of internal feuds between the band members. Tim Skold and Sascha Konietzko formed the band MDFMK, while En Esch and Gόnter Schulz worked with their project Slick Idiot.
Now suddenly they are back together again, working on new material as KMFDM, to be released late this or early next year. /Johan Carlsson
Key joins Ogre on tour...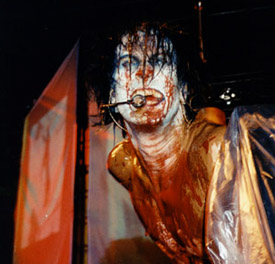 Photo by: Alexander Veronac
Ogre live at Skinny Puppy's show in Dresden last year.
• The live line-up for Ohgr's new tour will look like this: Tim Skold, Loki, William Morrison and perhaps most surprisingly Cevin Key. /Johan Carlsson
...and Ogre helps Key with album
• According to Scott Graham's Skinny Puppy page, the former Puppy front man Nivek Ogre, will contribute to Cevin Key's upcoming solo album, "Ghost of Each Room". However, it is not yet known exactly how he will contribute.
We will be back with more News on Skinny Puppy shortly. /Johan Carlsson
Mentallo & the Fixer compiled
• Mentallo & the Fixer, an industrial band from Texas, has released a kind of best of album. "Kind of" because it consists of fourteen tracks spanning a ten-year career, that has been remixed by the band itself. It was released by Metropolis on March 17. /Johan Carlsson
---
April 18 2001

---
Preliminary Scandinavian Depeche Mode dates
• We have added four Depeche Mode dates in September for Finland, Sweden, Norway and Denmark at On Stage. Please note that they are not confirmed. The gig in Denmark is said to be an open air show in Copenhagen.
Depeche Mode have added two warm-up concerts just prior to the official tour opening in June and another Wembley performance in London. Check out the official Depeche Mode site and Mute Records for further changes and details about dates, venues and tickets. /Mikael Kahrle
Yvonne have hired hip hop producer



• On May 28, Swedish alternative rockers Yvonne, will be back with a new album called "Hit That City". The two-song single "Bad Dream" (above) is scheduled for April 30. Download clip here.
We have listened to an album sampler and can say that Yvonne have altered their sound quite a bit, especially in the single track. Expect different vocals, production and more beats and electronics. The sound of today is more modern and harder than we are used to. The album is also a studio product, which will be difficult to translate to the stage. Yvonne think their last album "True Love" ended up being boring and decided to hire hip hop producer Mike "Kitigai" Yamada for this one. He has previously worked with Swedish stars Petter, Thomas Rusiak and Ken. Jonas Nordelius (Nordlead) and Seb Roc (Thomas Rusiak assistant) have also been involved in the production. Karin Dreijer from Honey Is Cool and The Knife offers guest vocals. /Mikael Kahrle

---